Build A Decentralized Cab Booking App For Global Impact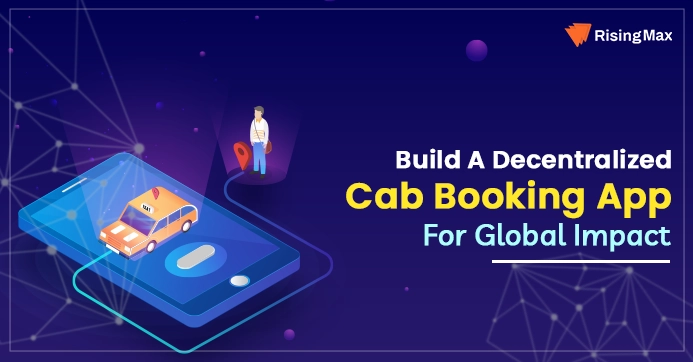 The market of ride sharing apps is growing continuously in the current era, where people are always running short of time. And implementing the web3 technology into the cab booking sector will boost the growth of the business to the maximum.
The web3 ride sharing app is creating a completely new scope for startups with advanced technology, 100% security, and transparency. The current business of cab booking apps has created a ruckus for the riders as well as for the drivers.

Creating a decentralized cab booking app will not only help you to build a 100% transparent business but also be a reliable option for your users.
Get the top-notch decentralized cab booking app with advanced features and user-friendly panels. Get a free consultation for the best blockchain business ideas including the cab-hailing application.
Let's see what the challenges are with the web2 ride sharing app and how the web3 ride sharing app will create better opportunities for users and businesses as well.
Challenges Of Web2 Ride Sharing App
Expensive Intermediaries
The business receives an email from the customer requesting a ride, and a driver is then assigned for the journey. Throughout this process, the service providers tack on a 10–20% fee to the total fare. The customer pays more as a result, while the driver still makes money after a fee reduction. The cost is increased by middlemen who are placed in between a driver and a passenger.
Inadequate Transparency
The existing centralized methods lack accountability, so drivers regularly have to change how these enterprises run. If you've ever used a blockchain ride-sharing service, peak pricing may have caused you some concern. A ride sharing company has many undefined responsibilities. Thus neither drivers nor passengers are given an explanation for rapid price rises.
No Data Security and Privacy
One of the main problems that businesses have is ensuring the security and privacy of data concerning drivers and passengers. Even though millions of dollars have been spent on user authentication, the number of bogus identities continues to rise daily.
Government Involvement
Obtaining licenses to operate in different nations is another difficulty faced by players in the ride-hailing industry. Local transportation network firms are governed by a number of established norms and regulations that are set forth by governments. For instance, the Philippines' government authorities rejected a ride-sharing service because it did not adhere to the criteria for local ownership.
Authorities in charge of regulation firmly believe that innovative business models produce both winners and losers. While Europe is currently lagging behind in this transition to ride-sharing, it is happening quickly in the US and Asia. It is also anticipated that certain nations would work towards unifying their regulations for both ride-sharing and taxis.
Benefits of Blockchain Cab Booking App
Here are some of the benefits of the decentralized cab booking apps that will help the ride-hailing app industry to provide maximum benefits and security to the business.
IoT-based Decentralized Ride Sharing App
The daily objects around us are getting a lot more scope thanks to the Internet of Things. Microtransactions, which are anticipated to be essential to this machine economy, will be made possible by blockchains with near-zero fee transactions. This concept benefits the ride-sharing industry greatly by eliminating several middlemen and lowering transaction costs.
Here is an example of how this benefits the current taxi industry: A consumer would use their smartphone to order a self-driving taxi. As soon as the pickup request is received over the blockchain, the cab heads to the closest gas station to buy the necessary fuel for the trip. By using the same blockchain to pay the station, it minimizes waste.
After finishing the user's journey, the vehicle parks itself in the closest automated garage while waiting for the next reservation and paying with the blockchain.
The Internet of Things model transfers all these tedious activities to the machines, as opposed to the current approach, which requires humans to be present at each of the three sites needed for the ride—the automobile, the gas station, and the parking lot. The benefits of cost savings can be passed on to both the customers and the businesses participating in the transaction because the cost of operating this system is minimal, which results in a net gain for both parties.
Zero Transaction Failure
One of the best things about developing a decentralized cab booking app is the zero transaction failure from any end. The transaction takes place within no time as the complete procedure is built on the blockchain. Blockchain technology is highly in-demand because of its super security and no failure structure.
No Third Party Interference
Zero third-party interference is another aspect that makes blockchain technology a more reliable and cost-effective option for businesses. In blockchain technology, the transaction procedure is purely end-to-end and with lightning speed. In the traditional transaction system, the complete transaction procedure goes through the banks. Bank's involvement in the transaction makes the procedure more costly than blockchain technology.
Accurate and Transparent Pricing Model
With blockchain's ability to provide accountability, users can assess how a web3 ride-sharing software company conducts business. Smart contract integration consistently offers appropriate pricing based on the previously indicated fundamental characteristics. The system becomes more trustworthy and transparent as a result.
Privacy & Security Protocols
The restrictions defined in smart contracts ensure that drivers do not partake in any illicit behavior by generating an appropriate ranking for riders. Riders can then choose whether or not they want to travel with a specific service provider.
Economic Activities
Anyone with a car can make money by using the decentralized cab booking software network concept. The market potential for those having a smartphone and a fast modern car increases due to the need for middlemen.
Align the current state of IT with your business strategy by hiring the most trustworthy Blockchain Development Company
Decentralized Cab Booking App Features RisingMax Inc. Provide
Payment Methods
The payment method of the web3 ride-sharing app will be based on the crypto wallet. For the initial years, you can also keep the fiat currency wallets for the payment of the rides as an additional option.
Referral Mechanism
Using referrals will assist you in strengthening your corporate relationships. For example, drivers and passengers can send links to the taxi app to friends and coworkers so they can use it by a certain date and receive a discount. These friends and family members will then download the app to take advantage of the discounted ride.
Profiles Creation
Let users and drivers register using a web3 social networking site or email to speed up and streamline the procedure. You can also request to be linked to their contact details. You can request that users fill out the required data for driver accounts, such as a photo, name, and vehicle license number.
Location
Passengers can use the GPS-enabled taxi app to show drivers where they are by turning on location on their smartphones. It simplifies the process of finding pick-up and drop-off locations for drivers. The easy-to-use interface allows passengers to follow their cab after booking, increasing its usability.
Driver Lookup
Blockchain ride-sharing apps connect users with drivers and passengers who want to save money by taking the same route. The route, mode of conveyance, and whether or not a user wants to travel alone should be entirely up to them.
Ratings
People always study the ratings and reviews before acquiring any service or facility from previous customers. The taxi industry is no exception. Riders who have used the services of a driver can rate and review them. Drivers who can rate and review their passengers benefit from the same feature.
Route Tracking
With this capability, users can scan the route while in a cab. Customers can constantly keep track of where they are in their cabs, providing them with peace of mind while traveling in a safe environment. Customers who realize they are going a different route can halt their journey and contact the administration.
Reservations for Rides
Ride-sharing applications have a huge benefit over hailing a cab in that they allow you to schedule a trip for a certain time and location. This must be taken into account while organizing trips to events, dinner parties, airports, and other destinations.
Push Notifications
Push alerts are available with Customer Relationship Management. Users, potential clients, and drivers are also provided alerts and push notifications. They also enable administrators to discuss customer-friendly concepts and special offers with committee members.
When blockchain app developers update or adjust the app, they collect user input and take into account other factors, such as the features that users prefer. If a customer downloads and installs your program but never uses it, its value is nothing.
Contact our specialists for more information and a free consultation. We are accessible 24 hours a day, 7 days a week, to assist you with our free IT consultation service. We are the top blockchain app development company in NYC and serve on a global platform.
Security
When you reserve a cab, the app displays all pertinent information, including the driver's name, contact information, and taxi number. It is critical that you are picked up by the correct driver. As a result, you will not have to be concerned about traveling with a stranger.

Conclusion
The decentralized version of the cab booking application comes up with the maximum benefit and multiple revenue models. Hire RisingMax Inc.'s dedicated blockchain app developers for the high-end, transparent, and cost-effective development of the web3 ride-sharing app.