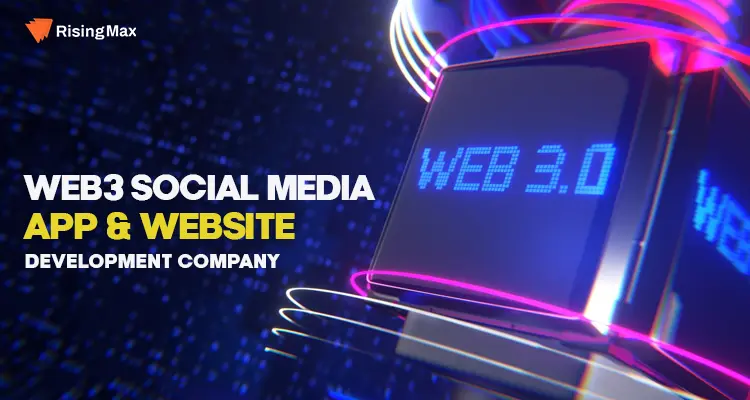 Web3 Social Media App & Website Development Company
Web3 technology is all set to transform how users socialize on social media apps by creating an immersive virtual environment. Proponents believe web3 technology will majorly empower social media platforms and reshape our lives.
With the increasing influence of the third-generation internet, budding entrepreneurs are web3 social media app development companies to launch their own applications. Without a doubt, new-age technologies such as AR & VR will dominate the next era of social media platforms.
We are here for you if you have a social media platform idea that could be the next Facebook, Twitter, or Instagram in web3. RisingMax Inc, a trusted web3 game development company, is aware of the new tech trends and knows how to leverage them to build futuristic applications. Let's connect over a FREE consultation call and discuss your web3 social media app idea.
Before jumping on the social media platform development on the web3 bandwagon, let's start from the basics.
Align the current state of IT with your business strategy by hiring the most trustworthy IT consulting company
Social Media Platform in Web3
Web3 and its related technologies are all set to revolutionize how people used to interact over social media platforms. The next era of social media will focus on creating real-world communication between users rather than a 2D web page. With the integration of AR & VR technologies, users can do more than share images, videos, texts, or video calls over social media platforms.
Social media platforms in web3 create a decentralized environment empowering users to own and monetize their content. To create an immersive environment, web technologies will stimulate as many of our senses to create a real-world-like experience. Web3 will disrupt many web2-based business models and keep creators at the center of business models in the social media paradigm.
Web3 is an umbrella term that empowers the vision of creating a decentralized ecosystem where creators will reign supreme. Where social media is all about socializing, metaverse will take things to a whole new interaction level. The social media platform in web3 will support social networking, content sharing, blogging, and end-to-end data encryption.
Web3 Social Media Development Services
Web3 social media platforms create an interconnected ecosystem, where whatever you do on one social media platform will be visible on another. With our affordable web3 social media development services, we can cater to varied customer development needs.
Web3 Social Media Website Design

Hire our web3 developers to launch a social media website that revolutionizes how users interact with the world. With user-centric website design, we build web3 social media platforms that are engaging and easy to use.

Web3 Social Media Website Development

Our web3 development team is an expert in building customized social media websites and application development. We build social media websites that are convenient for users and support social networking, content sharing, blogging, etc.

Custom Web3 Social Media App Development

We provide custom web3 social media app development services from app development to token creation. Leverage our expertise in web3 technologies to turn your futuristic social media app idea into reality.

Video-Based Web3 Platform Development

Launch a video-based web3 platform like YouTube, Vimeo, and Twitch, where users miles apart can connect. We have built video-based web3 social media apps that provide users with a hack-proof environment.

Web3 Social Network Messaging App

We understand that web3 and its related technologies will redefine our social media experience. Join hands to launch web3 messaging applications, where users can connect with like-minded people and send encrypted messages.

Photos-Based Web3 Social Network

Our web3 developers are experts in building photo-based web3 social media websites and applications. We build convenient social media websites and allow like-minded users to connect in a secure environment.

Web3 Social Game Application Development

Launch web3 social games apps, where users can connect and communicate with other players via integrated messaging, voice chat, and other features. Users can network and socialize with our social gaming apps while enjoying thrilling game experiences.

Web3 Dating Social Media Application

Hire our developer team to launch a web3 dating social media app with a robust verification algorithm, messaging, video call, GPS, and other integrated in-app features. Launch a platform where users can leverage AR & VR technologies to take human interaction on dating websites to a new level.

Web3 Enterprise Social Media Applications

Leverage our web3 expertise to build a social media application specifically for your enterprise. Integrated web3 technologies such as AR & VR allow your employees to engage in a healthy work conversation, build healthy connections, and share views on important management decisions. Enterprise can organize virtual meetings, events, and training via web3 enterprise social media platforms.
RisingMax Inc, a trusted name in web3 development, has the privilege of building innovative web3 business solutions for startups and enterprises. With our 360-degree web3 development services, we are empowering businesses with next-gen software solutions and be future-ready.
Open up new business opportunities with our web3 social media app development.
Get Started
Technology That Empowers Web3 Social Media Apps
Web3 social media platforms will revolutionize how people use and interact via social media applications. New-age technologies will assist users and developers in making this transition easy and exploring various opportunities in the virtual world. Web3 social media apps will take interaction in the virtual world to a new level.
Technologies that empower web3 social media platforms;
AR and VR Technology

When it comes to creating a virtual environment, both Augmented and virtual reality technologies will play a major role. Web3 social media users can wear VR headsets to enter the virtual environment and interact with other users in a hyper-realistic virtual environment.

3D Modeling

To create and provide users with a real-world experience in the virtual world, 3D is a crucial technology. 3D modeling softwares, such as Unreal Engine, Autodesk, and Tripolygon, will play a crucial role in creating a virtual 3D real-world environment for users where they can interact and build a healthy connection over web3 social media platforms.

Non-Fungible Tokens (NFTs)

This futuristic technology will allow users to convert their digital files such as videos, photos, and other content to Non-fungible tokens, or NFTs. With NFTs, users have full control and ownership of the content on web3 social media platforms. Users can showcase their NFTs collection and even sell or trade them.

Blockchain Technology

Social media platform development in web3 will be a distant reality without blockchain technology. The decentralized nature of blockchain technology allows web3 social media applications to provide users with a safe and transparent virtual ecosystem in the metaverse.

Smart Contracts

Social media applications in web3 can leverage the ability of smart contracts to bring transparency and automate operations. With predefined and coded rules, blockchain-based smart contracts ensure that everything in the virtual world, from trading to transaction, is secure and as per predefined rules.
Advantages of Web3 Social Media Platforms
Redefining Social Connections

Metaverse and its related technologies make geographical barriers irrelevant. Social media platforms in web3 allow users to build connections beyond their geographical barriers and meet people with similar interests. Web3 social media users can connect and build connections with people worldwide in a secure virtual environment from the safety of their homes.

Immersive Environment

Integration of web3 in social media platforms allows users to enjoy a virtual 3D environment. With 3D technologies, users can enjoy an immersive environment that offers new personal and business opportunities. Users of the web3 social media platform can socialize, play virtual games, meet new people, and organize virtual meetups using VR headsets from the comfort of their homes.

Enhanced Social Interactions

Over the years, the internet has evolved and become people's most efficient way to connect with others. Web3, an evolution in the internet, will take social interaction and events over the internet more interactive and personalized. Meeting, parties, connecting, and socializing in the virtual world via social media platforms will soon be a new normal for everyone.

Social Gaming

Integration of AR and VR technologies in web3 social media platforms allows the gaming community to expand and offer a better experience to users. With just a VR headset and an active internet connection, users of web3 social media apps can communicate with others in a virtual gaming environment. Many game startups are quickly capitalizing on this new business opportunity and investing in virtual games to offer an unmatched game experience to players.

Cooperative Work Environment

Enterprises can invest in social media platform development in web3 to offer a working environment to employees where they can connect and enhance their productivity. These platforms can be leveraged to organize virtual meetings and training, benefiting organizations in the long run.

Business Opportunities

Web3 social media apps have the potential to bridge the existing gap between businesses and users that traditional apps fail to do. App users can leverage the popularity of this softwares to connect with brands and build healthy connections. Businesses can use the web3 social media platforms to effectively market and advertise to their target audience.
Tech Stack: Web3 Social Media Platform
| Development Area | Tech Stack |
| --- | --- |
| Back End | Java, Node.js, Python |
| Front End | Vue.js, Angular, React |
| Mobile App | iOS: Swift, Android: Kotlin, Hybrid: React Native |
| Data Base | MySQL, Oracle Database, PostgreSQL, Microsoft SQL Server, |
| Storage | Amazon S3 |
| Cloud Infrastructure | AWS, Microsoft Azure, Google Cloud |
| Framework | Express Material UI, Amplify |
Web3 Social Media Platform Development Process
Requirement Gathering

Our subject matter experts connect with the client to understand their business idea and development needs. The main goal during this stage is to gather as many details related to the project as possible to ensure smooth movement to the next development stage.

Requirement Analysis

Next, our team will move forward to the analysis phase, where we will completely analyze the project requirements. The main goal during this process is to provide the best possible tech solutions, development timeline, estimated budget, and any suggestions related to the project.

Project Prototyping

During this web3 social media app development phase, our team will create a project prototype based on the client's project requirements. Keeping the user's and client's requirements in mind, our team will focus on designing engaging UI/UX. Our team moves forward to the next stage after getting approval from the client.

Project Development

Next, after getting the final approval, our development team will start shaping your business idea into reality. We leverage our expertise to solve complex development issues and build affordable solutions. Keeping the project needs of the clients at the center of our project development, we build solutions that meet & exceed clients' expectations.

Project Testing

Our team deployed rigid testing methodologies to ensure no issue with the web3 social media platform. The software solution moves forward to the deployment phase only after passing all the set parameters.

Project Deployment

After meeting all the parameters and meeting the client's requirements, our team will move forward to the deployment phase. Based on the client's requirements, we deploy the web3 social media software on various platforms to ensure maximum exposure.
How Much Does Web3 Social Media Platform Development Cost?
Web3 social media platform is a great business opportunity for budding investors to enter the metaverse and provide users with a new social media experience. If you plan to build social media platform development in Web3, reaching out to our experts at RisingMax Inc can be a great idea. Our team will discuss your social media platform development in web3 idea and offer you the best tech solutions.
Interested to know how much your new venture in the web3 social media will cost, then keep on reading. Like any other software solution, the development cost of a project depends upon various factors. These factors will give you a clear idea about the cost of social media app development in web3.
Factors on which web3 social media app development cost depends;
Web3 social media app type.
In-app security & add-on features.
Application complexity.
Location of web3 social media app development company.
Development team size and expertise.
The time needed for development.
Post-deployment services.
A combination of all these factors determines the overall cost of social media platform development in web3. Although, most web3 development companies will charge $35k-50k for basic social media app development. The development cost might even go higher depending upon the features and factors mentioned above.
Why Choose RisingMax Inc for Social Media Platform Development in Web3?
We at RisingMax Inc have been assisting startups and businesses worldwide to integrate new-age technologies within their business processes. Over the years, we have mastered these technologies to build innovative and affordable business solutions for our customers. As a trusted web3 development company, we deploy the best development methodologies and tech stack to build software solutions for your businesses. Leverage our affordable web3 development services to build future-proof business applications.
Here's what you get;
Unmatched web3 development services.
Affordable business solutions.
Tech prowess.
Highly reliable and secure business applications.
Certified and experienced team of web3 developers.
Transparent policy.
Round-the-clock support.
FREE 1 month marketing.
So, Why wait?
Discuss your web3 social media app development requirements with our team and move forward to turn your idea into a million-dollar venture.