Know Our
Wide Spectrum CMS Development Services

Today!

As a reliable CMS development company, our wide spectrum of CMS development services enables us to serve our worldwide clientele. Our custom CMS solutions guarantee better website content management, enhance workplace efficiency, increase security, and make it easy to manage content.
CMS Development Services

We offer clients a feature-rich, secure, and scalable enterprise content management system. With expertise in CMS development solutions, we cater to your business needs in the digital space. Our CMS solutions are for every level, from SMEs to Govt. firms globally.

CMS Integrations

Our team of CMS developers efficiently manages the site's dynamic functionality and offers full control on user access to the particular integrated website. Get a more streamlined approach in workflows to maximize efficiency and procure an increase in your ROI.

CMS Customisation

Being an enterprise CMS development company in NYC, we offer straightforward content publishing tools, content taxonomy options to organize, scalability, customizability, and the ability to integrate the software with in-house tools.

CMS Migration

We are a New York-based enterprise CMS development company aiming to assist businesses worldwide. Our streamlined CMS development approach empowers us to deliver unmatched solutions for enhanced user satisfaction and workplace productivity.

CMS Plugin Development

With our proficient coders assistance, we are regarded as a prominent enterprise CMS development company in the USA. We deliver rich domain expertise in rendering custom theme or CMS plugin development solutions for our customers worldwide.

CMS Support & Maintenance

Our enterprise CMS development company in New York delivers complete CMS support and maintenance services to keep your website stable and operating sleekly. We build tailored CMS software solutions to meet your specific business requirements.
Are You Looking For A
Reliable CMS Development Company?
We are a New York based enterprise CMS development company accomplishing the latest technologies to deliver a feature-rich content management system that meets your specific business demands. On whatever business level you are, we cater to startups, medium-sized companies, enterprise-level, and government firms.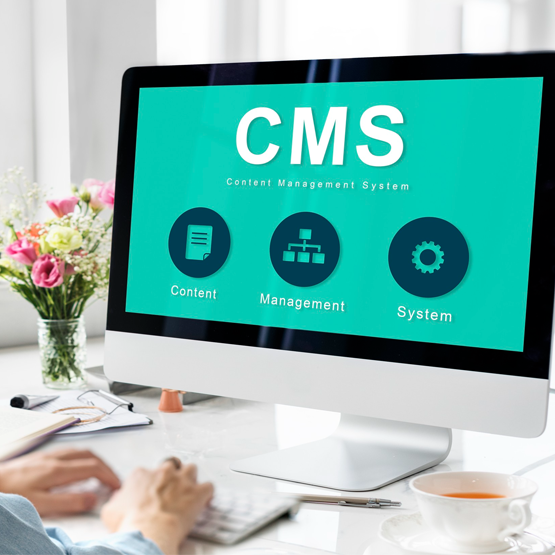 Our
Offerings
Being an enterprise CMS development company in the USA, we are obliged to assist our clients as a one-stop solution provider.

WordPress CMS Development
At RisingMax, our custom WordPress CMS development services excel in providing user-friendly and profitable web portals for global clientele. Our experts have a stellar experience with the latest WordPress version, delivering highly functional and presentable CMS solutions. We offer services for enterprises worldwide to improve their digital presence and skyrocket their sales.

Drupal CMS Development
With our Drupal development expertise, we provide you with an effective and efficient end-to-end service stack and take you from "idea to reality. Our domain experts have hands-on experience in developing Drupal-based applications and solutions. We have built various robust websites, portals, and management applications. Reach out to our experts and discuss your CMS needs.

Shopify CMS Development
Our experts have experience working with a wide variety of platforms. Our team has Shopify design, development, and marketing experience and can walk you through customization options. We'll review your goals and determine the best business solution. We transfer the raw data into Shopify format, irrespective of the eCommerce platform you use, ensuring your store migration goes smoothly.

Magento CMS Development
Having worked with different business organizations, we know how to leverage Magento and its tools to build online stores which augment your online sales and boost up the overall business revenue at the same time. Our Magento website development experts look beyond the mundane e-commerce templates and create a custom online store that will deliver maximum ROI for your business.

Joomla CMS Development
We are a CMS development company that builds robust online applications and appealing portals with Joomla CMS solutions. The highly qualified team at RisingMax aims to offer top-notch Joomla development services to our valuable clients. Whether a small business or a large-scale organization, take your website to a new level by joining hands with us.

Hubspot CMS Development
Being a top CMS development company in New York, we make your exhausting tasks of handling Inbound Marketing relaxing and simple with our custom HubSpot development, integration, and migration services. We analyze your HubSpot development requirements to aid you in leveraging the HubSpot Content Optimization System (COS) platform to its best potential.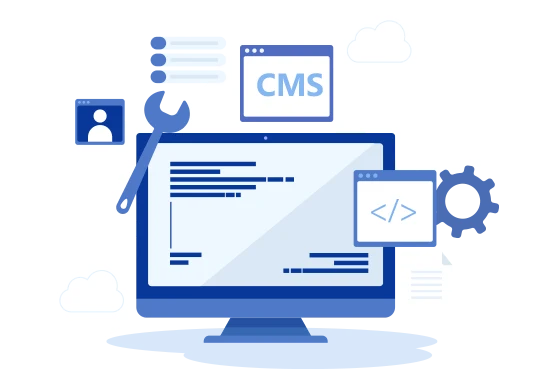 How We Are Different In
CMS Development?
At RisingMax, we aim to create a strong brand guideline as per our clients requirements. And thats why from the very beginning, we focus on the client preferences. From the color palette to the kind of technology used, all of it is decided and documented based on the clients choice. Being an enterprise CMS development company in New York (USA), we offer the best CMS to create web applications and portals that dont work as only an online brochure for the business but also increase sales and growing business. And in such a competitive market scenario, wouldnt you want to use the site as the ultimate weapon for client conversion?
Get Started
How Much to
Build a CMS?
When envisioning having your website newly designed or redesigned by a CMS development company, you will likely have an estimated budget in mind reflecting a cost you can live with.
Basic Web Apps
This offers you a basic informational CMS site with very little room for customization. Including a standard or custom CMS into your web design package comes with an average price of $2000 to $25,000.
Complicated CMS
The cost depends greatly on how much customization you want. It costs around $200 to build a website, with an ongoing cost of around $50 per month to maintain it. To develop a complex custom website, the price can be between $2,500 and $95,000.
Open Source
Open Source gives three editions for you to choose from basic plan, the enterprise edition, and the cloud version. The cost of developing open-source CMS varies dramatically, and value like between $1000 to $45k depends on the requirement.
Enterprise-grade Web Apps
The Enterprise-grade Web Apps comprises License Cost, Annual Fees, Infrastructure Costs, and Professional Services. Due to which the cost of CMS can range from $10,000 to $60k or above as per the requirements.
Why Choose US As A
CMS Development Company?
Tailored CMS Solutions

Our developer team leverage their expertise in CMS software development to offer tailored solutions as per client's business requirements.

Tech Prowess

Our proven expertise in leading CMS platforms like WordPress, Shopify, Magento, etc makes us the best in the business.

Result-Oriented Solutions

Understanding client's needs and requirements, we deliver result-oriented CMS solutions that add value to the business.

Support & Maintenance

With our cost-effective CMS development services, we swiftly resolve our client's queries and offer 24*7 support.
Frequently Asked
Questions
When it comes to building a CMS solution, most CMS development service providers take two to four weeks to build and fully integrate CMS into a website.
Multiple factors influence CMS software development, such as CMS software type, tech stack, team size, CMS features, and feature complexity. Most CMS development companies in the USA share a development cost after evaluating these factors. Regarding CMS solutions, most companies charge $5,000 - $7,000 for basic CMS software solutions.
Currently, a wide range of CMS solutions, such as WordPress, Shopify, Kentico, Magento, and others, are available in the market. Based on your business needs, the best CMS software solution changes. Reach out to our experts and share your business requirements to find a suitable CMS solution for your business website.
An integrated CMS software solution within a website makes it easy for the admin to create and manage multiple web pages. CMS software simplifies tasks like editing, storing, updating or deletion of content on web pages.

We contacted RisingMax Inc. to develop our Just Ryde app (on-demand taxi booking app). We aim to give passengers more security features and chances to earn drivers. The team listened to our requirements and did a fantastic job. We recommend them for their amazing services.
Manuel
CEO, Just Ryde, USA

SEO Guys at RisingMax Inc. Rock!!! My search for a top-quality SEO service provider in NYC has positively ended at RisingMax Inc. My site was facing some Google penalty issues when I approached them. These guys are perfect in their digital marketing efforts and delivered the best possible result. SEO guys at RisingMax Inc. rock!!
Nika Alison
Marketing Manager, New York

We needed ride-sharing with different panels for customers, drivers, and admin. When we discussed the project with RisingMax Inc, they listened to us carefully and promised to deliver what we wanted. We are glad to say that they kept their promise. We are impressed and may work with them again in the near future.
Anthony Hernandez
USA

I hired them for the SEO of my website upon my friend's recommendation, and I was just amazed at the results and improvement within a month. With their proven and dedicated marketing efforts, they increased my website's traffic, reduced the bounce rate, and boosted the conversion rate. Working with RisingMax Inc. was really good.
Martin Zejda
UFM Underwears, Florida
Previous
Next