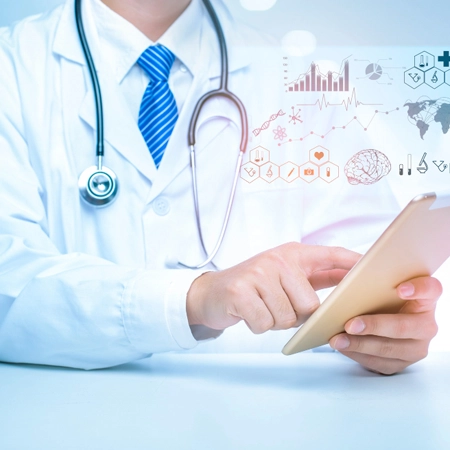 Blue-Chip Healthcare Software

Development Company
We deliver healthcare IT software solutions beyond expectations!
As a top-notch custom medical software development services provider, our healthcare experts know how to make our clients stand apart from others. We understand all the nitty gritty regarding the healthcare sector and custom healthcare software development. Our healthcare IT experts can design, develop, integrate and deliver healthcare software solutions that deliver unparalleled experience and excellence.
Talk To Us
Full-Blown
Healthcare Software Development Services
RisingMax Inc., a medical software development company, delivers unsurpassable healthcare IT solutions to your business needs. Our healthcare IT experts understand that no two project needs are the same and thus provide custom MedTech software development to deliver exceptions. Our healthcare solution development services include the following;
Healthcare Mobile App

We are here to transform your app idea into a reality that will reach various lives owing to its feature-rich nature. RisingMax Inc. Inc. employs the latest technologies to build dynamic and user-friendly healthcare mobile apps.

Healthcare Web Development

At RisingMax Inc. , we use the latest technology, Android SDK, and high-level programming languages to develop web solutions that work well on various devices. We strive to deliver high-performing web solutions for healthcare.

Healthcare Software Development

Look no further than RisingMax Inc. Inc. to get a healthcare software developed that integrates AR and VR technologies. We build robust softwares that can enrich the user's experience.

App Solutions For Wearables

Gain competitive advantage over others by getting an IoT app developed. Our team of developers harness the potential of the latest technologies to customize a solution that can transform your business.

IoMT Apps

IoMT is on the way to becoming one of the most sought after technologies in the world of healthcare services. We build solutions from scratch and scale up healthcare businesses in less time.

Healthcare MVP Development

Gain entry into the healthcare market with the innovation in the product. Our healthcare development team carries practical skills and problem-solving analytical knowledge to take your project to the next level.
Healthcare Software Solutions

We Offer

RisingMax Inc., a top healthcare software development company, empowers clients in the healthcare sector to integrate advanced technologies to serve patients in the least complicated manner. We offer highly secure, reliable, and robust healthcare software solutions for enhanced patient-doctor engagement.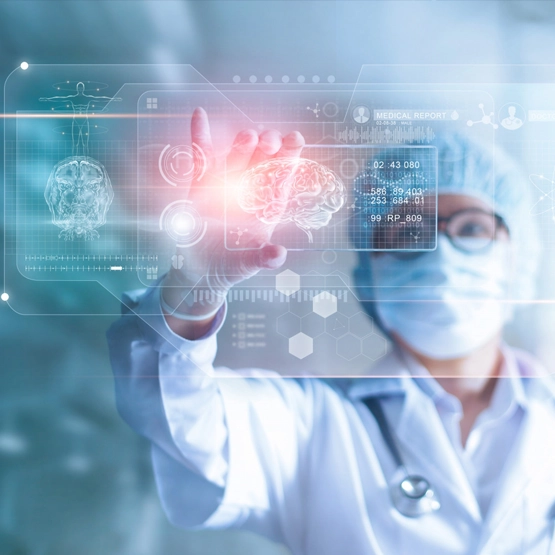 Hospital Management

System

We follow an agile development methodology to build robust and highly advanced hospital management solutions (HMS) to meet clients' healthcare business needs. Integration of the latest technologies enables the healthcare industry to offer better healthcare services and design modern healthcare IT solutions that solve complex healthcare business problems. Our hospital management solutions (HMS) provide a wide range of benefits that includes;

Get in Touch
Maintenance of the medical records of the patients
Template-based treatment plans.
Video consultation with medical experts .
Laboratory tests assignments and results.
Maintenance of insurance information.
Appointment settings and tokens.
Prescriptions to pharmacy.
Hospital inventory management.
Electronic Health Record (EHR)

Software Solutions

We provide relief to the healthcare industry from the medical practices that continue to embrace antiquated and paper-based patient data handling. Our electronic health record software solutions effectively streamline clinical workflows and better doctor-patient communications. Avail of our cost-effective healthcare software development services to build an EHR software solution for your business.
EHR/EMR Mobile App Development
Our developers are a pro at developing scalable cross-platform mobile apps that facilitate smooth exchange of healthcare information, convenient data tracking, and more.
EHR/EMR Implementation Services
Implementation of medical records system evaluation, data migration, user training, pilot testing, ICD-10 codes, and more.
EHR/EMR Integration Services
We use industry-accepted protocols, formats, and standards to seamlessly integrate third-party technologies for cloud-based billing, insurance databases, communication modules, and more.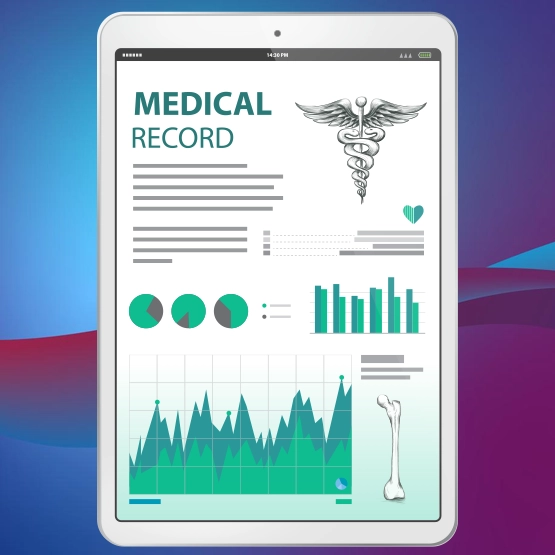 Telehealth & Telemedicine
Software Solutions
RisingMax Inc. is a top-tier medical software development services provider that delivers telehealth & telemedicine software solutions for healthcare businesses. Our healthcare IT software solutions are designed for primary and urgent care health facilities; are equipped with data encryption.
Mobile Telemedicine Applications

Enhance patient engagement, video streaming, and call routing.

Telehealth Live Video Streaming

We craft HD conferencing software solutions to consult doctors virtually.

Cloud-Based Software

Ideal for medical practitioners, hospitals, and other healthcare facilites.

Telemedicine Integrations

Integrate telemedicine platforms and manage RCM workflows.
Laboratory Information Management System (LIMS)

Software Solutions

As a trusted medical software development services provider in NYC, USA, our team holds expertise in laboratory information management system (LIMS) development. Our LIMS software solutions allow real-time tracking of laboratory inventory, data integrity, and security. Avail of our custom healthcare software development services to automate and digitize the operation of your laboratory business.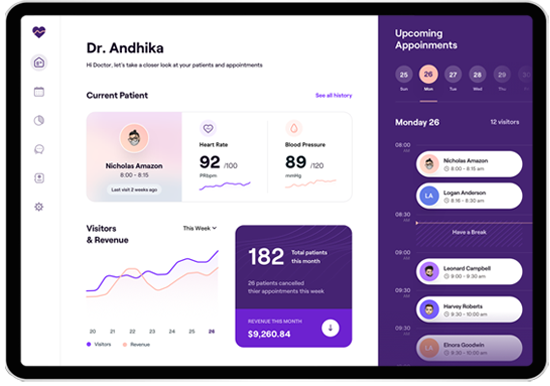 LIMS Protocol Execution
LIMS supports a wide range of lab procedures. Our solution digitizes the steps in procedures and protocols and promotes standardization across the laboratory team.
LIMS Inventory Management
Track raw materials available in the lab, convert them to finished goods, add them to the available stock list, and track final consumption.
LIMS Security Modules
We design LIMS solutions that comply with the data integrity guidelines and regulatory standards.
Pharmacy Management
Software Solutions
We are a healthcare software development agency that can help you manage drug dispensing, improve patient care, and monitor medical claims.
Pharmacy Software Development
Build a pharmacy software with built-in medication modules, POS integration, MTM, & other features.
Pharmacy Inventory Management
We automate pharmacy inventory management processes using DMS, barcode scanners, and NDC manifests.
Pharmacy Automation System
Automate pharmacy operations, including prescriptions refilling and formula compounding.
Pharmacy POS Software Integration
Build an intuitive and easy-to-use interface to improve billing speed and serve more customers.
Know why healthcare businesses worldwide choose us for digital transformation
RisingMax Inc. is the best custom healthcare software development service provider in NYC, USA. Our team follows an agile healthcare development methodology to build your business-specific software solution.
Assistive Technology
Software Solutions
We provide custom software development for healthcare industry to strengthen their digital footprint and adapt to changing technology needs of patients with disabilities worldwide. Our assistive software solutions are specifically designed keeping in mind the needs of differently-abled patients.
Assistive Technology For The Blind And Visually Impaired Patients
Our software to assist blind and visually impaired patients involves text-to-speech (TTS) readers, digital magnifiers, braille watches, GPS devices, and various others supporting technologies.
Assistive Technology For The Deaf And Hearing Impaired Patients
Our software for assisting the deaf and the hearing impaired includes frequency modulation, direct audio inputs, induction loops, and other systems.
Assistive Technology For Patients With Cognitive Illnesses & Learning Disabilities
For those suffering from cognitive illnesses and learning disabilities, we develop Augmentative and Alternative Communication (AAC) applications and a plethora of other solutions.
We Unite Systems
For Healthcare Providers
RisingMax Inc., as a custom healthcare software development company, provides one-in-all software solutions for healthcare businesses worldwide. Widen your healthcare services reach, streamline business operations, and enhance patient engagement with our full-suit healthcare software solutions.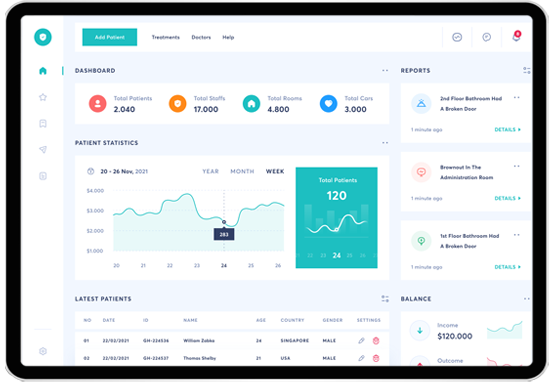 Healthcare CRM Software
Patients and healthcare providers can share information with each other through a healthcare CRM software.
Medical Inventory Software
Medical inventory software allows medical institutes to keep track of tools, equipment, and medicines.
Hospital Management Software
Hospital management software automates processes like schedules, appointments, auditing, and regulatory compliance.
Real Estate IoT App
Using IoT technology, real estate agents can provide virtual property tours to potential buyers, thus eliminating the need to visit the property physically.
Why is RisingMax Inc.
A Top Custom Healthcare Software Development Company?
Free Business Consultation

Seek a free expert consultation for the idea you wish to convert into an Android app. We, a reliable healthcare custom software development company develop both native and cross-platform apps.

Project Discussion

Discuss your project with our business analysts who remain active on platforms like Skype, Slack, Hangout, and over phones. We will address your queries and provide you with the right information.

Know Project Terms & Deadlines

Once you have discussed your project with our representatives, he will reach back to you with a detailed project proposal that will include costs and time frames. You can decide it for yourself.

Execution & Delivery

On receiving a go-ahead, our healthcare software developer gets into action to begin developing your idea. Our healthcare software development services are known for their timeliness and genuity.
Frequently Asked
Questions
Do you provide custom healthcare software development?

RisingMax Inc., a renowned medical software development services provider, can build custom healthcare software per your healthcare business requirements.

Are your healthcare software solutions follow HIPPA compliance?

Yes. Our custom healthcare software development team follows the industry's best development and testing methodologies to ensure the highest levels of healthcare solutions. We follow rigid development practices that comply with HIPPA standards.

How much does custom healthcare software development cost?

Similar to any software development, there is no fixed cost associated with custom healthcare software development. However, most healthcare software development companies in the USA charge $40k-$50k for a basic healthcare software solution.

What are the must-have features for a custom healthcare software solution?

The features of a healthcare software solution entirely depend upon the healthcare services provided by the hospital. Here are some of the must-have features that you can include in healthcare software- Easy registration, Appointment booking, Multi-payment options, Appointment reminders.