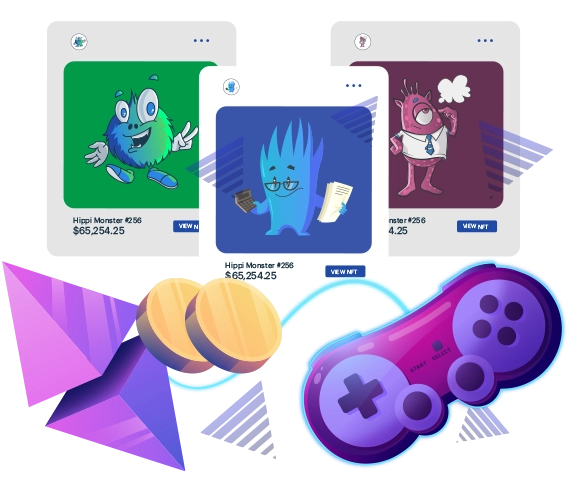 RisingMax Inc. - Your Reliable
P2E NFT Game Development Partner
NFT games hold the potential to take the gaming industry to another level. Our job is to help you reach that level of success. RisingMax Inc. is a team of NFT game developers who also share a passion for games which gives us an edge over other companies. We work by combining our expertise and your needs to create a product that delivers real results. Gain better acquisition, engagement, retention, and monetization with our NFT game development services. Our specialization includes mobile, PC, PS4, PS5, and Xbox games. Our diverse skillset lets us customize and fulfill every requirement with ease.
Prepare yourself to rule the next gaming era. Hire the best team at RisingMax Inc. and build your NFT game today!
Get Started
Reinventing the Gaming World With
Next-Gen NFT Game Development Solutions
We at RisingMax, power up your play to earn NFT game by leveraging our in-depth knowledge and development expertise. We design and deliver the most incredible NFT games with top-notch gameplay and features to meet your audience's expectations.
PVP Game Development

Disrupt the gaming industry by building your own Player vs Player NFT Game with RisingMax Inc. Customize unique features, functionalities and integrations as per your needs. Our experienced developers will help you build a PvP game of any genre, ranging from racing, fighting, cards, puzzle and even create a battleground if required.

P2E Game Development

Launch next-gen Play-to-earn games where players acquire in-game assets or tokens when they unlock new game levels. NFTs offer avatars or weapons and provide redeemable rewards like cryptos or fiat. With a trustworthy play-to-earn NFT game development company, you can launch P2E games on popular blockchain networks like Ethereum, Tron, EOS, Ripple, etc.

M2E Game Development

Hire our web3 game development experts to build engaging move-to-earn games that motivate users to have a healthier life. Players can earn rewards by performing daily fitness activities such as walking, running, dancing, etc. With our unmatched M2E game development services, we build apps that help our customers rule the new gaming era and get better ROI.

RP Game Development

Build and launch role-play games on leading blockchains like Solana, Polygon, Ethereum, etc. Build engaging RPG games where a gaming character performs in-game tasks to earn rewards like special guns, skins, weapons, etc. We provide complete game development services from game design, development, deployment, and marketing.

Web3 Game Development

Hire our web3 game experts to launch web3-based P2E NFT games where players will be rewarded game assets or tokens that can be traded for real-world money. We hold expertise in blockchains such as Ethereum, Avalanche, Polygon, EOS, etc. and leverage our knowledge to build ground-breaking games as per your requirements.

Crypto Game Development

Delve into the crypto world with affordable crypto gaming development solutions. Our player-centric game development approach builds crypto-earning games where players earn in-game rewards such as cryptocurrencies and tokens. Generate passive income by trading these in-game assets on secondary marketplaces.
Have An Idea for Your NFT Gaming Platform? Let Us Help You Turn It Into Reality
Connect with our NFT game developers to turn your game idea into an engaging NFT gaming platform. Our team deploys cutting-edge development tools and software to build killer NFT games.
Our Expertise In Different
NFT Game Genres
As a leading P2E NFT gaming platform development company in USA, we deliver 100% robust and bug-free services for all your needs. By partnering with RisingMax Inc., you also get expert NFT gaming platform development solutions in different NFT game genres such as-
NFT for Fantasy Sports

Fantasy sports are well known for integrating real-life sports games into the virtual space. We help you turn fantasy sports games into NFTs for enormous profits.

NFT for PvP Battle Games

PvP battle games are popular for Unique superpowers, weapons, and exclusive outfits. We can help your further tokenize the assets into profitable NFTs for trading.

NFT for Card Games

NFT gaming platforms offer a chance to make good money. We are here to design personalized NFT card collections that can be used for playing and traded as NFTs.

NFT for Action Games

Integrate NFTs into action games. Our experts can help you deliver a better gaming experience, by turning assets like vehicles, armor, and equipment into NFTs for profit.

NFT for Racing Cars

Take racing games to another level. Turn bikes, cars and accessories into NFTs and create multiple customization options for players in the NFT gaming industry.

NFT for Simulation Games

Simulation games turn the real world into a virtual one. Let your players engage in a real world simulation and buy in-game assets as weapons, skins, cars, etc. as NFTs.

NFT for Casino Games

Create the ultimate experience with NFT casino games. Create unique NFTs to represent your casino and let players play for the NFTs instead of real money or cash.

NFT for Adventure Games

Leverage the popularity of the elements, environment, and more of adventure games. Turn unique gaming assets like maps, costumes, weapons and other outfits into NFTs.

NFT for Sports Game

Sports games provide a thrilling gaming experience to players. By converting the assets of sports games into NFTs, players can enjoy exclusive benefits on the marketplace.
Looking For A Play To Earn NFT Game Development Company For Your Unique Project?
We got your back. With RisingMax Inc., you have the best team at your disposal to provide you end-to-end NFT game development services starting from game design and development to deployment and marketing.
Rewarding Digital Solutions for
Popular NFT P2E Games
Boost your NFT gaming platform business idea with our readymade solution for some popular games. If you want to launch your NFT gaming app that look like these apps, we are the right solution for you.
DungeonSwap

A decentralized NFT gaming platform built on Binance smart chain carrying yield earning high return features and functionalities.

CryptoKitties

Crypto Kitties is a game powered on blockchain to enable players to purchase, sell, and collect digital kittens that are unique in nature.

F1 Delta Time

An Ethereum blockchain technology-based game centered around trading in unique cars, drivers, and other F1 car components.

Evolution Land

Originated as the first cross-chain game (NFT + Defi) built on different blockchain networks to support cross-chain transactions.

Prospectors

An EOS blockchain game designed to earn NFTs. All the game activities happen in smart contracts and assets owned by a player.

Axie Infinity

It is a non-fungible token-based online video game that is crafted for players to collect, raise, and trade a wide variety of game assets.

My Crypto Heroes

It is a battle game powered on Ethereum blockchain that allows players to play with historical heroes, find rare items, etc.

Crypto Dynasty

An idle trading game that enables players to enhance the heroes via collecting materials, building equipment, etc.

Ludo NFT

An RPG+PvP game designed on blockchain where dice will do the whole job and decide the future of gaming contributors.
The Future Scope of NFTs and Blockchain In the Gaming Space
Non-fungible tokens are the most trending asset in the crypto market and have attracted millions. Games built on such technologies have skyrocketed and are becoming the gaming industry's future.
Our Blockchain Expertise
As NFT Game Development Company
Bitcoin

Ethereum

Binance Coin

Tether

Solana

Cardano

XRP

USD Coin

Polkadot

Dogecoin

Shiba Inu

Avalanche

Terra

Crypto.com Coin

Wrapped Bitcoin

Litecoin

Binance USD

Uniswap

Polygon

Chainlink

Algorand

Bitcoin Cash

Decentraland

Stellar
What Makes Our
P2E Gaming Platform Development More Secure?
HTTP Authentication
Capitalize on the potential of highly secure HTTP authentication tokens like OAuth for user authentication.
Jail Login
It is a feature that eliminates the multiple login attempts and makes your NFT game platform highly secure.
Data Encryption
A method that protects data confidentiality and other information by converting it to the encoded information.
Anti-denial of Service
Anti-denial of Service is a physical layer of protection that brings safety from various attacks like DNS attacks.
Anti-DDoS
Anti-DDoS like feature that helps protect the exchange from higher traffic originating from multiple sources.
Registry Lock
With a powerful registry lock in place, a registrar can't move one domain to another. It brings security by locking all domains.
Server-side Request Forgery Protection
Get the protection of the internal processes from server-side request forgery attacks that arise from applications.
HTTP Parameter Pollution
Vulnerabilities in web apps can be prevented with such a feature. It helps build HTTP requests to recover confidential information.
CSRF Protection
Cross-site Request Forgery Protection is a feature that helps give Support against state-changing requests and unauthorized actions.
Frequently Asked
Questions
The NFT game development cost something close to $50,000 in US.
NFT based games enable users to unlock massive opportunities by selling, buying, and trading unique digital assets. All the NFT based games also offer rewards to players in the form of unique Non-fungible tokens.
We at RisingMax Inc. follow a four-stage NFT game development process: Concept and ideation, design, development, and testing & deployment.
You can add various essential features within your NFT gaming platform like higher speed, lower costs, multiple-wallet support. Also, there is no need to worry about security as it offers players with highly secure virtual assets.
We at RisingMax Inc. follow a four-stage NFT game development process: Concept and ideation, design, development, and testing & deployment.
We offer you NFT Gaming solutions as quickly as possible within deadlines. The time to develop the NFT gaming platform also depends upon some factors like your requirement and complexity of the project. If we talk about average time, it might take around minimum 12 weeks.

We contacted RisingMax Inc. to develop our Just Ryde app (on-demand taxi booking app). We aim to give passengers more security features and chances to earn drivers. The team listened to our requirements and did a fantastic job. We recommend them for their amazing services.
Manuel
CEO, Just Ryde, USA

SEO Guys at RisingMax Inc. Rock!!! My search for a top-quality SEO service provider in NYC has positively ended at RisingMax Inc. My site was facing some Google penalty issues when I approached them. These guys are perfect in their digital marketing efforts and delivered the best possible result. SEO guys at RisingMax Inc. rock!!
Nika Alison
Marketing Manager, New York

We needed ride-sharing with different panels for customers, drivers, and admin. When we discussed the project with RisingMax Inc, they listened to us carefully and promised to deliver what we wanted. We are glad to say that they kept their promise. We are impressed and may work with them again in the near future.
Anthony Hernandez
USA

I hired them for the SEO of my website upon my friend's recommendation, and I was just amazed at the results and improvement within a month. With their proven and dedicated marketing efforts, they increased my website's traffic, reduced the bounce rate, and boosted the conversion rate. Working with RisingMax Inc. was really good.
Martin Zejda
UFM Underwears, Florida
Previous
Next