Launch Your Platform With A Reliable Metaverse Development Service Company
We offer a full range of metaverse application design, blockchain integration, and app management services, and we also can get to work at any stage of a project. Let's prioritize success and give us this honor to develop you well-served precision-based Metaverse solutions.
Noteworthy Features of
Our Metaverse Platform Development
We are a reliable metaverse development company that brings you the feature-rich metaverse software to stay ahead of the competitive edge. Take a closer look at what we have to offer you.
Blockchain Integration

Our platform is integrated with blockchain directly meaning no information is lost or added, making it a secure platform.

Data Encryption

The user information within the software is encrypted from end to end and kept confidential for security reasons.

Secure Login

Our software detects multiple failed attempts of login and does not allow users to log in for some time, keeping things secure at the same time.

Scalable to Peak

Our metaverse platform development incorporates SSOS, CSRF, and SSRF to bring the highest protection against breaches and hacking.

Cross-Site Prevention

Our software does not accept requests from multiple sources originating from illegitimate platforms and users.

SSRF Protection

Our metaverse software is protected against the attack vector interacting with the external or internal network.

HTTP Parameter Protection

Approach us for metaverse app development to nullify the attack that brings the HTTP request to protect confidential information.

DDoS Protection

As a metaverse development platform company, we provide software defending the overwhelming traffic coming from multiple sources.

Advertising Opportunities

Take your existing business into the metaverse to explore new advertisement opportunities and connect with a wider target audience.
Aspect Of Our Futuristic
Metaverse Development Services
Digital Smart Contract Architecture
We prepare a basic structure of the metaverse software we want to develop. In this, our team of professionals takes care of every aspect and makes sure nothing is left in further steps of its development.
Smart Contract Design & Development
The next phase of Metaverse app development is designing and crafting a solution. Our expert team checks on bug-free design and development to deliver an effective platform integrated with blockchain.
Smart Contract Optimization Services
Our platform is completely optimized after the development phase. In this phase, all the improvements and advancements are undertaken to ensure that software development is user-friendly and free from bugs.
Smart Contract For Decentralized Applications
Within our software, we develop DApps which are built to provide direct interactions between the two users who are trading within the metaverse. With this, we make things more transparent.
Smart Contract For Decentralized Exchange
Our metaverse platform is safeguarded with SSOS, CSRF, SSRF to protect users' assets against breaching and hacking. Be it assets, private keys, or data, everything is secure in software.
Smart Contract For Digital Wallets
By offering access to multi wallets within our software, we make sure to cater to the needs of every sort of customer. Multi wallets integration makes transactions easy and straightforward in the platform.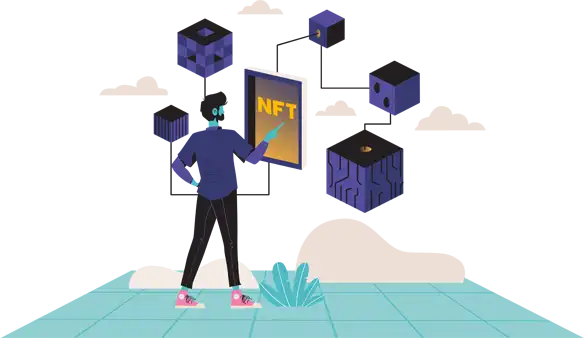 Our Blockchain and NFT Technology Upsurge Metaverse Solution Development
When it comes to modern technology, NFT, and crypto-assets, RisingMax, the top metaverse development company in NYC, USA, is always known for holistic solutions. Our experts have proficiency in NFT, blockchain, Reality, and Virtual Reality technology. We understand our customers' industry and business needs and then create future-ready projects embedded with unparalleled user experience.
Get Started
Latest Tech Stack to Develop Powerful Metaverse Development
We utilize groundbreaking technologies in Metaverse software development.
Blockchain Platform

NFT Standard:

Storage Platform

Front-end Framework:

Frequently Asked
Questions
How Much Does It Cost Metaverse App Development?

The average metaverse app development cost is approx. $85000 in the USA $70000 in UK, and $50000 in India.

Which foundational technologies are needed to create a metaverse?

Blockchain, AR/VR, AR, 3D Reconstruction, IoT, and Cloud Technology are the foundation technologies to develop metaverse.

How do I build a business in the metaverse?

Metaverse is a complex solution. A team of experienced metaverse developers is required to build a business in Metaverse.

How long does it take to build a metaverse?

As a metaverse is a complex program to develop so it can take upto 2 years to create a metaverse.

We contacted RisingMax Inc. to develop our Just Ryde app (on-demand taxi booking app). We aim to give passengers more security features and chances to earn drivers. The team listened to our requirements and did a fantastic job. We recommend them for their amazing services.
Manuel
CEO, Just Ryde, USA

SEO Guys at RisingMax Inc. Rock!!! My search for a top-quality SEO service provider in NYC has positively ended at RisingMax Inc. My site was facing some Google penalty issues when I approached them. These guys are perfect in their digital marketing efforts and delivered the best possible result. SEO guys at RisingMax Inc. rock!!
Nika Alison
Marketing Manager, New York

We needed ride-sharing with different panels for customers, drivers, and admin. When we discussed the project with RisingMax Inc, they listened to us carefully and promised to deliver what we wanted. We are glad to say that they kept their promise. We are impressed and may work with them again in the near future.
Anthony Hernandez
USA

I hired them for the SEO of my website upon my friend's recommendation, and I was just amazed at the results and improvement within a month. With their proven and dedicated marketing efforts, they increased my website's traffic, reduced the bounce rate, and boosted the conversion rate. Working with RisingMax Inc. was really good.
Martin Zejda
UFM Underwears, Florida
Previous
Next