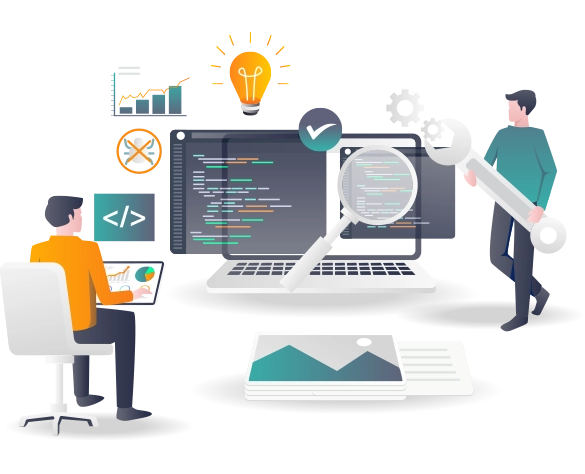 Enterprise Software Development

For Modern Business

We assist our worldwide clientele in strengthening their digital footprint with our end-to-end software development services. With over 13 years of software development experience, we have assisted enterprises worldwide to strengthen their digital footprint and dominate the global arena. Hire our experts to integrate your enterprise software with the latest technologies and frameworks.

Talk To Our Experts
80+
Project Delivered
100+
Happy Clients
150+
Developer Team
13
Years in Service
Bespoke Business Solutions With
Software Development Company NYC
RisingMax is a well-recognized software development company New York, providing software development services - API integration, custom software development, enterprise software development, team augmentation; specific to clients' business needs. From customizations to full-cycle development, we enable businesses to stay one step ahead of competitors.
IT Consulting NYC

With the right expertise and in-depth tech knowledge, we act as a digital transformation catalyst for our clients. Connect to understand how the integration of new technologies helps your business tackle existing challenges and open up new growth opportunities.

Enterprise Software Solution

Our robust enterprise software solutions can handle your enterprise needs. Our custom-built enterprise software solutions are built using proven software solutions and development methodologies to deliver unparalleled services to end customers.

Team Augmentation

Hire our NYC-based software developers to fill in critical IT roles and streamline your in-house software development process. Our team will bring in the necessary technical expertise and knowledge needed to accelerate the digital transformation journey.

Software Integration

RisingMax has years of experience in engineering highly-scalable software with proper integration. From setting up architecture to testing and execution, our team is proficient in handling all software integration challenges to meet all your business needs.

Custom Business Software

Our team uses advanced technologies and software tools to build custom business softwares. We build software solutions tailored to your business needs, tackle real-world business issues, streamline the process and add value to your business.

Mobile & Web Development

Leverage our expertise as a leading software development company in New York to strengthen the business's digital footprint and widen reach. Our mobile and web solutions enable businesses to harness next-gen technologies and enhance customers' experience.
We Take Pride In Our Expertise As A
Custom Software Development Company
RisingMax Inc. is one of the most trusted New York software development companies for a reason. The exceptional tech expertise and domain knowledge enable our software development team to build tailored business solutions that deliver meaningful outcomes.
No matter how complex your software development needs are, our qualified team will get the job done within your budget. Get in touch with our experts and discuss your AI project.
Our Tech Expertise As A
Top-Rated Software Development Company NYC
Keeping abreast with the latest software technologies enable our software development team to build next-gen business solutions. Leveraging our expertise in next-gen technologies such as blockchain, AR, VR, and artificial intelligence to build powerful and feature-rich software solutions. Our tech expertise as the best software development company NYC includes the following;
Augmented & Virtual Reality
RisingMax helps businesses leverage the AR and VR technologies, perfectly equipped to boost user engagement and business efficiency. Our creative team of AR/VR developers ensures each software solution they come up with is like a dream comes true. Whether you need a product from scratch or implement AR and VR technologies into existing software, Our delivered software helps your business.
Custom AR/VR Development
AR/VR Experience Design
AR/VR Software Integrations
Blockchain
Blockchain technology becomes popular in no time because of its potential to build distributed ledger running on multiple devices and platforms. Whatever you require; encrypted peer-to-peer software or solution for instant microtransactions, we put our in-depth knowledge with blockchain technology in use. We aim to help both startups and enterprises benefit from decentralized software built on the blockchain.
Blockchain Technology Consulting
Blockchain IoT App Development
Multichain Blockchain Development
Private Blockchain Development.
IoT
Being a custom software Development Company New York, we help businesses utilize the Internet of Things' full potential. Each industry can take a step towards implementing IoT technology to boost business growth. With rich technical skills and broad experience, we can deliver beneficial IoT systems. Our team is constantly on the edge of the latest trends; we develop IoT capable software, right from analyzing requirements, engineering to support.
IoT Mobile App Development
IoT Cloud Interface Development
IoT Remote Control Programming
IoT Wearables & Connected Apps Development
UX/UI Design
The appeal and feel of the software are as important as it functions. Our team of UI/UX experts has rich experience in UX designing with best-fit tools and technologies. RisingMax, with creative-minded UI and UX designers, can transform wireframes into interactive interfaces. Our team goes beyond when it comes to thinking to create design elements that will keep users addicted to your applications. We go that extra mile to make software easy to use.
UI Concept Creation
UX Design development
Web User Interface development
Mobile app UI development
UI/UX for cross-platform apps
Python
As python supports object-oriented, procedure-oriented, and functional programming models, it is used to develop wide software solutions. With a large pool of python developers, we're available to work for both short-term and long-term projects. Using Python as one of the core technologies, our team builds cost-effective solutions of any size. Our engineers are experienced in the development of various business domains utilizing Python.
Python web development
Python front-end development
Python desktop application development
Python Android Development
Python enterprise development
Data Analytics
RisingMax is your data analytics solution provider with years of experience and knowledge. Our role as a top software development company in New York is to help you unlock your business value with proven technologies. Our teams will thoroughly analyze your business's most critical needs and provide you ongoing software maintenance and support whenever is required. We also integrate extensive descriptive analysis into your workflows without any disruption.
Data Analysis Services
Data Analytics Consulting
Data analytics implementation
Data analytics support and evolution
AI BI
We help startups build solutions integrated with these technologies for visible benefits through our next-gen AI and BI. We develop AI products for businesses of different sizes, right from consulting them to offering maintenance. Our team comprises AI analysts, designers, full-stack developers; our AI and BI work across diverse technologies to bring about an integrated solution that accomplishes industry needs to its optimum.
AI consulting and integration
Machine Learning
Business Intelligence
ChatBot Development
Infrastructure Services
RisingMax's team offers a full range of services to keep your It infrastructure up and running smoothly. With ongoing maintenance, continuous monitoring, and troubleshooting, we are always ready to handle your business operations' disruptions. With our complete software development consulting services, we ensure our clients easily handle the tech challenges. We perform thorough performance analytics, 24/7 technical IT support, and provide secure app development platforms.
IT server management
Network Management
Database Management
IT Security Management
Cybersecurity Services
We serve as your trusted software development company in New York that delivers cybersecurity solutions all around the world. With a solid team of cybersecurity experts, we help protect your enterprise and assets. We help you understand your risks, help detect the threats, and make you keep up with security priorities to accelerate your business growth.
Cybersecurity assessment
System audits
Multi-factor authentication
Industries We Serve As A
Custom Software Development In NYC
RisingMax Inc., as a top-notch software development company in New York, holds exceptional technical and domain expertise. Over the years, we have served clients in different business verticals and built reliable software solutions as per client's business needs.
Finance And Banking

With banks and finance companies of different sizes and types, we work closely to build unique software solutions.

Healthcare

We build unique and secure healthcare software that helps improve your internal processes and patient experience.

Retail/E-commerce

Increase revenue of your retail/eCommerce business with our highly engaging software solutions designed as per your target audience.

Education/E-learning

Utilizing the cutting-edge technologies to deliver unbeaten e-learning experiences that help you stand out your business apart from others.

Logistics

Our custom software solutions help streamline the processes of the businesses working in the logistics industry.

Restaurant

By having our innovative custom software, restaurant owners will not just streamline the process but earn max profits.
End-to-End Software Development Process

We Follow

Taking ideas from conceptualization to execution, from designing to development, our custom software development company New York puts special effort into every stage of the development. Have a watch at our effective product development lifecycle.
Planning
Detailed planning of the process right from understanding client requirements to transforming it into the design.
Designing
Once the analysis is completed, the step of software designing takes over to define the whole architecture.
Defining
The software requirements are clearly defined and documented for approval from the client.
Building
In this, the development of the software starts where the programming code is generated and implemented.
Testing
All defects are reported, fixed, and again tested until the final software reaches the quality standards.
Deployment
After the successful testing of software, the product is released, and its maintenance is done regularly.
Maintenance
After the successful deployment of the software, we also provide our clients with on-going maintenance services to keep the software updated.
Why Makes Us A
Top Software Development Firm

in NYC, USA?

RisingMax Inc., one of the top-rated software development firms in NYC, USA, assists different business verticals in integrating advanced software solutions. Our development team utilizes its wide domain expertise and software tool knowledge to build solutions that add value to client's businesses.
Experienced Team

We have a strong software development team with years of experience in providing advanced software solutions to our clients.

Meaningful Outcomes

We first understand the client's business and then build customized software solutions that solve current issues and provide meaningful outcomes.

Transparent Pricing

We at RisingMax Inc. follow a transparent pricing policy and development process to deliver affordable business-oriented software solutions.

Flexible Hiring

As a top-rated software development company in NYC, we offer flexible hiring models to meet our worldwide clientele's needs.
Frequently Asked
Questions
There's no fixed cost when it comes to custom software development. Major cost deriving includes the type of business software, software features, integrated security features, tech stack required, software development company's expertise, etc. Most New York software development companies charge $20,000 to $30,000 for business software with basic features and functionality.
RisingMax Inc. as a leading software development company in NYC, USA provides various software development services such as - Web Development, Mobile App Development, Desktop Solutions, and Data Software Management.
With custom software development, businesses get software that perfectly aligns with their business and workflow. Here are some major benefits of custom software development - Highly effective, Easy to integrate, Low development & integration cost, Easy to use, Secure & Scalable.
The development time for custom software is based following factors such as software type, complexity, tech stack needed, and feature's complexity. Most software development companies NYC take 2 weeks to 1 month for custom software development.

We contacted RisingMax Inc. to develop our Just Ryde app (on-demand taxi booking app). We aim to give passengers more security features and chances to earn drivers. The team listened to our requirements and did a fantastic job. We recommend them for their amazing services.
Manuel
CEO, Just Ryde, USA

SEO Guys at RisingMax Inc. Rock!!! My search for a top-quality SEO service provider in NYC has positively ended at RisingMax Inc. My site was facing some Google penalty issues when I approached them. These guys are perfect in their digital marketing efforts and delivered the best possible result. SEO guys at RisingMax Inc. rock!!
Nika Alison
Marketing Manager, New York

We needed ride-sharing with different panels for customers, drivers, and admin. When we discussed the project with RisingMax Inc, they listened to us carefully and promised to deliver what we wanted. We are glad to say that they kept their promise. We are impressed and may work with them again in the near future.
Anthony Hernandez
USA

I hired them for the SEO of my website upon my friend's recommendation, and I was just amazed at the results and improvement within a month. With their proven and dedicated marketing efforts, they increased my website's traffic, reduced the bounce rate, and boosted the conversion rate. Working with RisingMax Inc. was really good.
Martin Zejda
UFM Underwears, Florida
Previous
Next