End-To-End Solution
Simplify the administrative & non-administrative tasks of a school and monitor day-to-day activities seamlessly.
Modular Architecture
Customize your solution using various modules and several configuration options to build an easy-to-use platform.
Cloud-Based
Facilitate faster and error-free management of student data and other tasks related to managing a school.
Universal Nature
Our online school management system is universal in nature & supports every educational institution and at every level.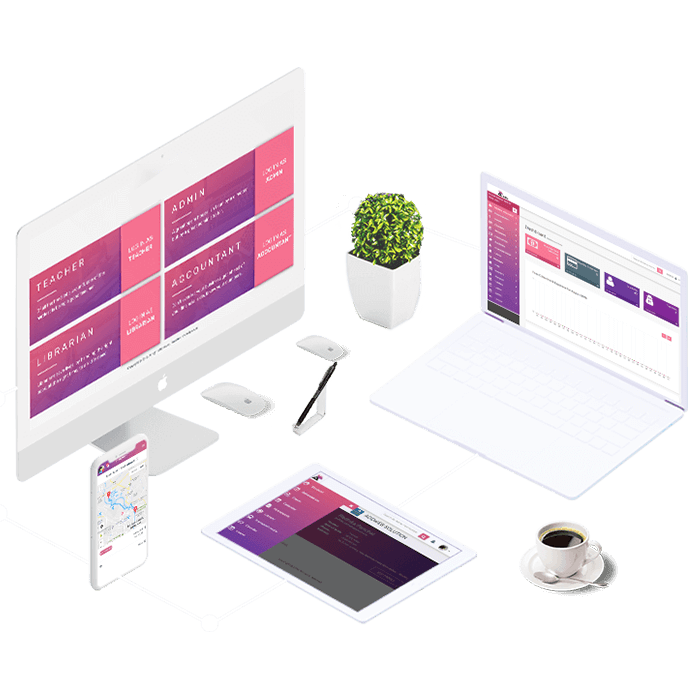 It's Time To Try #1 Online
School Management System
RisingMax offers an integrated solution that enables seamless functioning of the academic process. Our software solution is efficient in becoming the most preferred choice of educational institutions.
School Management
School authorities across the globe are continuously engaged in various activities to manage school functions and improve students' experience. Our online school management system is a fail-proof platform that can smoothen the management processes for educational institutions.
Classroom Management
Experience our first-hand and unparalleled classroom management software enriched with features like use on multiple devices, user-friendly, and renders a safe digital environment for students. With our expertise, we intend to take eLearning to the next level.
Faculty Management
Manage faculty data, track their activities, and monitor their performance via software that is highly efficient in automating faculty operations to achieve optimum transparency. Our software developers carry rich expertise in developing solutions that meet the modern needs of the education sector.
Student Information Management
The core features of our student information management system make it one of the most suitable software solutions. With features like timetable management, dashboard, admission, attendance management, fee management, library management, and more, this solution becomes ideal for the education sector.
Document Management
Our well-designed document management system holds undeniable benefits like Cloud access, an attractive user interface, robust search feature, universal format support, and more. RisingMax offers a modern solution to the age-old issues faced by educational organizations.
Account Management Software
Managing finances and financial information can be complex. However, our software addresses the educational institutions' concerns, and keeps track of the cash flows, and saves time for the concerned authorities by automating the whole process.
School Management
Software
Our software is a powerhouse of numerous features that improve the overall administration of educational institutions.
eLearning App Development
We design and develop with the help of education app developers to provide excellent solutions to the customers. Our exclusive eLearning mobile app development features improve the overall scenario of the learning management systems for schools USA.
Teacher App
Run classes in a safe digital environment and bring students on a common platform to learn and interact with teachers. The teacher app enables the teachers to manage their classes on the go and makes the eLearning process easier for the students.
Parents App
Parents can stay updated on their child's performance and regularly track it through a parents app. We integrate this module to keep the teachers, parents, and students interconnected while facilitating the proper flow of information.
Online Classes App
RisingMax's learning management systems for schools are built to provide the convenience of learning to the students and give them an uninterrupted experience of learning. We integrate all the essential features into our eLearning solution that are required to make it unique.
Online Examination App
We build software to make the concept of online examinations convenient and secure. The software solution embraces all the required functionalities and features to suit and support present demands & trends for embracing the online examination system.
Digital Library App
A digital library app allows the users to access content virtually because of the centralized control feature of the software solution. The platform is open for students, teachers, and researchers and provides reading convenience to readers who prefer reading on the go.
Utilizing Technology To Improve Online
School Management System
We are here to provide you with the right solution to keep your educational institution's ends connected and ensure smooth running.
Book A Demo
An obsolete method of admitting students has been replaced by the tech-driven methodology. With our student information management system, you can collect students' details by providing access to the parents to their own parent portal.
Attendance
Maintain a quick and accurate attendance record under different categories- day wise, subject wise, and class wise. The student attendance management system also allows the issuance of reports and notifications to take attendance in-class or through the administrator.
Experience Effortless School Management
Solutions With RisingMax
Get started today!
Book A Demo
Transport Management With
Real-Time Tracking
Our advanced and easy-to-use platform is developed with great expertise and is integrated with real-time tracking of the school buses. It manages the complex process of the school transport management system.
Parents App For Monitoring
Child's Performance
The software products developed by RisingMax for school management integrates a module where parents can communicate with the teachers and educate themselves about their child's performance and monitor it well.
We Will Take The Heap
Off Your Shoulders
Admin: Manage Your School From A Single Digital Platform
With an online school management system, the school administration can manage students, teachers, and parents details from one place.
Teachers: Enrich Your Teaching With Digital Solutions
Improve your teaching with tools that simplify everyday tasks of collecting assignments, tracking attendance, scheduling exams, and other activities.
Students: Bettering The Learning Process For Students
Students can access their own portal and check for extracurricular activities, announcements, and performance reports.
Parents: Connecting Parents To Teachers & Students
A parent-specific portal can keep the parents updated on critical aspects like field trips, announcements, and others. They can learn about their child's academic performance.
What Features To Expect From An
Online School Management App?
Welcome a new & promising future with a feature-rich school management app.
Admission Management
Quick data access is the need of the hour, and an ideal school management app possesses the capability to manage the registration and admission process of all the students.
Fee Tracking & Online Payment
A suitable school management app manages receipts & incoming payments, bill preparation, and online billing systems. The platform makes it convenient for both parents and school to understand the fee payment process.
Communication Facilities
Effective communication through voice messaging, e-mails and chats facilitate better coordination among teachers, parents, and schools. This ultimately betters the academic performance of the students.
Certificate & Report Card
An online school management system helps teachers & school authorities manage generation of certificates & report cards. Teachers can review it before finalizing it and make it accessible to parents and students.
Attendance & Timetable Management
A student attendance management system reduces the burden on the teachers. They can record each student's attendance error-free and also record their own attendance, check the timetable, and apply for leaves.
HR & Payroll Management
HR & payroll management module allows easy maintenance of employee details. Data like staff enrolments, staff recruitment, staff payroll & leaves can be recorded conveniently using this module.
Transport Management
An effective school management software provides the facility to manage school transportation effectively. You can keep track of each student's route history and ensure their safety.
Library Management
Automating library management through an app makes the process easy and efficient. Users can find, search, issue, and return books without facing any trouble. The module also covers reports of library members and other relevant data.
Data Security & Backup
There is a lot of data that needs to be kept safe by educational institutions. A reliable online school management USA is integrated with relevant modules to render data security & backup.

We contacted RisingMax Inc. to develop our Just Ryde app (on-demand taxi booking app). We aim to give passengers more security features and chances to earn drivers. The team listened to our requirements and did a fantastic job. We recommend them for their amazing services.
Manuel
CEO, Just Ryde, USA

SEO Guys at RisingMax Inc. Rock!!! My search for a top-quality SEO service provider in NYC has positively ended at RisingMax Inc. My site was facing some Google penalty issues when I approached them. These guys are perfect in their digital marketing efforts and delivered the best possible result. SEO guys at RisingMax Inc. rock!!
Nika Alison
Marketing Manager, New York

We needed ride-sharing with different panels for customers, drivers, and admin. When we discussed the project with RisingMax Inc, they listened to us carefully and promised to deliver what we wanted. We are glad to say that they kept their promise. We are impressed and may work with them again in the near future.
Anthony Hernandez
USA

I hired them for the SEO of my website upon my friend's recommendation, and I was just amazed at the results and improvement within a month. With their proven and dedicated marketing efforts, they increased my website's traffic, reduced the bounce rate, and boosted the conversion rate. Working with RisingMax Inc. was really good.
Martin Zejda
UFM Underwears, Florida
Previous
Next