Connected Car Software Development Services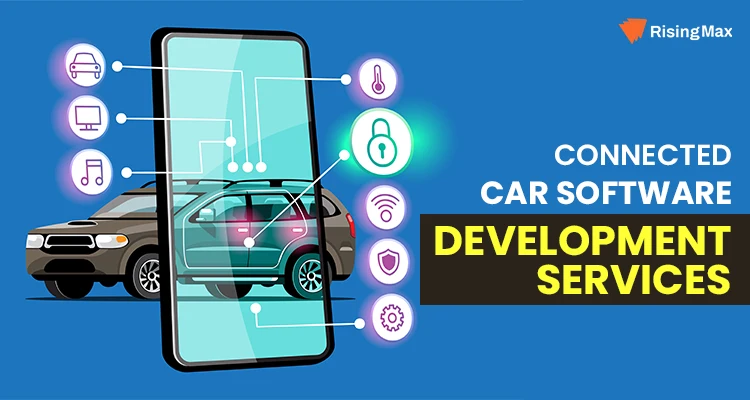 The automotive industry is evolving into a software-driven, highly connected sector beyond the driving experience. Technologies for connected cars are already available and are revolutionizing daily driving. Automakers and fleet operators need the right partner and platform to develop and manage new services for connected vehicles worldwide quickly.

From small to large automotive corporations, our team of connected car software developers is committed to providing clients with specialized connected car solutions that meet the highest standards. We are experts in connected car software development services, including telematics, infotainment, and advanced driver assistance systems (ADAS).
By letting you take advantage of our automotive software development talent and expertise, RisingMax Inc. can assist you in creating a lasting customer relationship and additional revenue source over the course of your connected vehicle application!
Connected Car Technology And Its Future
Car manufacturers and suppliers are forced to take action due to weakening brand loyalty and changing customer expectations. By utilizing new digital services, connected cars enable the automotive industry to differentiate itself from the competition and forge lasting customer relationships. RisingMax Inc. can help you amplify your brand's distinctive personality and solidify your position in the automotive industry.
Conventional vehicles won't be the only ones using connected car technology. Self-driving cars will also use this technology to communicate with cloud systems and road infrastructure. However, connected cars are currently altering the auto industry. Customers are gravitating toward connected cars as more smart cars are being introduced.
Connected car technology will become standard in the upcoming years, improving safety and lowering accident rates. The next generation of 5G connectivity will advance technology and make connected vehicles smarter and more streamlined.
Changes To The Conventional Value-Added Chain
Due to the increased focus on the customer's need for additional added value, digital services like these are in high demand in the connected car.
As a result, connected cars are altering the traditional value-added chain of automakers and introducing rivals like Google and Apple to the market.
Customers' decreasing brand loyalty is what's driving this trend. Because of this, new business models are required for automakers and suppliers to contribute to this transformation actively.
Service Licenses As A New Business Model
The automotive industry now has an additional channel to connect with and maintain contact with drivers with connected cars. Service licenses could be one of the future revenue streams for automakers. Therefore, a motor's performance could be improved by temporarily renting horsepower—for instance, over the course of a weekend in the mountains.
Connected Car Software Development Technologies For Communication
The hardware architecture required for a new generation of cars consists of numerous components connected by dedicated cars, ranging from the ECUs that regulate the vehicle's behavior to the man-machine interface that gathers the driver's input. The portion of the architecture that deals with connectivity is the main topic of this section.
We list the communications a connected car must ensure and the various technologies that can be employed.
Vehicle To Sensors On Board Communication (V2S)
Intra-vehicle connectivity, or V2S, refers to the information flow between ECUs and sensors distributed inside the car. Both wired and wireless networks are capable of supporting such an exchange. Sensors and ECUs can be connected using various methods, including Bluetooth, ZigBee, Ultra-Wideband, and RFID.
Vehicle To Vehicle Communication (V2V)
Inter-vehicle connectivity, also known as vehicle-to-vehicle communication (V2V), is data transmission between various vehicles without a centralized remote hub. Communication of this kind promotes social interaction, route optimization, multimedia information sharing, and accident avoidance. V2P technologies are available to enforce pedestrian security by warning people about nearby dangerous cars.
Vehicle To Road Infrastructure Communication (V2R)
A vehicle and a smart road infrastructure of traffic lights, roadside sensors, and street signs exchange information in this manner. Enabling effective traffic management is essential. Dedicated Short-Range Communications (DSRC) is the typical foundation for V2R communications.
Vehicle To Internet Communication (V2I)
Vehicle-to-Internet Communication (V2I) is a fundamental prerequisite for a connected car because it enables access to specialized services and multimedia data. Modern vehicles must be able to connect to the Internet. The solutions currently on the market use cellular network infrastructures to connect vehicles to the Internet, using a SIM to enable the vehicle to connect to the 3G/4G network.
Alluring Features Of Our Connected Car Software
Driver Monitoring
Manufacturers of automobiles outfit their vehicles with specialized systems that can be connected to connected car apps and enable users to control how the vehicle is driven and its speed limits, operating times, and other factors.
Blind Spots & Parking
When parking a car, smartphones' built-in cameras come in very handy. Rearview cameras allow the driver to see everything, reducing the risk of accidents.
Digital Diagnostics
Digital vehicle diagnoses are also possible with connected car apps. It enables drivers to monitor tire pressure and brake performance and send alerts about potential problems.
Cloud Platform Engineering
Utilize our practical knowledge of the top open-source initiatives to gain access to scalable, affordable, and secure platforms.
Align the current state of IT with your business strategy by hiring the most trustworthy Connected Car Software Development Company
Our Connected Car Software Development Services
Fleet Management
By taking into account various facets of typical use case scenarios, such as in-vehicle data collection, user analytics, and in-cloud data management, we implement end-to-end fleet management and vehicle telematics solutions. Our scalable solutions are made for managing and monitoring an infinite number of vehicles in real time.
Data & Analytics
Our data and analytics services for internet-connected and connected cars are made to make it possible for automakers, mechanics, fleet owners, and insurance companies to gather sensor data and analyze it simultaneously to produce useful insights.
Cloud Services
We provide everything that falls under the cloud, including location-based services, auto security services, usage-based insurance, over-the-air updates, drive-assist programs, remote diagnostics, and more. We have vast experience developing effective and secure Big Data platforms, Vehicle-to-Everything (V2X), and Cloud solutions.
Machine Learning And Data Science
RisingMax Inc. experts in machine learning and data science frame algorithms that track hardware performance and foresee failures. AI-enabled systems analyze key indicators like temperature and vibration to predict malfunctions before they happen.
As a result of the computer's fault prediction and prognosis-based repair scheduling, hardware lifespan is increased, and maintenance costs are decreased.
Connected Car AR/VR Software
The VR production company RisingMax Inc. specializes in serving the connected car sector. We have been creating business applications for virtual and augmented reality since 2011. Our VR specialists efficiently deliver solutions of any complexity, from straightforward AR mobile apps based on markers to premium VR simulations.
Consulting & Advisory
We provide strategic consulting and advisory services to successfully organize, implement, and operationalize connected car programs.
Perks Of Our Connected Car Software Development Services
Connected car software development services at RisingMax Inc. are created to satisfy customers' requirements by offering dependable, secure, and personalized solutions.
Our developers have extensive experience designing and creating automotive software from the initial concept to the finished product. When it comes to developing and deploying connected car software, they know the unique needs of automotive companies.
Improved Efficiency
Our connected car software engineers are skilled at producing high-performance connected car solutions that boost productivity and cut costs. We design connected car software solutions to ensure maximum uptime focusing on scalability, reliability, and speed.
Enhanced Security
connected car software must adhere to strict security standards to safeguard the valuable data of automotive companies. Our connected car software development services ensure that automobile applications are trustworthy and secure, with strong security safeguards integrated immediately.
Customized Solutions
Our connected car software development team is adept at creating connected car software specific to the needs and preferences of automotive companies.
Our Connected Car Software Development Process
The developers at RisingMax Inc. have years of experience creating connected car development solutions for various uses. We know that automobile software must be dependable, secure, and adhere to strict industry standards. Because of this, we develop connected car software emphasizing quality, effectiveness, and scalability.
Understand Software Requirements
In order to deliver connected car solutions that satisfy these needs, our connected car software developers take the time to comprehend your connected car software requirements fully.
Design Software Architecture
We adhere to best practices in connected software engineering to create a safe, effective, scalable car solution. This includes creating the connected car software architecture and picking appropriate technologies and frameworks.
Develop Software
Our engineers create connected car solutions that adhere to industry standards, integrate with current connected car systems, and satisfy your particular needs. In order to successfully complete tasks like coding, debugging, testing, and deployment, we follow best practices in software engineering.
Deploy Software
We quickly and securely deploy connected car solutions to production environments, ensuring that connected car software is accessible soon. To keep your connected car systems operating smoothly and effectively all the time, we also provide ongoing support and maintenance services.
Choosing RisingMax Inc. For Connected Car Software Development?
Connected car software development services are crucial for businesses in the automotive industry if they want to stay competitive. We at RisingMax Inc. are aware of the difficulties the automotive industry faces. Our team of exceptionally talented connected car software developers can assist you in developing a one-of-a-kind system that satisfies the most demanding industry standards because they have extensive knowledge in this area.
Interoperability
RisingMax Inc. provides interoperability support to connected car vendors to connect a car to various systems, programs, and gadgets.
Security
New security measures are required for connected vehicles. RisingMax Inc. provides OTA updates and solutions for connected car applications that secure vehicle data.
Safety
RisingMax Inc. creates secure and dependable connected car software with over 13 years of experience in software development and testing in industries requiring mission-critical applications.
Multi Level Testing
We have a testing team at a different level for every project that comes to us. This guarantees that the project will be delivered flawlessly and without error.
24*7 Assistance
Contact us for project-related questions, clarifications, upgrades, or improvements. Our executives are available to you at all times.
On-Time Delivery
When you choose us to develop the connected car software, we can guarantee the project will be finished on time.
Connected Cars bring more value to automotive businesses. Let's take this journey together, and RisingMax Inc. will help you get there FASTER!