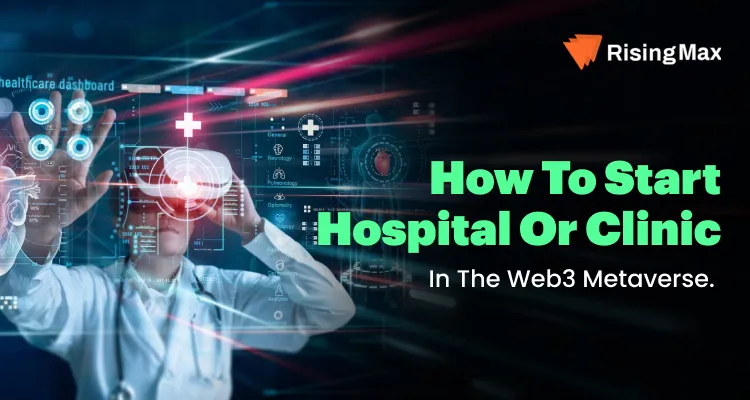 How To Start Hospital or Clinic in the Web3 Metaverse
From the very next day, Facebook became Meta the world, and the citizens around the globe knew what Meta was. But the potential of the Metaverse is known after the invention of other technologies in the Metaverse.
Metaverse: New World Of Opportunities
The world can be into the Metaverse, and when I say world means every possible small or big thing available in the real world. The healthcare industry is also one of them.
Hospitals and clinics are an essential part of our life from birth to the end of our life. Now, it can be your business on the Metaverse.
Let's see how you can start a hospital or clinic in the Metaverse.
Save your time and get all the details just by clicking on the box. Our executive will reach you out to explain the complete process and benefits of starting a hospital or clinic in the metaverse.
Medical IoT

Medical IoT devices, assisted by AR and VR glasses, are known as the "metaverse" in medicine. The Metaverse is developing; it has great promise in medicine by fusing technologies like AI, VR, AR, IoMD, Web 3.0, smart cloud, and quantum computation with robots to give healthcare new directions.

100% Secured

Telepresence, digital twinning, and blockchain are three significant technology advancements converging in the Metaverse and have the potential to influence healthcare individually. Digital twinning will be made possible by our growing capacity to map and comprehend personal genomes. Blockchains are simply decentralized, encrypted databases that allow for the safe storage of data.

Metaverse In Mental Health

Companies working in the virtual reality space are devising mental wellness applications for the Metaverse as this technology holds potential benefits for our well-being.

Metaverse has an interactive nature, provides an arena for online therapy, improves access to treatment for disabled people, and renders a life-like experience.

The use of psychotherapy techniques in the Metaverse can benefit those struggling with phobias, stress, addiction, eating disorders, and other conditions.

Cost Effective

Patients are no longer constrained to being treated by certain physicians owing to their actual location thanks to telemedicine consultations, mainly using virtual reality. Doctors and specialists are using VR to teach other doctors and medical personnel. But when they work together, they might develop new ways to offer treatment that could save costs and significantly enhance patient outcomes.
Align the current state of IT with your business strategy by hiring the most trustworthy IT consulting company
Benefits of Starting Healthcare in Web3
It will be a more engaging, close-knit, and enticing medical experience with a sense of support for those who most need it. In small towns and cities, adaptive intelligent solutions can assist decrease the obstacles between hospitals and patients, boost access to medical care, and raise overall patient satisfaction.
It may open up fresh possibilities for medical professionals to engage with patients in more personal ways, such as guiding them through a 3dimensional human body model while talking about diagnosis and treatments.
Healthcare practitioners will be able to provide more collaborative treatment plans in the health metaverse since the current healthcare system's siloed structure won't be an obstacle.
The rapid exchange of information between physicians and clinicians will also be advantageous since it will make identifying the root causes of health problems easier. Monitoring patient activities in the Metaverse allows for easier tracking of variables like compliance, which helps with disease diagnosis and treatment.
You may describe your symptoms without leaving your house, perhaps in conjunction with uploaded health information, and get an evaluation for additional therapy. They might record the session for replay at a later time if you wish to go back and review it.
A patient or anybody interacting with doctors can even make a direct payment on the website. The payment will be made using cryptocurrency, which is a kind of money that is accepted for anything from vehicle purchases to medical bills.
Don't wait for getting into the billion dollar business market and that too will provide a better option for social cause. Get in touch with RisingMax Inc. for the metaverse hospital development and get free marketing advice from our marketing experts.
Potential of Metaverse in Healthcare Sector
Metaverse platform developed by RisingMax. Inc opens the door to multiple advanced technologies in the healthcare sector. Here are some of them:
Use of VR in Medical Training

Physicians and specialists use virtual reality to teach other doctors and medical workers. This technology may immerse a student within a human body, give them a 3600 picture of the patient's condition, or imitate real-world operations.

Use Of AR In the Medical Field

Soon, complex operations will involve augmented reality, much like how robotic surgery is currently performed. Whether they are removing cancerous tumors or finishing a difficult spinal operation, doctors are hungry for fresh tools to perform these treatments accurately. Robotic surgery, sometimes known as robotic surgery, was already being utilized to perform complex procedures precisely and quickly.

Interoperability

The very next phase in healthcare is all about developing solutions that seem to be open and interoperable; the Metaverse won't be complete if its assets and data are difficult to move between various networks and platforms. Avatars, graphics, mixed reality, and spatial settings are asset types that collaborate with their associated metadata to create content packages, which are essential parts of the Metaverse. Data and communication standards will change along with the industry, facilitating intra-metaverse collaboration. Adding a new component, like the Metaverse, can also have a significant and unpredicted impact on which devices are simple to move between platforms.

Digital Therapeutic

Digital therapies, where applications like cognitive therapy are made possible by VR and AR technology in the Metaverse. Support groups, mental assessments, rehabilitation, and even physical treatment with the use of haptic sensors. The practice of giving medical care remotely is referred to as telemedicine in the healthcare industry.

Utilization of Blockchain in Metaverse

Blockchains are decentralized, secure databases. They enable data to be transported and kept securely so nobody can alter it. They are also a crucial component of the metaverse idea. Smart contracts and a record of digital ownership of surroundings or items in the digital world enable decentralized communities to be democratically controlled. The management and security of our priceless health data is its most obvious use case in the healthcare industry.

Convergence Environment

The Metaverse is the result of the fusion of several key technologies in online settings. Increases the ability of medical practitioners to create more cohesive treatment plans. Packages are free from the compartmentalized structure of a large portion of the current healthcare system. Additionally, quick clinician-to-clinician information exchange implies that underlying factors causing illness may be identified sooner. Monitoring patient behavior in the Metaverse makes keeping track of elements like compliance simpler.
Future Of Hospitals or Clinic In Metaverse
Virtual Hospitals

This comprises a virtual reality medical setting with a headgear focusing on counseling and physical therapy services. For instance, in physiotherapy, computer vision is used to assess the range of motion in damaged joints and the degree of rehabilitation in patients. Additionally, it will include users in virtual reality-based activities to improve their capacity for emotional control. Patient happiness and results will both be enhanced by this tailored approach.

Gamification of Hospitals

Patient-centric in nature, healthcare gamification aims to increase patient involvement by customizing their experience. The Metaverse can aid this process even further by giving patients access to a virtual, immersive world where they may complete activities and compete in challenges in exchange for various badges. By establishing personal objectives, people can compete against other patients in specific healthcare applications and compete with themselves in others.

VR and AR-Based Operations

In addition to its potential use in operating theaters, AR/VR systems are developed and used for tasks that assist diagnostics, pre-surgical planning, and training. Before performing surgery on a patient, doctors may use the platform to plan surgical approaches in an immersive virtual environment, analyze patient-specific anatomy and pathology in 3D, and practice using certain surgical techniques or medical devices.

Medical Education And Training

The Metaverse will help medical education more effectively in fields that call for sophisticated hand-eye coordination and other complex interactions. A student will be taken through an immersive environment to offer a deeper understanding of the human anatomy, a 360-degree view of a patient's illness, or simulate real-world therapies. Creating a 3D virtual environment in the Metaverse for medical training would enable medical professionals to get instruction from any location. By making a variety of medical procedures and protocols accessible to medical professionals and students all across the world, it is democratizing medical education.
Be the future option for the global citizens and with perfection. Build hospital on metaverse now for being the initial trendsetter for the upcoming youths with startups. Be an early bird to enjoy maximum outcome from the metaverse platform.
Development Process Hospital Or Clinic in Web3
Understanding The Requirement

It's important to determine the preferences of the target market. There will undoubtedly be some traits missing from the earlier apps. One must carefully plan and implement the absent elements. Finding the issues and a remedy for them should receive more attention. Making the software simple and appealing should be prioritized.

Framework

The creation of the app's blueprint is essential. You then choose which designs will work best to influence consumers visually. The dimensions of every feature, the number of pixels used, and many more details. In the event that there is any uncertainty regarding the design portion, the development team's feedback is essential.

Development

The following step is putting the elements into practice after they have been chosen. During this stage, all coding and programming-related tasks are managed and completed. The task is broken down into many milestones, and an update automatically takes place whenever the necessary goal has been reached. An essential part of this procedure is the creation of the front and rear ends.

Testing Of The Application

It's time to evaluate the app's performance after it's created. The program is prone to mistakes and glitches. Therefore, it's crucial to get rid of them. A coding evaluation was done for quick quality assurance.

Launch And After-Sale Service

The final step in creating an app is to deploy it straight to the server after validating the codes. After that, it is successfully introduced to the market. If there are any other issues, these may be fixed after launch. This is everything covered by maintenance and support. The app is then published to app stores for consumers to download.
How RisingMax Inc. Can Be Your True Friend In Developing Hospital or Clinic in Metaverse
Company With Future Vision

RisingMax Inc. is one of those companies that have adopted the Metaverse technology and started working on the enhancement of the features of the technology at the earliest. As the Metaverse app development company, we have delivered more than 30+ projects for various clients.

Dedicated Metaverse Developers

RisingMax Inc. acquired a 150+ core team of developers with the experience of more than 10 years in the battlefield of software development. Our developers are the backbone of the company. We are always dedicated to our clients and ensuring that they are completely satisfied.

Project Managers

With experienced developers, our client gets an excellent project manager to handle the complete process of the metaverse application development. The project managers are excellent at dealing with clients and keep the success rate high for our clients. Each of our clients receives individual attention on their projects from our developers and project managers.

24*7 Executive

Our Executive will be 24*7 available for your concern. We are available with you for any upgrade or update of the project or feature addition.

Transparency

Along with completing projects on schedule, we also maintain complete openness and update our clients regularly on their progress.

Four Level Testing

At RisingMax Inc., we test everything at 4 different levels, ensuring that the software or applications we give to our clients are both user-friendly and bug-free.
Conclusion
A hospital or clinic in the Metaverse platform is one of the upcoming success business plans. Taking the platform for the betterment of patients could be the perfect plan for the social cause and the business. Hire a metaverse hospital development company to create the hospital or clinic in the Metaverse.