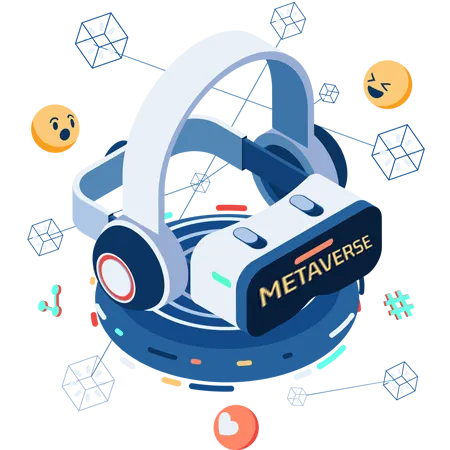 Invest in Future With
Top-rated Metaverse App Developers
RisingMax Inc. prides itself in assisting startups and enterprises worldwide to transform innovative ideas into next-gen metaverse apps. Investing in metaverse applications empowers businesses to offer an immersive life-like experience to their customers. Leveraging our expertise in metaverse app development, we are building apps powered by cutting-edge tools and technologies at a cost-effective price. Hire our metaverse app developers team to launch metaverse based apps for education, gaming, real estate, ecommerce, and other business domains.
Get Started
Our Success Metrics As A
Metaverse App Development Company
We have developed and delivered various Metaverse app projects for our clients. Our success metrics as a metaverse app development services provider can be measured by the number of satisfied clients. Connect with our metaverse app development team to resolve business challenges.
50+
Project Delivered
11
NFT Marketplace Live
50+
Metaverse App Developers
13
Years in Service
Powerful And Engaging
Metaverse App Features
The metaverse applications are powered by cutting-edge technologies and top-end features that empower businesses to hold secure positions and be future-ready. During the metaverse app development process, we comprehensively focus on adding powerful and engaging features that attract a wider customer base.
Digital Currency
Our metaverse app development platform allows customers to use digital currency for quickly buying and selling digital collectibles/tokens.
Smart Contracts
Metaverse applications can be integrated with smart contracts to create a secure, efficient, and transparent ecosystem.
3D Visual
Our metaverse app lets users explore, create, and make connections using digital avatars in virtual world 3D spaces in real-time.
Immersive Experiences
Metaverse applications can bridge the gap between the real and virtual world and offer a real-life experience to app users.
NFTs
Allow users to convert their digital files into non-fungible tokens to create their own virtual collection with blockchain security.
Security
Our metaverse apps are integrated with high-end security features like 2FA, privacy & ethical standards to protect user identities.
Benefits of Investing in
Metaverse App Development
From offering an immersive experience to a decentralized ecosystem, well-built metaverse applications provide astonishing benefits to businesses and users. Here are a few benefits that make investing in metaverse app development a profitable business venture.
3D Environment

Metaverse apps offer a unique combination of AR, VR, and 3D technology to provide a real-life-like experience to users in virtual space.

Virtual Communication

Metaverse application allows users to communicate with others securely in a virtual environment using their digital avatars.

Widen Reach

Businesses worldwide invest in metaverse app development to widen the products and services reach and generate higher ROI.

Grow Virtual Presence

Investing in metaverse app development enables businesses to strengthen their digital presence and connect with large audiences.

Engage Users

A metaverse platform is perfectly capable of engaging and attracting a wide user base which in turn, boosts business sales and profits.

No Boundaries

Metaverse apps are not area bound and can be accessed by users worldwide creating an environment to help businesses grow.
Need Assistance With Your Metaverse App Development Project?
Connect with our experts over a FREE consultation call and discuss your metaverse app development project requirements.
Metaverse App Development:
Our Tech Stack Expertise
We can help you with the high-end metaverse application solution to boom the market with a huge number of users.
Blockchain Technology

Our metaverse app developers leverage the potential of blockchain technology to deliver a secure virtual world experience to users.

Artificial Intelligence (AI)

Our team makes it easy for users to leverage AI's power and revolutionize how they interact in the metaverse platform with perfection.

Extended Reality (XR)

With an amalgamation of AR and VR technology, our metaverse app developers make elements in the virtual world look real.

Distributed Computing

Our metaverse app developers embrace distributed computing for effective storage and smooth running of your metaverse project.

3D Technologies

As a leading metaverse app development company, we leverage 3D technologies to make real-world things appear the same in metaverse.

Big Data

As a leading metaverse app development company, we make it easy for metaverse projects to manage big data efficiently.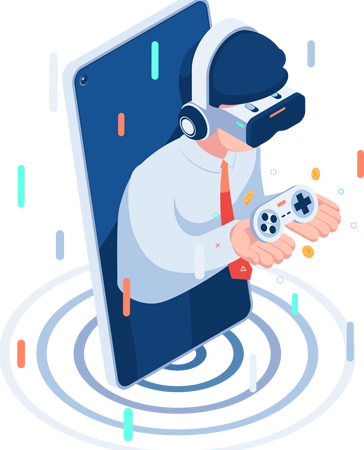 Engaging Metaverse
Gaming App Development
Leverage our metaverse application development services to launch engaging metaverse games to dominate the next gaming era. We offer metaverse game idea validation, designing, development, and deployment services to boost clients business. Our dedicated metaverse app developers utilize cutting-edge technologies to build new generation metaverse games.
Build metaverse gaming projects that align with the next era of metaverse games based on decentralization and transparency. As a metaverse app development company pioneer, we assist games startups in leveraging our expertise and building metaverse games that support a new generation of gameplay.
Request Free Demo
Hire Remote Experts For Your Metaverse App Project Without Stretching Your Budget?
Hire our dedicated remote metaverse app developers with hands-on experience in leading metaverse technologies, including AR, VR, Blockchain, and AI.
Our Streamlined and Strategic
Metaverse Application Development Workflow
As a leading metaverse app development company, we aspire to deliver apps that help businesses tap into the metaverse. Our developer team follows a streamlined metaverse app development workflow to build future-compatible apps and empower businesses to make a strong presence. Our streamlined and strategic metaverse app development workflow includes the following steps:
Ideation
Our metaverse app development experts connect with the client to discuss project ideas and users' app needs to create a development blueprint.
Roadmap
Secondly, our metaverse app development experts gather to create a roadmap to design an application and send the prototypes for client approval.
Developing
Thirdly, after getting client approval, our team starts developing the metaverse application as per client requirements and prototype feedback.
Testing
Our QA team follows rigorous application testing methodologies and tools to ensure that the end product performs and works perfectly as intended.
Deploying
After ensuring that all the metaverse app features and functionality work perfectly, our team deployed the application on the preferred platforms.
Post-deployment
To ensure the smooth working of the metaverse app, we provide affordable post-deployment services for timely updates and maintenance.
Our
Metaverse App Development

Engagement Model

As a trusted metaverse application development service provider, we understand now two clients' business requirements and app development needs are the same. Thus, we offer flexible metaverse app development engagement models to meet our clients' development needs with flexible terms.
Dedicated App Developers

This could be the perfect option for your business if you are a startup in the industry.

Updates on every successful implementation
Experienced and excellent programmers
Resources can be added instantly
No error in programming

Hourly Based Model

The hourly-based model is the most suitable option for metaverse app development.

Cost-effective metaverse app development services
Create your own development team
A perfect option for any size app
Billing will be done bi-weekly

Fixed Price Model

The fixed-price model can be a good option for metaverse app development.

Milestones can be changed in need
Least dependency on outer resource
All the billing will be done on a milestone basis
No additional cost will be charged for an external resource
Why Choose RisingMax Inc. as Your
Metaverse App Development Partner?
Experience

RisingMax Inc. has 13+ years of experience in development and working as a metaverse app development company for the last 6 years in the marketplace.

High-End Developers

We have a team of 150+ developers with more than 10 years of experience in software development and delivering the best solutions to global companies.

24*7 Availability

We are available 24*7 to consult for metaverse application development services at cost-effective rates. We would love to assist you anytime you want.

On-Time Project Delivery

We try our best to deliver the project on time or before the deadline unless there are no last-minute changes; we keep extra time in our hands for such.
Frequently Asked
Questions
What are the uses of the metaverse app for businesses?

Metaverse app provides a platform for businesses to enhance users' experience, engage efficiently, and improve their social media presence.

Why choose RisingMax for metaverse app development?

Our team is well versed in leading metaverse technologies and has years of experience serving clients in different business verticals. We are a reputable metaverse app development company in USA.

How much does metaverse application development cost?

The cost of metaverse app development depends upon various factors such as app complexity, expertise of the development company, security features, and more. However, basic metaverse app development will cost you $15,000 to million dollars depending upon the above factors.

How Long Does It Take to Develop a Metaverse Application?

The usual time for the metaverse application development is about 3-6 months and may exceed the requirement of the advanced or additional features.

How Much Does It Cost to Develop a Metaverse Application?

The average development cost for the metaverse application can go from $25K to $60K. The cost may exceed on the basis of features.

What is the Manpower Required for the Metaverse Application Development Service?

The manpower support it needs to develop the metaverse-based application is a team of developers, 2 TLs, Project managers, and a tester.

We contacted RisingMax Inc. to develop our Just Ryde app (on-demand taxi booking app). We aim to give passengers more security features and chances to earn drivers. The team listened to our requirements and did a fantastic job. We recommend them for their amazing services.
Manuel
CEO, Just Ryde, USA

SEO Guys at RisingMax Inc. Rock!!! My search for a top-quality SEO service provider in NYC has positively ended at RisingMax Inc. My site was facing some Google penalty issues when I approached them. These guys are perfect in their digital marketing efforts and delivered the best possible result. SEO guys at RisingMax Inc. rock!!
Nika Alison
Marketing Manager, New York

We needed ride-sharing with different panels for customers, drivers, and admin. When we discussed the project with RisingMax Inc, they listened to us carefully and promised to deliver what we wanted. We are glad to say that they kept their promise. We are impressed and may work with them again in the near future.
Anthony Hernandez
USA

I hired them for the SEO of my website upon my friend's recommendation, and I was just amazed at the results and improvement within a month. With their proven and dedicated marketing efforts, they increased my website's traffic, reduced the bounce rate, and boosted the conversion rate. Working with RisingMax Inc. was really good.
Martin Zejda
UFM Underwears, Florida
Previous
Next