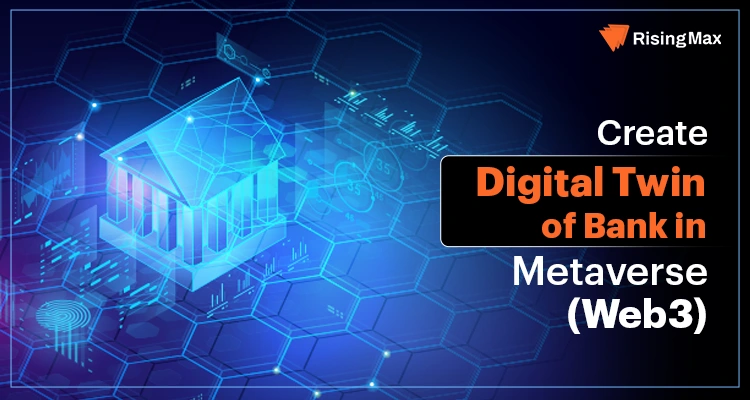 Create Digital Twin of Bank in Metaverse (Web3)
The ongoing developments in the technology sector pose a challenge for banks and financial service providers to quickly adapt to the changing tech trends. RisingMax Inc., a trusted digital twin development company USA, assists banks and financial institutions in integrating next-gen technologies and starting their transformation journey.
Digital Twin in Banking Sector: Shaping A Brighter Future
While most people describe a digital twin as a replica of real-world objects, this revolutionary tech is more than just a mere digital replica. With increasing use cases, digital twin technology results in the wide adoption of this new-age technology. The banking and finance industry is the newest addition that is adopting digital twin technology and transforming the way banking works.
When it comes to adopting next-gen technologies, the banking sector must stay caught up. Integration of digital twin technology enables banks to serve customers better, streamline operations, and make informed decisions. Banking and financial institutions can leverage this revolutionary technology for data collection and analysis to derive meaningful outcomes.
Are you planning to launch your own digital twin for a bank or financial institution? Then, our experts at RisingMax Inc. will surely be happy to assist you. Leveraging our digital twin development expertise, our tech team knows how to transform your bank's digital twin vision into reality. Schedule a FREE consultation call with our experts and discuss your digital twin development needs TODAY!
Benefits of Digital Twin Technology In the Banking And Finance Sector
The banking and finance sector are investing in digital twin technology to boost efficiency and decision-making abilities. Implementing digital twin technology offers a variety of benefits for banking and finance sectors that includes;
Enhance Banking Security

One of the biggest challenges for the banking and finance sector is ensuring and providing a secure environment for its customers. Integration of next-gen technologies allows the banking sector to provide a safe banking experience to its customers. With digital twin banking sector can stimulate digital security breaches and test their cyber security preparations. This will allow banks to revamp their counter-attack measures and enhance overall system security.

Improving Banking Infrastructure

With process twinning, the banking and financial sector can create a digital replica of the entire system. This allows banks to analyze the process efficiency, remove obsolete and automate repetitive processes. Banking processes such as fund transfers, account checking, cheques, etc., can be handled with automated bots. With this, banks can replace the workforce with algorithms or bots and streamline the entire working process.

Efficient Data Storage & Analysis

Banks and financial institutions have to deal with a huge chunk of data on a daily basis. Efficient data storage and analysis is one of the biggest challenges for the banking sector. It is virtual for banking software to connect the dots and offer real-time information by carefully analyzing the data. Digital twin in the banking sector assists in establishing a data management structure and data workflow.

Competitive Market

Integration of digital twin in the banking sector empowers banks to adapt to new technologies and be competitive. With digital twin technology, banks can create different what-if scenarios to test the benefits of implementing new technologies and processes. The banking and finance sector is competitive, and NEO banks (new-age baking solutions) offer online financial services. The digital twin creates a level playing field for traditional banks.

Reduce Implementation Cost

The digital twin is a great tech tool for banks and financial institutes efficiently implement new technologies and reduce implementation costs. Before altering workflow or implementing new technology, the same can be tested in the digital bank replica for efficiency. Different what-if scenarios can be created to determine what works and is not. In this way, banks can reduce the implementation cost by leveraging digital twin technology.

Faster Regulation Compliance

With digital twin technology, the banking and finance sector has the edge over the changing finance rules and regulations. Banks can utilize the existing data to test the impact of implementing new regulations on the overall system. Thus a counter-strategy can be prepared to reduce the impact on the system and ensure faster regulation compliance.
Align the current state of IT with your business strategy by hiring the most trustworthy IT consulting company
Our Expertise As A Digital Twin Development Company
RisingMax Inc. is a trusted digital twin development company USA. We are assisting businesses worldwide to integrate next-gen technologies. Connect with our team to discuss your digital twin development project needs.
Component Twinning

The R&D team can leverage the digital twin technology to evaluate the performance and efficiency of a component in external weather conditions. The data collected from real-world components and sensors can be utilized to develop new products for maximum performance in real-world situations.

Product Twinning

Our team can create a digital replica of any product with digital twin technology. Organizations can test these products in different weather conditions to build better products. The real-world data can be analyzed to create prototypes and design new products with enhanced performance & efficiency.

Process Twinning

Create a digital replica of your organization's internal and external processes with our experts. With the process twinning, businesses can analyze the efficiency of various departments such as supply chain, inventory, packaging, manufacturing, QA, and others. Obsolete processes can be removed, and repetitive processes can be automated to streamline business operations. The impact of integrating new technology and machine can be analyzed in the digital world without directly impacting the organization.

System Twinning

Hire our digital twin development team to create a replica of interconnected system processes. Leverage this revolutionary technology to monitor the entire business's operations easily. With system twinning, different what-if scenarios can be created, and their impact can be analyzed in the virtual world.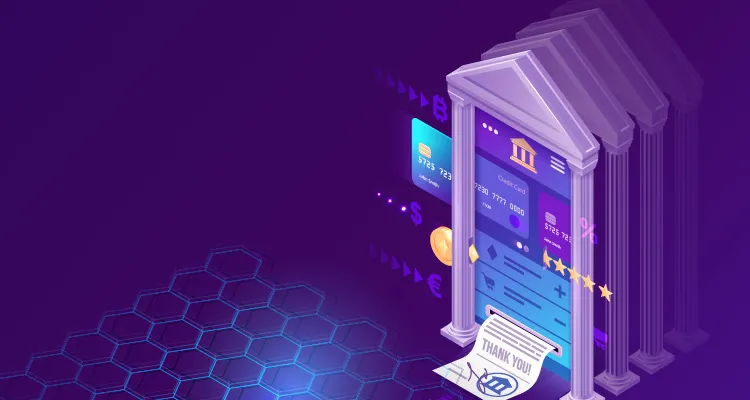 Our Financial Institution or Bank Digital Twin Development Process
We have curated an agile digital twin development to meet our client's needs. We meet and exceed our client's expectations with a customer-centric digital twin development approach. We follow this six-step digital twin development process to ensure that our digital twin for banks is scalable and reliable.
Requirement

Our team connects with the client to understand the digital twin business needs and requirements during this phase. Here we will discuss what type of digital twin they plan to build.

Analysis

During this phase, we analyze the information gathered from the above stage. We do a thorough project analysis and check the project's feasibility and requirement.

Planning

Our team experts gather to create a digital twin development roadmap during the planning stage. We share the exact development cost, project timeline, and other tech stack requirements with the client.

Development

Next, our team moves forward with the digital twin development with a clear roadmap. Keeping client requirements in mind, we create a digital twin that meets and exceeds the client's expectations.

Testing

Before handing over the project to the client, our digital twin platform goes through different testing phases. With this, we ensure error-free and reliable project delivery to our clients.

Post-Deployment

At RisingMax, we believe in building long-term relationships with our customers. Our affordable post-development services ensure your bank's digital twin's smooth running.
How Much Does It Cost To Build A Digital Twin of Bank or Financial Institution?
Similar to any application or software development, there is no fixed cost to build a digital twin of a bank or financial institution. Therefore it is difficult to share the exact digital twin development without understanding the project needs and requirements. If you are planning to build a digital twin and want to know the exact project development cost, then connect with our experts at RisingMax Inc.
After carefully analyzing your project requirements, our team will share a customized development cost ASAP.
Multiple factors directly impact the digital twin development cost. They are;
Type of banking platform.
Add-on features.
Digital twin development complexity.
Digital twin types - Component, Process, Products, and System.
Development stack.
Location of the digital twin development company.
Development company's expertise and team strength.
While sharing an exact digital twin development cost, companies carefully evaluate all these factors and quote a development cost. Most digital twin development companies in the USA charge $50k to $60k for digital twin banks or financial institutions.
Why Choose RisingMax Inc, For Digital Twin Development?
RisingMax Inc., a top digital twin development company USA, assists businesses worldwide to integrate next-gen technologies and be future secure. With our in-depth knowledge and development expertise, we can launch your own digital twin and put them on the road to success. No matter how complex your digital twin project development needs are, our experts will find a way to build a project that perfectly aligns with your business and vision.
Here's why you should hire RisingMax Inc;
Unparalleled digital twin development expertise.
Affordable development services.
Tech prowess.
Tailored and secure solutions.
Certified and experienced digital twin developers.
Transparent pricing policy.
24*7 customer support.
The digital twin is a revolutionary technology that opens up endless business possibilities worldwide. Integrate digital twin and dominate your business niches with our experts at RisingMax Inc.
Make a move with our digital twin development experts and foster success.