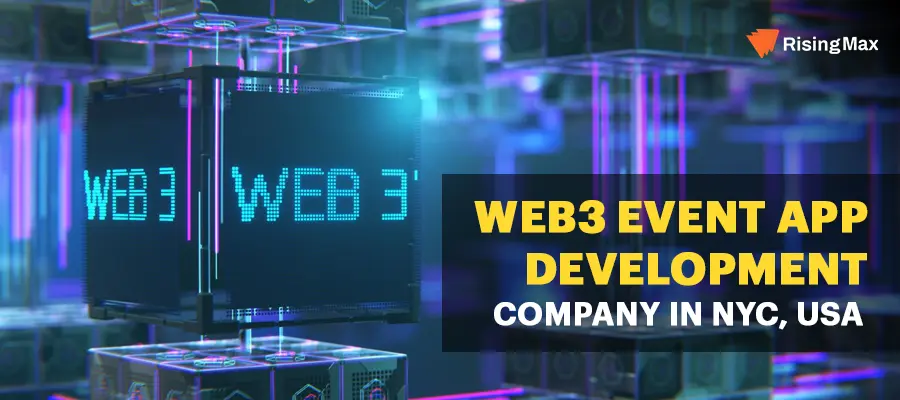 Web3 Event App Development Company in NYC, USA
RisingMax Inc. is a reputed web3 development company in NYC, USA. Our web3 event app assists businesses in organizing virtual corporate events, meetings, seminars, training, conferences, etc. As a leading web3 event app development company, we build all-in-one solutions where hosts without coding knowledge can organize and manage virtual events.
Web3 Event App Development: Fueling The Future of the Event Industry
The recent advancements in the world wide web, web3 resulted in businesses adapting to new technologies and exploring new opportunities. Similar is the case with the event industry. Businesses use web3 event applications to organize virtual events such as corporate events, product launches, trade shows, meetings, etc. Integration of next-gen technologies such as artificial intelligence, blockchain, and augmented and virtual reality are empowering the future of the event industry.
Are you planning to invest in web3 event app development? Then, here are some interesting facts that show emerging trends in the web3 event sector.
The projected market evaluation of the metaverse market is 800 billion US dollars by 2024. (Statista)
The current evaluation of the Global virtual market is 14 billion US dollars and is expected to grow 13.1% every year. (luisa zhou)
Proponents believe that by 2026, 25% of people will spend an hour in the metaverse.
By 2026, more than 30% of companies will move to the metaverse to offer their services and products.
Align the current state of IT with your business strategy by hiring the most trustworthy IT consulting company
If you want to grab this futuristic business opportunity in the event industry, then connecting our experts at RisingMax Inc can be a good start. As a renowned web3 development company, we have a pool of web3 experts that can turn your event app idea into reality. Connect over a FREE consultation call and discuss your web3 event software development idea in-depth.
But first, let's start from the basics.
What is a Web3 Event Platform?
In recent years, you might have heard about virtual events, webinars, conferences, and virtual corporate events. Web3 event applications are making it possible for businesses to organize all these virtual events. Integration of 3D, AR, and VR technologies in web3 event apps offers participants an unmatched experience.
Proponents believe that web3 event platforms will become a handy tool for businesses to organize various events. Web3 event platforms are effective in;
Generating more leads.
Driving higher engagement levels.
Engaging with customers in any part of the world.
Sharing the business's value and vision with investors and employees.
Creating a loyal customer base.
Enhancing employee interactions and so on.
Web3 event application empowers businesses to leverage next-gen technologies to take business engagements and interactions to a whole new level. Based on event type and goal, businesses can choose whether to go for a virtual event or not. From virtual meetings to corporate events, our web3 event app is capable of organizing any virtual event.
Web3 Event App Development: Monetization Methods
There is no doubt that virtual events will become the new normal for businesses in the future. For this reason, investing in web3 event app development makes more sense than ever. If you are planning to move forward with the web3 event application, here are some popular monetization methods. Based on which monetization strategy meets your business requirement, you can choose any one;
Event Ticket

Anyone who wishes to attend a virtual event must have an event ticket, which is an NFT ticket. Web3 event platform can earn revenue by selling event tickets, without which no one can watch the event. NFT-based event tickets ensure one-time ticket usage and eliminate any chance of duplicacy.

Premium Facilities

The host of the web3 event can offer premium facilities to attendees, such as digital avatars, seating arrangements, interaction with speakers, etc. To avail these premium features, attendees need to pay an additional amount.

In-App Ads

The host of the virtual business events can advertise the sponsors and co-sponsor brands. Advertisements in web3 events can display ads or banners. Ad fees can be charged based on the event type, and promotions brands are looking for.

VIP Entry Pass

Attendees of the web3 event application can buy VIP entry passes to avail extra luxury facilities. The host can charge additional fees to attendees interested in enjoying some additional VIP features in the virtual event.
Based on what type of virtual event you are organizing on the web3 event app, you can use one or a combination of monetization strategies to boost revenues. Struggling to find the right monetization strategy for your web3 event app? Connect and discuss with our experts TODAY!
Bespoke Feature of Our Web3 Event Software
We at RisingMax Inc empower businesses worldwide to capitalize on the true potential of web3 technologies and organize web3 business events. Our web3 event application comes with intriguing features to provide attendees with an unmatched virtual event experience and allow the hosts to manage things efficiently. Bespoke features of our web3 event software include;
Share Screen

This feature of our web3 event app allows employees, clients, partners, board members, and others to share their scenes and connect virtually. Share screen options allow anyone to participate in a virtual event, even without VR headsets.

Live Q&As

The host of the virtual event can leverage this feature to enhance interaction between attendees and panel members. Attendees of the web3 event app can use this feature for live chat, ask QnAs and virtually create a real-world interaction.

Hand Raising

Well, even in a web3 event, you won't miss out on the "Hand Raising" feature. A handy feature to make interaction in the virtual events more interactive and give attendees a sense of inclusion.

Mute Attendees

Similar to a real-world event, your web3 event can be noisy too. This is why we have added the mute attendee feature to our platform. The host of the web3 event can use this feature to manage participants and mute attendees in case there is too much noise.

Record Event

With this feature of our web3 event app, the virtual event host can record the entire event for analysts and marketing. Recording web3 events allows the host to show events to participants who fail to join for whatever reason.

End-to-End Messages

Providing hosts and attendees with a secure communication environment is our top priority. Our web3 event app comes with end-to-end encryption to create a secure virtual chat experience for users.

Integrated Social Media

Our web3 event app comes with integrated social media features. This feature makes it easy for the participants to register and share the events on multiple social media platforms.

Event Registration

With this feature of our web3 event app, the host can create and maintain a list of all attendees. Attendees can register and join the event with easy registration options such as email, phone number, and social media.

Event Livestream

Our web3 event software comes with an integrated event live stream option. The host of the web3 event can use this feature to live stream an event on multiple platforms simultaneously.
Virtual Events Our Web3 Event Application Support
Our web3 event software can perfectly organize any type of virtual event. No matter what type of virtual event you are planning to create, the integrated high-tech features of our web3 event app will make the job easy for the host. From organizing to marketing a virtual event to widen its reach, everything is possible with our web3 event application. Types of virtual events our web3 event platform support;
Virtual Corporate Meetings

Organizing virtual corporate meetings with our web3 event app won't be an arduous task for the host. Attendees from any part of the world can be a part of the virtual corporate meetings. The host can choose the venue layout and 3D avatar based on the virtual corporate meeting agenda.

Virtual Webinars

Organizing webinars with our web3 event app will surely take interactions to a new level. Virtual webinars eliminate the need for participants to leave their homes or offices to join, thus ensuring a 100 percent participation rate. Most businesses invest in web3 event app development to provide internal and external employee training.

Virtual Music Concerts

Our web3 event app allows music artists to break all their physical limitations. Music lovers worldwide can buy tickets to concerts and see their favorite pop stars perform live. Our web3 event app allows the participants to choose any digital avatar while walking into the virtual music concert.

Virtual Conferences

Businesses worldwide are leveraging the potential of new-age technologies to organize virtual conferences. The host can provide participants with materials like PPTs, images, PDFs, Documents, and more to create an engaging environment. Virtual conferences allow participants to join from the comfort of their homes.

Hybrid Web3 Events

Businesses can use our web3 event application to organize part-in-person and virtual events, i.e., hybrid events. Hybrid events allow hosts to increase the reach of business events and allow attendees to become the events partly as per their convenience. These events effectively organize employee training, branch meetings, corporate events, launch events, and more.

Online Exhibitions

According to market research, it is found that participants are less likely to attend a brand event they are unfamiliar with. Online exhibitions allow brands to break this barrier and enhance their product reach. Startups can take advantage of web3 event apps to showcase their newly launched products and services to a wider target audience base.

Virtual Seminars

With the evolutions of the world wide web, businesses are more comfortable organizing virtual seminars than in-person ones. With our web3 event application businesses can replicate the same level of engagement and participation if executed as planned.

Virtual Trade Shows

Our web3 event platforms give freedom to the host to organize a trade fair where people from around the world can share their unique business ideas. Virtual trade shows will attract investors worldwide to find unique business ideas worth investing in. On the other hand, businesses have the potential to showcase their new product and services to a wider audience base.
Why Is Web3 Event Software Getting Popular Among Businesses?
Accessibility

Organizing a virtual business meet-up on the web3 event app creates a win-win situation for both the host and participants. Participants from around the world can join with an active internet connection and VR device. On the other hand, businesses can organize and invite without any hassle.

Cost Effective

Web3 event apps effectively organize virtual events such as launch events, meetings, webinars, and employee training. Organizing a virtual event saves a lot of money compared to real-world events. The host won't have to make any necessary arrangements and can reach wider audiences by leveraging integrating tools.

Flexibility

Organizing a virtual event allows the host to organize events even in extreme weather conditions. Even if there is an event cancellation, the overhead cost will be minimal as compared to the in-person event.

New Opportunities

With web3 event apps, businesses can showcase their product and services to a worldwide audience. This allows them to explore new opportunities and market their products in other parts of the world.
Web3 Event Software Development Process We Follow
We have curated a flexible development process to ensure that the end product meets our client's requirements. Keeping our customers' needs at the center of our web3 event software development process, we deliver exceptions to our customers. Here's a six-step web3 event software development that we follow;
Requirement
Analysis
Planning
Development
Testing
Post-Deployment
Our Web3 Application Development Engagement Models
We understand that no two business requirements are the same, so we at RisingMax Inc. offer different engagement models. Based on which web3 app development models meet the client's requirements, you can hire our web3 developers
Dedicated Team

Hire our web3 developers who will work on your web3 event app from development to deployment and deliver the expected time-bound results.

Team Extension

Our web3 experts will assist your in-house virtual event team remotely to add the right expertise and talent to turn your event app idea into reality.

Project-Based

Hire our web3 development team on a project basis for your web3 event application and build highly reliable and secure business solutions.
Why Partner With RisingMax Inc For Your Web3 Event App Development?
Over the years, RisingMax Inc has worked with enterprises and funded startups to build next-gen business solutions for them. Our web3 development team has leveraged their expertise to build groundbreaking solutions for our customers. Here's what you get when you hire us for your web3 event app development;
Customized Solutions

With our expertise in web3 technologies, we are able to build customized web3 business solutions for our customers. No matter how complex your web3 event app development project is, our team will get the job done for you within your budget.

Tech Expertise

Our team has more than five years of experience in web3, blockchain, and AR/VR technologies. We have the best minds that know how to deliver the best IT solutions for your business.

Custom Pricing

We know that no two business requirements are the same. We share custom pricing quotes based on your web3 project requirement and tech needs.

Round the Clock Support

Our team is available 24*7 to solve any project-related query and discuss a new web3 business idea. Feel free to reach out to us anytime.