Workspace as a Service Software: For The Era of Remote Jobs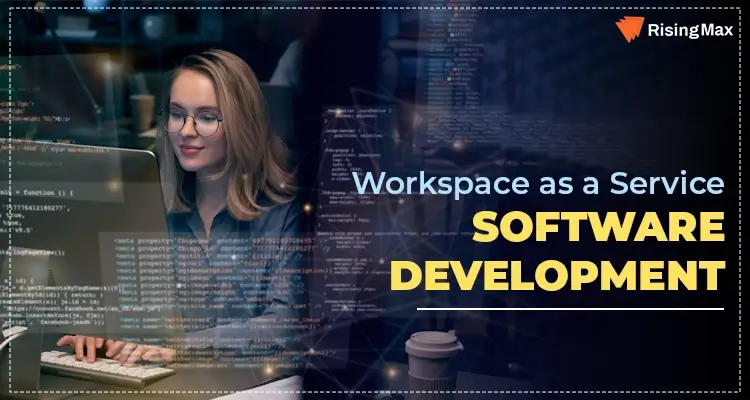 A coin always has two sides, a head and a tail.
But the thinking is not just limited to the coin; the same is with our life and the materialistic world around us. 2019 brought the challenge of Covid, and many people have lost their lives, but another thing took place on a positive note.
An all-new world of remote working, and then many companies have realised that jobs can be done anyway without visiting the workplace. The whole world was shut as we know that the "Show Must Go On", and for that, a new work culture developed, "Work From Home". 
22% of the workforce (36.2 Million Americans) will work remotely by 2025. 
27% of U.S. employees work remotely as of 2023.
40% of workers believe that they've been more productive while working at home during the pandemic, as opposed to the office.
Currently, 68% of Americans would prefer to be fully remote.
16% of companies are fully remote.
Sources: (Zippia)
Workspace as a service(WaaS) software is one of the best possible solutions for adapting for your business to keep running with workflow and easy employee management. We are providing free consultation regarding workspace as a service software development. 
What Is Workspace As A Service Software?
An online workspace is a complete set of frameworks that emerges all the required applications for managing and doing the job remotely. The workspace as a service is operational on any device and with an internet connection. A high-end workspace as a service software gives frictionless and easier access with completely secured coding to save the company's data and other important credentials. 
Software development companies are providing high-end softwares to companies so that their employees can work for their companies without relocating themselves. 
How Does A Workspace As A Service Software Work?
On the workspace as a service software, thousands of employees can work easily and won't face any error regarding the loading speed. The basic motto of the WaaS software is to do the task and deliver it on a flexible workspace to create a flexible and remote working space. 
It creates a workspace for the employees to do their tasks at one station and deliver them to the company via the cloud created in the data centre.
The workspace as a service software gives the ability to create a high-end, user-friendly and flexible virtual desktop where the company's employees can install the application as per their requirements as well. 
The applications and the desktop sharing will be done from the user/employee's end, which can be anything like a smartphone, laptop or tablet with a stable internet connection. 
The employees have to install the WaaS software to get access to their personalized workspace to work out their remote jobs easily. 
The software is with the option of personalization and complete security to tackle cyber attacks and leakage of personal/ professional data. A company's employees can set their passwords and can also set their fingerprints on smartphones. 
After the complete process of verification on the WaaS software, the user will get complete access to the platform and set their desktop as per their references and install the application on the virtual desktop. 
Top IT Staff Augmentation Services Provider

Benefits Of Getting Workspace as A Service 
The workspace as a service platform has opened the door for generating a good amount of revenue by providing the service of a dedicated workspace. Let's see what benefits your client will get from your WaaS software.
Better Productivity
According to a survey, 77% of the employees said that they had acknowledged great productivity while working in an offsite mode, 30% of the people said that they had achieved more than their targets in less time in remote mode, and 24% of the people has completed their target in the same time. This shows how employees can be more productive if they are in their comfort space. 
Flexibility In Job
There was a time when people were used to being sharp on time for doing their job. But as the era changed, the employees started asking for flexibility and productivity, and companies started giving it. With the workspace as a service platform, the company's employees can log in to their profile anytime without thinking about the log-in and log-out time. 
Loyalty
Companies will have the ability to maximize and minimize access to the software. For example, a company took the subscription for 2000 employees, but for any reason, they have to cut it short to 1000 employees; they customize their subscription. Giving them the option of subscription customization will give your platform reliability and loyalty for more engagement.
Cost Reduction 
The company can cut unnecessary expenditures like building an office space, bills, etc. Instead of paying thousands of dollars for office space to every month, who won't prefer to get low cost but reliable solution? Office space in USA costs $46.93 per square foot.  Apart from the office space cost, a company must pay considerable other costs for setting up an onsite working space. 
AI Chatbot Development Company in New York, USA

How You Can Generate Revenue From WaaS Software
After learning about the benefits and how a WaaS works, let's come to something about your pocket. How can you make money from developing a workspace as a service software? 
Subscription Model
Your business will generate a major part of the revenue from the subscription taken by the companies for their employees. The subscription can be yearly, monthly, or quarterly or can be with all such options. 
Number of Employees
Another thing that you can do is the set of slabs according to the number of employees and charge according to that. It can be with a slab of 1-100, 100-250, 250-500, and so on. It will help the companies to select from the options. 
Advertisement
An old form but still a potential one to generate revenue from the platform. You can show advertisements on the company's panel and charge the companies who will ask you to publish their ads on your platform. 
On the other side, you can charge your clients something extra for not showing an advertisement on their panels. Advertisements were always a win-win situation for the service-providing companies. 
Internet of Things App Development

How To Build Workspace As A Service Software?
Now let's come to the major thing one should not miss if looking for a reliable business with workspace as a service software. To develop reliable WaaS software, here are a few of the steps that you should consider the foremost thing.
Research
We have shown some of the stats above and also in the middle of the blogs, but if you are going to provide your service on the global stage, then a lot of things should be considered in research. 
Blueprint & Approval
Prepare the blueprint of the business and get all approvals from the government for launching your business on an international level. 
Target Audience
As the next step, you will need to set a target audience. It will be upto you whether you want to make big-size enterprises as your target audience, mid-size or small firms, for the initial years. Once you will get a strong user base, then you can definitely move to bigger targets. 
Select Techstack
You need to be very specific about the programming language, tools you want in your platform and frameworks you want. Techstacks play a vital role in the functioning of the software. 
MVP
If you wish to launch a WaaS application and verify the value proposition successfully. In that instance, there is no question that developing an MVP is a wise step in the development of your workspace-as-a-service product.
Although an MVP is not a finished product, it includes sufficient features to draw beta testers and prove the viability of a concept. The MVP is market-ready and has the potential to be scaled and improved.
Cost To Develop A Workspace As A Service Software 
The development cost of WaaS software depends on various factors, including the tech stack, development team size, size of the company, etc.
| | |
| --- | --- |
| Software Designing Costs | 10K to 20K |
| Advanced Features of Software | $25 to 50K |
| Cost For Deployment  | $10K |
| Cost Of Integration | $10K |
| Total Cost For Maintenance | $1500 to 4K |
| Project Managers and Team Lead | $25/ Hour |
| Quality Assurance Team and Testers  | $5K |
What RisingMax Inc. Have For You To Develop WaaS Software?
RisingMax Inc. is a team of 150+ expert developers with 10+ years of experience in software development. Here are some more reasons to claim why we are the best for business ideas.
Free Consultation
We provide free consultation for platform development, and our executives will try to listen to all your thoughts and research about what you want in your platform to provide a high-end workspace as a service software. 
Cost Effective Solution
We are a leading custom software development company in the USA and also left our imprints on a global platform. We develop the software at the most cost-effective rates and also provide the after-deployment service at very affordable rates. 
Complete Transparency 
RisingMax Inc. provides complete transparency in the development process, before the deal, during the development process and after the final deployment of the project. We do not have any hidden charges or do any unfair means with the project. 
Complete Support
Our dedicated project manager and the development team will always be in touch with your team to provide information about the development process and to resolve any sort of query. 
Multi Level Testing
We have a strict protocol for multi-level testing to ensure no bug should be there in the WaaS software.
Conclusion
This is the perfect time to come up with a workspace as a service software development to provide service at the global platform. Don't miss out on the opportunity to come up with an idea to present a reliable virtual platform where the companies can work in the same space easily from their homes.