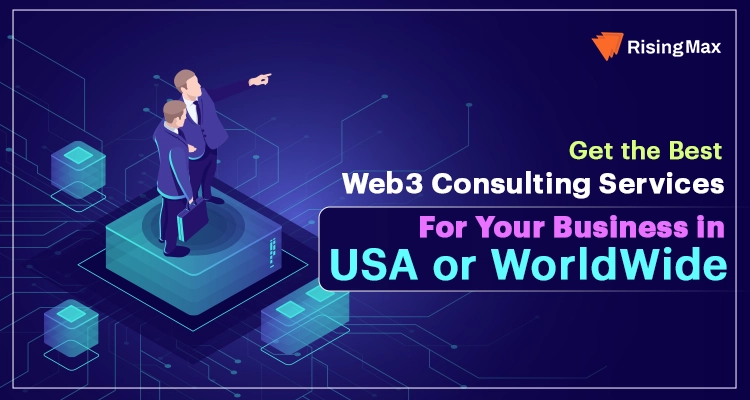 Get the Best Web3 Consulting Services For Your Business in USA or WorldWide
If the second generation of the web brought about interactivity, the third generation is ready to transform interaction. The third iteration of the Internet is more open and decentralized, powered by blockchain technologies, and enabled by digital identity, ushering in a completely new digital economy.
Web3 has the potential to open up new opportunities in a range of businesses. Still, eliminating the conventional value-exchange intermediaries will impact the profit margins of many enterprises. Financial institutions must reconsider their business strategies and market structures due to tokenization, blockchain payment rails, and decentralized finance (DeFi).
If you want to learn more about this unique Web3 business opportunity, get in touch with RisingMax Inc.'s Blockchain experts. We assist you in sorting out the ramifications of web3 and creating a future-back perspective of how it might affect your sector. We evaluate potential possibilities and challenges, redesign your company model to incorporate fresh digital experiences, assist with product launches, and plot a route for generating value over the long term.
Let's take our discussion further.
Explaining Web3
Ever heard something referred to as version 2.0? This phrase, formerly just developer speak, is now a common expression. It refers to an improvement or update that makes something better. A better internet than we now have is what Web3 is all about. Web3 is predicated on the idea that the internet will no longer be under the corporate and commercial elite's control and that a new power structure will emerge. However, it will be up to the users. The use of open-source software will spread.
It returns control to those who are generating value on these networks: the users, taking ownership and data extraction out of the hands of tech behemoths like Google and Facebook. Web3 enables you to participate in the creator economy, a multi-trillion-dollar market opportunity that will only expand over the next ten years.
Core Principles Of Web3
Decentralization

Few businesses currently control the majority of the internet. Many statistics demonstrate that 6 big organizations received about 57% of the world's application traffic. In Web3, ownership is shared among users and is not held by many entities.

Permissionless

Everyone with access to the network can use the services; no one can be barred or excluded. This is possible because the network is decentralized, and there is no centralized authority to verify data transmission. Instead, verification happens at the user level with thousands of participating nodes.

Trustless

Because there is no centralized network, a trustworthy third party is not required to mediate interactions between two parties.

Native Payment

Payments will be made using cryptocurrencies rather than the cumbersome banking system, as is currently the case. As cryptocurrencies are decentralized, no one can impose restrictions on the movement of tokens. Hence, no restrictions can be placed on the transfer of money.

Ownership

Users control how much of their data they wish to share and own. This is a significant departure from the Web2 ownership mechanism since if a person owns an NFT from a game and the game manager deletes their account; the user still owns the NFT. NFTs will be crucial to Web3 since they will serve as ownership proof.

Censorship

Since all data is stored in the blockchain, it cannot be changed and is impenetrable. They cannot be removed or edited by anyone.
Align the current state of IT with your business strategy by hiring the most trustworthy IT consulting company
Enriching Various Sectors With Our Web3 Consulting Services
Education

Understand how Web3 will impact schooling in the future. Building educational apps using Web3 technology simplifies administration, improves staff responsiveness, and minimizes manual data handling. For institutions to find development opportunities and maintain a competitive edge, RisingMax has a wealth of experience developing Web3 solutions.

Retail

With its promise, Web3 is changing the retail industry. We assist retailers in improving their processes by being one of the top Enterprise Web3 consulting firms in the USA, from assuring product verification to efficiently processing payments. Our technologies make it simple for shops to handle concurrent payments and other duties.

Travel & Tourism

The travel and tourism industries are effectively transformed by our Web3-powered solutions, making it easy to trace bags and increase client loyalty. RisingMax, a global business Blockchain development company, is skilled at providing tech-driven solutions that support the specific requirements of the travel and tourism industry. Web3 consulting companies offer products with all the features you need to meet client expectations.

Healthcare

Get your hands on the best healthcare services powered by Web3. Our team at RisingMax leverages Web3 to transform healthcare services dramatically. We create sturdy, cutting-edge, secure healthcare networks for private and public networks. With our advanced experience, we create Web3 applications for new healthcare and established enterprises.

Real Estate

Unlock the potential of Web3 to simplify payments and provide investment opportunities. To provide effective real estate software solutions for better managing digital assets, we use Web3 technology. RisingMax's proficiency in developing real estate Web3 solutions offer the potential to expand operations and meet the sector's key concerns as technology advances.

Finance & Banking

The use of Web3 in banking and finance can be observed in several operations, from fraud elimination to speedier money transfers. Decentralization is a key component of the finance apps (dApps) we create using Web3 to reduce the risk of fraud. As Web3 technology in banking has a bright future, now is the ideal time to collaborate with a Web3 development company to create the most cutting-edge solutions.

Supply Chain

By enabling faster and more economical product distribution, Web3 significantly improves supply chains. We offer solutions to improve product traceability and pattern coordination. The Supply Chain apps that our Web3 developers build cover the complete lifecycle from manufacturing to warehousing to end users and are designed with the highest attention.

Government

Web3 solutions likewise power the government sector's future. Many governments and public service organizations utilize Web3 technology to supply efficient government services. Our team of highly skilled developers designs Web3 solutions that provide the government with various benefits, like increased election transparency, real-time monitoring of public bids, and more.
Launch A Thriving Web3 Project With The Best Strategic Consulting
Get Started
Web3 Consulting Services Perks For Your Business
Streamlined Business Procedures

Businesses will find it simple to keep a record of every party to a transaction with Web3. Additionally, enterprises and businesses can simply build and manage their supply chains with this technology. All contracts might be automated using smart contracts, simplifying company processes. For instance, all information on reservations, visitors, and invoices might be accessible in real-time to expedite a hotel's business process. Every guest that enters the property will also have their transactional information recorded in the ledger.

Analyzing Market Trends

We are all aware that the state of technology is rapidly advancing. Market trends and customer business requirements are always changing periodically. Utilizing a group of Web3 specialists who will provide consulting services will enable you to get solutions in line with the most recent trends and gain an advantage over your rivals in the industry.

Quick Prototyping

Web3 consulting services also include the administration of technology leadership and team education initiatives. Professional Web3 developers help you with a quick development strategy to deploy the Web3 application in the market and establish your company in a relevant position there.

Choosing Effective Use Cases

Almost every industry and market sector has a use case and application for Web3 technology. What works for one firm might work differently because every business has different needs and organizational structures. If you're interested in creating a blockchain firm but unsure which use case would be most advantageous, consider looking into Web3 consulting services.

Supply Chain Management

The process of organizing, implementing, and managing operations is known as SCM. It covers the transportation and storage of unfinished products, work-in-progress, and raw materials. Supply chains are used to produce and deliver goods and services to clients. SCM strongly emphasizes streamlining the movement of resources, data, and money along the supply chain to meet consumer demands. Supply chains will become more efficient and safe with Web 3.0's decentralized structure. This lowers expenses and raises the standard of goods and services.

Advertising & Marketing

Web3 is all about providing users with a tailored experience. Web 1.0 provided information and Web 2.0 provided two-way interaction. This change is already impacting the marketing and advertising industries. Web 3.0 enables advertisers to contact their target customers by delivering a more customized experience. As a result, businesses that choose Web3 technology will experience increased sales and brand awareness. To stay competitive and better serve their customers, more businesses will likely invest in Web3.
Swift Transition To Web 3.0
Decentralization will be one of the main obstacles for businesses on the path to Web3. Since they can benefit from it, big businesses like Google or Facebook keep control of customers' personal information.
Due to decentralization, social networks won't be centrally controlled anymore because each user will be the owner of their data and will manage it properly. Additionally, through the implementation of a token-based governance structure or even the formation of Decentralized Autonomous Organizations, social networks might stop being centralized under the management of a firm and place a significant portion of decision-making in the hands of the users (DAOs).
On the other hand, not all businesses require full or partial decentralization. In this regard, asking yourself what aspects of your firm you should or can decentralize and what aspects should be kept centralized is one method to approach this change.
For businesses who want to transform to Web3, RisingMax offers services that can be very helpful when making decisions about this update. Consulting provides comprehensive consulting services to help you transform your company and move seamlessly to Web3.
Why RisingMax?
RisingMax Inc. is known as the leading enterprise IT consultant in USA. Our blockchain team uses its knowledge to develop incredibly dependable and secure enterprise Web3 solutions. We have proven expertise in developing web3 projects, which sets us apart from other consulting companies and allows us to provide meaningful and scalable strategic insights.
Advisory

We counsel our clients to adopt the appropriate blockchain strategy at every stage, from discovery to end-to-end development.

Evidence of Concept

To assist you in understanding how Web3 technology increases business efficiency, we quickly produce Proof of Concepts.

Blockchain Development

We use the best of our industry experience and blockchain development talents to transform ideas into solid dApp.

Training

Our business and technical professionals also mentor and teach clients to create solutions well-suited to their use cases.
Roadmap For Exceptional Business-Oriented Solutions
Create A Plan

To construct the Web3 platform to your needs, our team works with you to understand your ideas and business.

Creating White Papers

Once the route plan is clear and you give the go-ahead, we begin designing a white paper with a thorough description for the benefit of investors.

Development And Design

We develop a next-generation web3 solution based on white paper crafting that reflects your business objectives and conforms with technical specifications.

Sensible Contract

Our specialists create a unique smart contract using blockchain technology to keep your platform safe and transaction-friendly.

Platform Evaluation

Our experts perform multiple-level testing to catch any issues early on in the development process, ensuring that your platform is 100% secure and effective.

Launching

Once your platform has been created, we deliver it to investors with all the necessary credentials to aid in the launch.
Conclusion
After examining the many dimensions of blockchain consulting services, it is clear that blockchain has the potential to impact a variety of industrial sectors significantly. It has the potential to be the biggest game-changer ever seen. Businesses, startups, and enterprises will benefit from it from the ground up for improved performance, competence, and income.
RisingMax, the leading provider of Web3 development and consulting services, provides third-party integration, specialized coding, and sophisticated Web3 development solutions as part of its Web3 consultancy services. To leverage and streamline procedures, many companies and well-known brands have begun implementing blockchain in their operations.
Contact our experts now & stay ahead in a rapidly transforming world.
Need Help With
Development