What is DeFi in Crypto & Ethereum? Popular Decentralized Finance Use Cases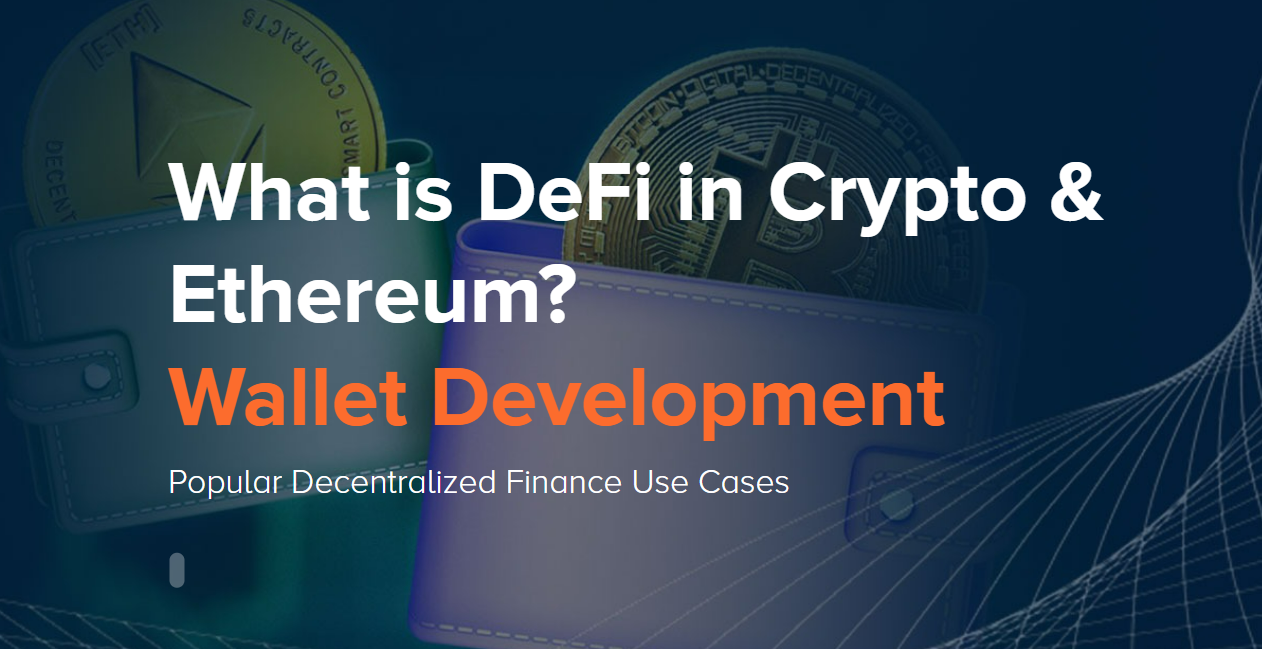 The financial institution, a.k.a banks, has been holding an indomitable position in the traditional financial systems. The inequalities in the traditional finance system have always raised a question on the efficiency of the financial institutions. This is why there is demand around the world for a more reliable, accessible, secure, and transparent financial system.
For this very reason, the adoption of blockchain technology in finance is seen as a revolutionary step in reshaping the financial sector. The intent to introduce blockchain technology is to create a new finance world with Decentralized Finance (DeFi) apps. Jumping up the bandwagon, the decentralized finance companies around the world are making financial services safer, transparent, and accessible for everyone.
In this post, we are going to discuss everything related to DeFi decentralized finances. And how we at RisingMax help you capitalize on the new opportunities in the finance world
What is Decentralized Finance (DeFi)?
Decentralized Finance is, also known as DeFi, is a system that removes the middleman from the financial system as it is blockchain-based. Instead of relying on intermediaries like brokers, banks, agents, the DeFi system use blockchain-based smart contacts to record transactions and transfer money.
The traditional financial system requires identity proof such as social numbers govt ids to enjoy financial services. However, in the DeFi system, anyone can take part. With peer-to-peer and blockchain technology, DeFi makes it possible for participants to bypass the logistical issues and create a secure environment. With decentralized finance, the financial power is in the hands of people and not in a few institutions. DeFi users have complete freedom to decide how to trade and store their financial assets.
That is the power of the decentralized exchange as it opens up the finance sector for everyone. It eradicates the financial barriers that exist in the traditional financial system and provides users with a financial system that is transparent, permissionless, flexible, and secure. There are numerous DeFi apps that can offer financial services better than their centralized counterparts.
DeFi financial services include - decentralized exchanges, lending platforms, Stablecoins, prediction markets, synthetic assets, to name a few.
Scope of DeFi Decentralized Finance
Since its inception in 2017, DeFi decentralized finance has soared up from $ 4 to 14.54 billion in 2021. It is expected that the DeFi will continue to grow at the same pace in the upcoming years as well.
With a reliable DeFi development company like RisingMax, startups and budding entrepreneurs can bring their innovative idea to reality. And launch DeFi solutions such as DeFi Derivatives, DeFi Fund management, DeFi Insurance systems, and much more.
The rapidly growing blockchain technology opens up endless scope for intuitive DeFi development. With our expertise in different DeFi vertices and thorough understanding of DeFi, we help our clients launch their DeFi projects.
How Different is Decentralized Finance From Traditional Finance System?
In a traditional finance system where a central governing authority controls everything, most people view the DeFi system as an advanced version of the financial system. When it comes to core working, sending, and receiving money, anyone can see the inherent difference between traditional and decentralized systems.
In DeFi, there are no central governing agencies, institutions, and employees. This role is played by the algorithms and smart contracts in the decentralized finance system. After the successful deployment of the algorithms and smart contracts, the DeFi apps run on an auto mode without any human interference. However, the same is not true for the traditional finance system.
Transparency is another factor that sets decentralized finance from the traditional system. All of this is possible with the introduction of blockchain technology used in the DeFi system. The fact that anyone can audit and understand smart contracts opens up the opportunity to know their functionality and DeFi works.
To increase their influence around the world, the DeFi environment created dApps on blockchain technology. What's unique about these applications is that irrespective of the user's geographic location, anyone can access to DeFi network and services.
DeFi being transparent in nature allows anyone to create decentralized finance apps on their platform. They eliminate the need for accountants, finance offices, gatekeepers, and others, as everything on the system is managed automatically with the help of algorithms and smart contracts.
Unlike the traditional system, the decentralized finance apps are built by mixing DeFi products such as lego. One such example of DeFi apps is creating a new product with a decentralized exchange, native coin, and prediction markets.
Prominent Benefits of Decentralized Finance (DeFi)
There are many things that go against the traditional banking system. Administrative nature, expensive to run, time taking, middleman, rigid financial rules to name a few. This is where the DeFi system came out as a clear winner and settled all the major issues with the traditional financial system. Here are some of the prominent benefits of DeFi -
Smart Contracts
A smart contract is a non-editable mutual agreement based on ethereum technology. These contacts are automated and executed when predetermined conditions are met. This ensures all the participants of the outcomes without an intermediary's involvement or time loss.
Fully secured
Security is one of the top concerns for anyone planning to build and launch their DeFi business. Blockchain technology ensures that the transactions are completely secure and transparent, with no loopholes that exist with the system.
Automation
The in-built smart contracts technology and algorithms allow DeFi systems to automate their working process. With an automated working mechanism, users are assured that there is no manipulation or favoritism that exists in the traditional financial system.
Transparency
As you already know, the DeFi systems work on blockchain technology, and thus, they offer openness and accessibility. All the transactions that happen on the network are publicly available to everyone.
Finance control
Where in the traditional financial system, users have less control over how and where their financial assets are invested. But, that's not the case with the DeFi system. Rather than relying on any intermediaries, users can choose where and how the funds are going to be invested. As with the security of the smart contacts based on Ethereum technology, they are assured that it works indiscriminately.
Access Worldwide
DeFi system allows users to create and enjoy financial services without any hassle. All you need is an active internet connection IoT device, and you can connect with investors around the world.
Launch New Products
DeFi offers a completely new and enhanced environment to launch improved financial products and services. Being an open protocol, it assists in creating and launching new-age financial solutions.
No Permission
Regardless of any barriers such as pay, race, location, sex, the DeFi system welcomes everyone. There is no need to provide any KYC document such as govt ID card social number to access the DeFi system. Without any permission needed, you can access decentralized financial services with mobile phones or computers.
Our DeFi Development Services And Solutions Include
We offer our customers futuristic DeFi solutions and development services to help them launch the latest tech-driven products. We help startups and entrepreneurs around the world to launch DeFi solutions with the latest features and functionalities to stand among others. Have a look at our DeFi services and solutions -
DeFi Smart Contract Development
The smart contracts are the foundation of the DeFi platform and assist them in working efficiently. These are non-editable documents that are automatically executed when the predetermined conditions are met. Our blockchain experts audit the smart contracts to keep them in good health.
DeFi Insurance System
Insurance is a vital instrument to safeguard oneself from any unpredictable circumstances and emergencies. We help insurance companies or startups launch DeFi insurance applications with smart contracts and decentralized nature to protect against the data breach.
DeFi Yield Farming System
With our expertise in the Fintech industry, we help our customers launch the DeFi yield farming systems. With this, their customers can earn returns by pledging crypto for a specific period of time. They make it easy for traders to trade cryptos and enjoy returns on their holdings.
DeFi Lending Platform
DeFi lending platform ensures efficient and quick disbursal of credit to eligible borrowers. The collateral deposit acts as security for the lender if the borrower cannot return the money. Launch a defi lending platform that allows lenders to earn a regular income as interest payment from borrowers with the security of blockchain technology.
DeFi Staking Platform
With our defi staking platform services, we help our clients generate a good source of passive income. Launch a platform where users can stake their crypto assets and unlock the rewards of staking on the platform. We can build a defi staking platform on any leading blockchain network as per the client's requirement with our expertise.
DeFi Token Development
Our experts help you launch defi tokens based on decentralized blockchain networks. Depending on the intended purpose, these tokens can be used for security, utility, payment, or equity tokens.
DeFi Decentralized Exchange
For those looking to create decentralized liquidity pools like Atomex, Curve, Uniswap, and KyberSwap, we offer DeFi exchange solutions. Empower users to trade digital assets on defi exchange with the security of blockchain technology.
DeFi Wallet Development
Enter the crypto world with our Multi crypto wallet development services. Provide a safe and secure wallet for the storage of digital assets that can only be accessed with a private key. Launch a crypto wallet both on web and mobile platforms with our wallet development services.
DeFi DApp Development
Our experts help in launching DeFi DApps solutions such as Rarible, Ren, SushiSwap, and Curve. With DeFi DApp, give more powers to the users and eliminate single point failure that exists in a centralized system.
DeFi Derivatives Trading
With our defi derivatives trading services, you can launch a platform for traders who are looking to diversify their assets and be profitable. The platform includes features such as forward contracts, put and call options, futures contracts, and swaps.
DeFi Lottery System
Launch a lottery platform that is decentralized in nature, and no one has full control over the pooled capital. With the defi lottery system, users can earn healthy profits and even earn rewards in the form of interest rates.
DeFi Crypto Banking Solution
Launch revolutionary crypto banking solution to provide users with a unique financial, trading, and fund transfer experience. With features such as integrated wallet, fund transfer, deposit funds, interactive dashboard, and more, get a competitive edge over others.
Popular Use Cases for DeFi
With our white label solutions, you can launch DeFi based DEX such as Uniswap, PancakeSwap, Bakeryswap, and more. Have a look at our top-selling DeFi clone script white label solution with 100% customization specifications.
PancakeSwap Clone Script
Our white label Pancakeswap Clone DEX platform is a functional replica of the Pancakeswap exchange. PancakeSwap Clone Script is a ready to deploy and 100% customizable solution to launch a fast DeFi based AMM platform.
Uniswap Clone Script
Launch an Uniswap clone platform with add-on features such as market analysis, automated market making, transaction history, integrated audit, and others. Our Uniswap clone script platform is ready-made and tailored to business-specific requirements.
Bakeryswap Clone Script
Our expert DeFi development team designed and delivered a functional replica of Bakeryswap built on the Binance smart chain. With our Bakeryswap Clone script, we offer ETH 2.0 compliance, NFT market provision, and a higher number of audits per second.
Sushiswap Clone Script
With our white label sushiswap clone script, you can launch your own Ethereum based DeFi DEX within a matter of weeks. Our sushiswap clone script is ready to launch a solution and can be tailored to meet specific client requirements.
Yearn Finance Clone Script
Launch a Yearn Finance Clone Script with top-notch features. Our yearn finance clone provides users with unique DeFi high yielding DApp, robust contracts, automated liquidity provision, and improved APY.
Polkaswap Clone Script
Our expert development team develops and designs AMM-based DeFi Polkaswap Clone Script. Launch a functional replica of Polkaswap with advanced features and functionalities to launch a platform that eliminates intermediaries and facilities trading and swapping of tokens.
1inch Clone Script
Launch a decentralized finance-based DEX aggregator with token integration, improved liquidity, optional exchange, and other top-notch features. Our 1inch clone script is pre-built and ready to launch solution with 100% customization.
Safemoon Clone Script
We help our customers launch their own DeFi platform like Safemoon along with native tokens. With our Safemoon clone script solution, you can enter the crypto world within six to eight weeks.
Dinoswap Clone Script
Our Dinoswap Clone Script is built on a Polygon Matic blockchain network and offers top-notch features. We help our customers launch a DeFi based AMM crypto exchange solution tailored to the client's specific requirements.
Why is RisingMax The Right Choice For Your Decentralized Finance Ethereum
Highly Experienced
Our fintech development team at RisingMax has been involved in the development of DeFi systems for more than 11 years, and the same is reflected in the development system.
Client Communication
We follow an agile development process and keep the client's requirements at the center of our development process. We keep our clients informed and design their DeFi projects as per their requirements.
Quality Assurance
We have been working on developing the DeFi system for more than 11 years, and the same help us offer optimal quality. We follow rigorous testing and quality checks until the DeFi product meets the industry quality standards.
Fintech Experts
Our expertise in fintech technologies such as AI, ML, blockchain technology, and RPAs. We have successfully delivered to our clients more than 15 crypto exchanges, 5 + crypto wallets, and DeFi platforms.  
On-Time Delivery
Whether you are looking to develop DeFi apps from scratch or white label solutions to build your DeFi project. We assure you about the on-time delivery of your project without compromising on the quality standards.
Remote Hiring
With RisingMax, you can hire DeFi smart contract development experts to gain streamlined and efficient intakes in developing and designing your DeFi application.
Want to launch a DeFi decentralized finance application? Our experts have the best DeFi solution for you. Get in touch with our experts today!!