Virtual School In Metaverse: How Metaverse Will Help The Education System?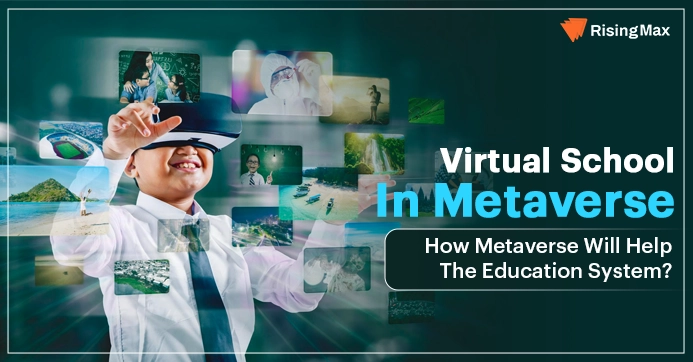 Metaverse is a virtual platform where teaching and learning processes would be quite easy. A virtual school intends to provide a perfect way of teaching and learning in an entirely new realm.
It will not be a text-based or video-based learning process but rather one based on virtual interaction with the students. It is a true example of an impeccable education system where students can join the classroom virtually.
The idea behind the metaverse is creating quite a buzz in the industry.  Organizations, investors, and enterprises are all hoping to leverage the metaverse potential in the upcoming years.  Everybody sees it as a lucrative opportunity and wants to shift their non-traditional business to a metaverse-based platform.
Metaverse Virtual School Stats
An

experiment conducted in Korea states 95.5% of students

already believed that metaverse would improve their learning capability.

In 2021, it was estimated that the global metaverse market size stood at 38.85 billion U.S. dollars. In 2022, this is

expected to rise to 47.48 billion U.S. dollars

.

The findings show that 53% of the Metaverse research studies were used in natural science, mathematics, and engineering, followed by general education (15%).

Research analysts estimate the metaverse economy as a meaningful opportunity on the horizon, poised to become a $13 trillion market by 2030.
Is Metaverse A Good Investment Option?
Indeed, it is good for investment! It is a digital revolution age, and for those who are not going to invest in the next big thing, there are better ideas to look forward to.
Pondering the benefits of the metaverse in the education system is a positive move for any investor. The meta-based education system will not just be for the lower grades but also embrace lots of potential for higher studies and research work.
Microsoft is developing a digital space to collaborate with their alias using avatars in an immersive way. This immersive space will be named "Mesh for Microsoft Teams," It is specially designed to establish a bridge between employees to interact with each other in virtual reality.
For development, it is like a one-time investment and gives a fruitful reward as long as you want to run your old school in a modern web world. Most of the universities from developed countries are after revolutionizing all the sectors into the metaverse. Most good investors always look forward to investing in the right areas, especially futuristic technology.
Features Of Virtual School In Metaverse
Traditional platforms, new businesses, existing businesses, startups, and social media giants like Facebook are all looking forward to metaverse platforms. Educational institutions in the United States, Brazil, France, Germany, China, and the United Kingdom are also engaged in research to deploy the metaverse technology in their colleges and institutions.
Some features are explained below:
Meta Campus
Meta Campus is a perfect platform that allows students to join a virtual campus accessible through their laptops, PCs, iPads, or mobile phones using a VR headset. Meta campus will provide a timetable so students can join the classroom for a lesson with their respective teachers. It also facilitates them to join the meta campus, science laboratory, and lab by connecting with the students.
Meta 3D Glasses
An immersive platform that shifts the traditional education system to a modern classroom is a clear winner for society. This platform entertains the teachers and students to interact, learn, and collaborate in an engaging environment.
It works immensely well for visually impaired and physically disabled students. 3D-based schools, colleges, and universities are facilitated with built-in assessment tools. These tools are helpful in terms of enhancing the learning process for the students.
Meta Tours
The pandemic has taught a big lesson: schools, colleges, and universities will not be the same. All the educational institutions went online for a virtual class tour, which has brought the idea of Meta tours in academic sectors.
Plenty of schools, colleges, and universities are developing metaverse learning experiences. Recently, the university of Miami has launched an immersive learning program through several platforms offering services in the sectors of climate change, education, and behavioral research work.
RisingMax is an early-recognized Metaverse Development company working for the Metaverse development platform. From Web 3.0 to the Metaverse platform, just name a modern technology and get yours on the web. We're just one click away from helping you understand the complete process.
Amazing Concept Of School Classes
The metaverse learning process is simple, but it allows the learners and teachers to interact in a very friendly and healthy atmosphere. Metaverse can help students learn tough lessons in the easiest way possible.
Hiring a Web3 development company and Developing such a platform will support low IQ students to imagine higher degrees with their intellect and intuitiveness. Let's find out how different subjects would perfectly fit with a metaverse-based virtual school.
Geography
Students from the branch of geography and astronomy can explore the layers of earth or planetary movement in an immersive way of learning. The metaverse offers a highly realistic visual appearance that enables students to experience the lesson instead of reading and watching.
History
It can be recreated with the help of metaverse-based school classes. So a student can learn their studies in an immersive way.
E.g., If somebody wants to experience the French industrial revolution, s/he may go back in time through a live session to see the past reality.
Science
The students who find science a hard subject can rather participate in live activities to improve their learning. It immensely improves their learning abilities and makes science less like a subject and more fun.
An easy example could be dissecting a virtual cockroach in a live laboratory experiment.
Benefits Of The Metaverse In The Education System
Adding New Technology
Metaverse is familiar with VR & AR. Rather it is a collection of several technologies put together. Metaverse includes Artificial intelligence, machine learning process, VR, AR, Blockchain, Digital Twins, and the Internet Of Things. This technology is built for Education, entertainment, commercial, functional, and operational services.
Free And Fast Access
Metaverse uses the latest technology, like 5G & 6G, in a virtual classroom that can handle large amounts of data transfer. Using the newest technology allows teachers and students to enter the virtual classroom in no time. Web3 game development services have developed many such platforms.
Immersive And Virtual Experience
All the students and teachers will feel immersion with the help of vivid and high-definition graphical presentations in the classroom. The aid of technologies like VR, AR, IoT, and AI allowed everyone to interact with each other like in the real world.
Everyone present in the classroom can move, manipulate, click, and learn. It will enhance the student's learning ability and thus motivate the teachers to prepare more engaging assignments and class lessons.
Decentralization And Open Source Platforms
The older version of the internet, Web 1.0 and Web 2.0, featured their content for specific groups or certain people. The metaverse with web 3.0 entitles the content to be available to create, edit, or modify virtually. The virtual nature will involve the characteristics, orientation, and features that will help the platform work more efficiently and bring a friendly environment.
How Much Does It Cost You?
Seeing the scope and lucrative opportunity, all the startups, small-scale & big-scale organizations, and even giant industries are working hard to develop their metaverse-based platform. It is the right time to step further and change your traditional business to the modern metaverse-based platform.
The cost completely depends on the complexity of developing the platform. The price of a simple platform would vary from the cost of a very complex medium.
| | |
| --- | --- |
| Company Size | Cost (USD) Approx. |
| Small-Scale | $50k to $65k |
| Mid-Scale | $70k to $80K |
| Large Scale | $110k to $120K |
We offer a fixed pricing rate for all your metaverse solutions and are bound to deliver within the time frame. RisingMax has been among the few who have started developing this technology since its arrival.
We train and educate our developers with the latest technology and let them work to their full capabilities. Each software has undergone several testing phases before it is delivered to our clients.
Expect Metaverse App development company to provide the following:
Robust solution for your platform

Efficient services

Bug, error, and glitch-free web3 metaverse platform

Reliable, scalable, and portable software

Easy-to-operate and cost-friendly development services
Why Should You Hire RisingMax Inc?
Many companies have been developing this platform for a long time. RisingMax is one of the best metaverse development services providers in the United States.
10+ Years of Expertise
We have more than 150+ developers developing metaverse-based platforms for over 10 years. We are among the first to realize Metaverse's trend set and have been developing metaverse-based software since long ago.
Provide Precise Solutions
Our development team contacts you and understands your requirements. Upon collecting all the information, our development team will develop a sketch for your solutions and move forward to provide an adequate solution.
Technical Support
Our technical team is always eager to hear from you. They are available for any query 24*7 and help you know about the metaverse technology and how you can include it into your existing business. Don't hesitate to call our friendly technical support, who are always there when you need them.
Conclusion
The modern world education system is changing rapidly. The educational business seeks many opportunities to upgrade traditional learning and teaching platforms.
Metaverse is helping the majority of educational institutions and all the other industries to step ahead and meet modern world technology. It could enhance productivity and features and foster an inclusive learning environment.
The metaverse-based platform will work effectively in the remote learning approach and create a modern learning environment. It is essential to provide a platform where teachers and students feel motivated and ease of doing exists in the system. Virtual classrooms will enhance the workshops by developing immersive learning experiences.
Joining the emerging metaverse is one way to achieve that. Metaverse will allocate a tremendous space on the World Wide Web where learning and teaching processes will be done in the perfect way possible.
From the investor's point of view, this seems to be a good opportunity to invest in a future-oriented business that is already booming in the market, and all major industries are changing.