Build A Stock Trading App Development & Keep Up With The Changing Trends Of Trading Industry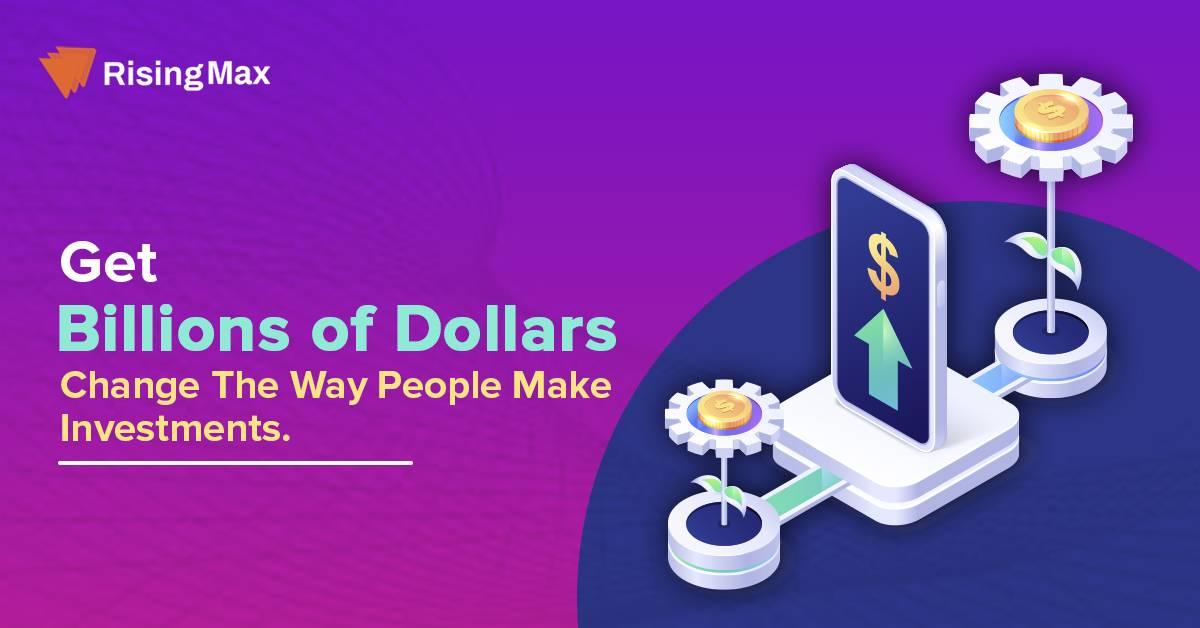 Get billions of dollars and change the way people make investments.
With the advent of new technologies, the trading system has witnessed a colossal boost in every sector. The power of automation of financial services, real-time quotes, fraud protection, stock analytics, and much more can empower stock trading.
On that account, numerous stock trading app development companies strive to serve investors and clients who are accessing the stock market across the globe.
Why Do You Need A Stock Trading App?
Stock trading applications make online investment convenient and accessible to every user interested in the stock market.
Stock trade becomes more feasible as users will not have to buy or rent an office space for brokers and clients can access it from anywhere.
It provides better control over the entire stock exchange business. Moreover, traders, and investors can perform all sorts of transactions in the stock market.
The stock trading app helps beginners who are interested in stock investment and trading.
Must-have Features Of A Stock Trading App
Authenticated Login
The check-in process must be easy, wherein the users can register using various options like e-mail, phone number, social media platforms, and biometrics system. 
Accessible User Page
The users must have the freedom to edit and update the profile. This will collect users' personal data and trades in which they are interested. 
Stock Searching
The Search feature of the app allows even beginners to learn to trade, find stocks, and know the market prices of the relevant stock. This gives them the freedom to analyze their profits and losses. 
Transactions Management
Stock market app developers must focus on integrating a transaction management feature for recording and monitoring all the transactions history so that users can handle their own payments. All the withdrawal and deposit transactions are to be notified.
Purchase & Sell 
Users can make better trading decisions by searching the stock's current status in addition to the news that is mentioned in the present stock. 
Profit/Loss Status
The profit/loss feature depicts the percentage of profit or loss on a particular stock along with a ranking pattern. It shows a list of stocks that a user is trading and makes the analysis easier.
Watchlist
A watchlist is a feature that lets users track a specific stock's performance and save it in their watchlist to be bought or sold later. They can save all the stocks they are interested in at one place and get their latest trading cost. Users will not have to search for them again and again once they have saved particular stocks on the watchlist.
Voice Commands
AI features like voice commands make a stock trading app the most preferred option for new users and businesspersons as it extends assistance to them.
Pricing Transparency
The effective trading app development process pays attention to the importance of pricing transparency. The platform must have a tab dedicated to pricing lists, margin rates, and more.
Professional Advice
Users can obtain more insight into the currency exchange market by following professional trading analysts by interacting with them via messages.
Push Notifications
Getting updates on stocks that are live and active is an indispensable part of the trading app development process. Users will be able to reach out to the stocks at the right time and prevent the occurrence of losses.
Market Analysis
Participants can collect the information that is analyzed based on the statistics in the market. 
Sorting & Filtering
Traders can analyze the stocks using the sorting option by filtering the required details from the ledger and navigating through the stock market in a format that is easily understandable.
Fraud Protection & Sensing
Advanced technology and in-app security algorithms protect users' money from frauds and thefts. 
API Integration
API integration makes it highly convenient for users to virtually connect their bank accounts to the trading app. 
Multiple Payment Options
Integrating multiple payment options is one of the most important constituents of trading app development services. 
How Do Stock Trading Apps Work?
The software gives an easy switch of finances out of your financial institution account on your buying and selling one, and vice versa, at some stage in your smartphone.
It makes positive which you usually capture up with buying and selling possibilities even in case you lack finances to your ledger.
Moreover, the app gives worthwhile buying and selling ideas, along with getting admission to company-unique economic data.
Why Invest In A Stock Trading App?
The stock trading apps provide unparalleled features, and a few of them allow commission-free trading and send timely alerts to the interested users. It is believed that the trading industry will be investing more money in trading platform development.
A stock trading app gives the flexibility to the investors and traders to trade anytime and anywhere. Additionally, stock market app development produces platforms that show better companies to invest.
All the factors give rise to the importance of stock market app development. With a stock trading app that ranges from amateur investors to high-end investors and traders, there is an easy way for them to get a better understanding of the numbers and charts.
In fact, tips and tricks for investing in the stock market are also provided to users. The simplicity of the tutorials and quick tips, along with a dose of the navigation system make these apps easy to use.
Monetization Strategies Of Stock Trading Apps
Modern businesses look for mobile app development companies to get trading app development services and earn huge incomes. However, not many of us know how they earn from it. Let us have a look at the monetization strategies that most of the stock trading platforms use. 
In-app Ads
Stock trading app owners can display ads of other insurance companies or fintech industries that will be shown between their paid services.
Paid Membership
Users can buy app membership if they wish to access advanced features. This increases the revenue manifold while allowing members to participate in the stock market actively.
Selling Products
The app can include financial products like insurance & mutual funds to be sold.
Transaction Fees
Under this monetization strategy, all the transactions will be chargeable. In simpler words, a particular amount will be deducted whenever a user does any transaction. 
Early Alerts
Users can get early alerts about the products to sell before the users who have not subscribed to the early alert facility. With this facility, the app can make a good amount of money.
Benefits Of Stock Market App Development To Investors
Pool Of Investors
Stock trading app development has gained a lot of popularity in the market, and investors are showing more interest in the trading apps. Investors, at present, prefer making fast, secure, and easy transactions with real-time updates of the market. 
No Need Of Brokers
Stock buying and selling apps act in a right away manner among customers and the inventory market, there's no broking. Therefore, regardless of the earnings, it immediately involves the person and app owner.
In this manner, there are greater earnings to each of the events in place of going the conventional manner. While having a broker, he or she will charge an amount of cash for the offerings.
However, via the app, you don't have to pay any fee to anyone.
Verified & Original Data Analytics
Many investors are in search of a stock trading app that can provide them with verified data analytics. Traditional companies that provide analytics to their adversaries are not appropriate.
So, businesses have a chance to deliver users an app where they can get the right guidance while investing in the stock market. It will make you attractive to investors automatically.
User Portfolio Management
Stock market app developers play a pivotal role in eradicating the problems of portfolio management for the investors. Users can make the accurate choices that suit their portfolio and can make decisions regarding investment.
Account Protection
The decision to invest in the stock trade comes with the risk factor of sharing confidential information like account details. With a stock trading app, investors can protect their personal data.
Stock Trading App Development Process
For fintech apps, Agile development methodology is followed for development. 
Discovery & Research
The phase involves the validation of a product idea and turning it into a business model and development roadmap. Information is collected to define the app's features, design, and line-up. 
Development Approach Formulation
Deciding on core and non-core features involves considering the mobile app's platform, managed cloud services, and third-party APIs.
User Interface Design
Visual analytics is one of the most crucial aspects, and designers must think beyond basic interface designs.
Development
The development process is divided into mobile and web, frontend and backend, and iOS and Android. Developers have to choose programming language and tools for writing code, frontend development, etc.
Testing, Delivery & Maintenance
The last phase involves complex testing across platforms to check the performance. Once the app is made available in stores, the team also ensures technical support, troubleshooting, and regular updates.
Cost Of Stock Trading App Development Process
Development costs depend on the complexity level of the solution, features, in addition to connecting payment gateways and cloud services.
On average, it takes 5-10 months to complete the stock market app development process.  
Types Of Online Trading Platforms
Various types of online trading platforms can be used by users to open their accounts.
Downloadable & Non-downloadable Platform 
Downloadable platforms need to be downloaded and installed on a specific device to be accessed.
Non-downloadable platforms can be accessed on any platform that has internet connectivity. Users can just open the websites and log in directly.
Dealing & Non-dealing Desk
In the dealing desk, the system connects with the dealing desk of brokers, where the complete pricing information starts.
In the non-dealing desk, multiple liquidity providers send the prices, which are reviewed by the traders.
Things To Look In Stock Trading App Development
There are multiple factors that you must consider to make the trading app development process worth all the efforts.
Self-intuitive Interface
Having a self-explanatory interface allows users to understand the working of the app.
Authentication
Users must come across a convenient check-in process with signup and log in options using phone number, mail ID, social media platforms, and Touch ID systems with biometrics.
Speed
In the fast-running stock market, customers prefer using an app that functions at a very high speed. 
Secure Database
Security is the most crucial part of trading app development. The app should maintain a balance between safety and convenience.
Difference Between Traditional Stocks Trading & Cryptocurrency Trading
| | | |
| --- | --- | --- |
| | Stock Trading | Cryptocurrency Trading |
| Trading Assets | You hold the shares when you buy a company's stocks. | You get digital currencies that hold a subjective value. |
| Ownership | Every stock represents a share and you become a part-owner of the company. | The value of cryptocurrencies is subjective and the prices can go up and down. |
| Setting A Trading Account | To set up a trading account, it needs much paperwork, a broker, and approval to buy & sell. | It requires a simple sign up and account verification. |
| Market Maturity | It is more market mature because it has been in existence for a long time. | It is young and in the growing stage. |
Why Choose RisingMax's Stock Market App Developers?
1. Upfront Price
Stay on budget and build what you need on time. We offer a model wherein you can control the price- add more features and pay more, remove features, and you will pay less. 
2. Highly Reliable Code
Our team of stock market app developers uses AI and ML to test code. Our process prevents wastage of time on typos and focuses on investing more time into making the app more engaging. 
3. Transparent Process
We religiously advocate a transparent process to keep the clients updated on the project's progress. By setting realistic delivery dates, we make sure to prevent the clients from feeling lost. 
4. Rich Team Of Experts
We are a team of experts who take the burden off your shoulder and assign the right resource for each module of the project to ensure.