Landing Page Design and Development For NFT Drops and Tokens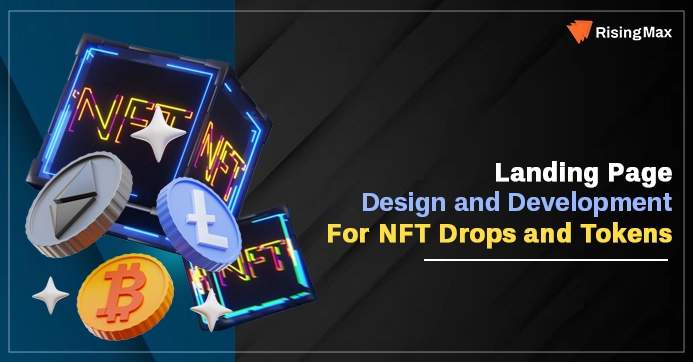 The whooping NFT sales worldwide are building a craze around NFTs drops, tokens, and other digital assets. The artwork "The Merge" is an NFT sold for $ 91.8 Million, Beeple's artwork "Everyday" NFT was sold for $69 million, and Grimes sold $6 million worth of NFT digital art. The millions of dollars following the NFT pathway attract more and more entrepreneurs worldwide.
However, in this highly competitive market, mere possession of NFT drops and tokens is not enough. Even though NFT is a relatively young market, it still follows the old business concept of "First impression is last impression." And that's why investing in landing page development for NFT drops and tokens collection becomes vital more than anything.

With an engaging landing page for NFTs drops and tokens, showcasing and attracting potential buyers becomes easy. Leveraging email marketing, Google ads, social media ads, and other marketing to attract NFT enthusiasts worldwide on landing pages and make an NFT sale.
Since NFT landing pages are the first buyers' interaction, it's vital to keep in mind the needs of your target audience and add relevant information. High-quality images and relevant information about NFTs on landing pages, provide a number of benefits that assist in increasing sales and getting better ROI.
Are you planning to build your own landing page for NFT drops and tokens? Then, we at RisingMax Inc. are the right landing page development partner you are looking for. Leveraging our expertise in website development and leading technologies like NFT and blockchain, empower us to deliver futuristic business solutions. Avail of our FREE consultation call and discuss your NFT landing page requirement in depth today.
What is an NFT Drops and Tokens Landing Page?
An NFT drop and token landing pages are designed with a single goal in mind to convince visitors to perform specific actions such as sign up, buy, bid, participate in an auction, download, etc. There are multiple ways in which an NFT enthusiast can land on an NFT drop and token landing page, either by clicking an email link or paid ads on Google, Facebook, YouTube, Instagram, Pinterest, etc.
With a specific goal in mind, the NFT drops and tokens landing pages are optimized efficiently to derive more engagement. These standalone landing pages are developed after carefully analyzing business data and delivering high ROI. According to Marketsplash, businesses with over 30 landing pages generate 7x more leads than those with less than 10. Based on the intended purposes, an NFT drop and token landing page can be of five different types that include;
Collection landing page - The intended purpose of an NFT drop and token collection page is to showcase an entire collection of an NFT artist or seller. Images, detailed descriptions, and pricing information of each NFT drop & token are provided to visitors.
Personal landing page - These types of landing pages are created to showcase visitors' NFT drops and the artworks of a specific individual. The creator or seller of the NFT provides information about the rarity, edition, price, features, and other important details.
Auction landing page: For businesses that indulge in selling NFTs via auctions or want to target NFT enthusiasts to participate in NFT auctions. When visitors land on these pages, they can see information about the auction process, timeline, starting bid price, and other details.
Marketplace landing page: The intended purpose of these landing pages is to prompt users to buy and sell NFTs on the NFT marketplace. In-built marketplace features assist visitors in quickly finding what they are looking for.
NFT platform landing page: Platforms that indulge in buying, selling, and trading of NFTs use landing pages to promote the platform. Visitors can see information about platform features, benefits, listed NFTs, and other important details.
Why Develop a Landing Page for NFT Drops and Tokens?
If you are an NFT artist or trader, who wants to showcase their digital collection to NFT enthusiasts worldwide. Then investing in landing page development for NFT drops and tokens is perfect for you. Creating a promotional landing page for a particular NFT collection results in better page optimization and generates better ROI for the business. Here are two major reasons to invest in landing page development;
Match visitor expectations
While other pages of your website, like Contact & About us, provide specific information, the same goes for a landing page. That's why landing pages are also called standalone pages. When a user clicks on an advertisement or promotional link, it's because they are looking or seeking information about something they believe is available on the landing page. As an expert landing page developer, you aim to match visitor expectations and deliver relevant information.
Better conversions
When a user visits your homepage, chances are high that they are likely to get distracted with other similar information and outbound links. However, if you create a landing page just to increase sign-ups. Then, your landing page must have content describing the benefits of sign-ups, a call to action related to sign-up, and highlighted sign-up options for a better conversion rate. Moreover, dedicated pages for promotion make monitoring marketing effectiveness and conversion rate easy.
With a specific goal in mind, investing in landing page development for NFT drops and tokens is a profitable prospect. A targeted landing page approach is a proven method for generating better ROI and effectively serving the target audience. Connect with a reliable blockchain development company with relevant NFT and blockchain technology expertise to build highly engaging landing pages.
Align the current state of IT with your business strategy by hiring the most trustworthy NFT Development Company
Must-Have Landing Page Features for NFT Drops and Tokens
As a leading website development service provider, we understand the nitty-gritty related to developing a landing page for NFT drops and tokens. That's why our team at RisingMax Inc. designed a landing page that contains relevant content and pleasing design. Here's how our team creates a landing page for NFT drops and tokens for your target audience;
Narrate a story
Everyone loves a landing page that narrates a story and keeps users engaged, the same goes for NFT enthusiasts worldwide. While creating a landing page for NFT drops and tokens, we focus on creating a backstory that will surely excite your target audience about NFTs. With an intuitive landing page design and compelling images, we add to users' interests and increase the chance of making a sale.
Engaging CTAs
While designing a call to action, our team pays special attention to CTAs to make it more engaging and easy to spot. Our team pays special focus to certain CTA elements such as buttons, text, colors, and others to provide users with relevant information and enhance their NFT buying experience.
Animated Design
To keep worldwide NFT enthusiasts engaged, our team designs animated graphics to provide information attractively. Your NFT drops and tokens are presented in such a way that it pleases your visitors visually and excites them to know more or buy NFTs.
Enhanced user experience
While creating a landing page, the main focus is to engage visitors for a longer duration and incite them to make a purchase. Visitors are likely to be NFT enthusiasts, and the main goal is to enhance their NFT buying experience and present them with the relevant information that they seek.
Informational Integrations
Engaging your visitors is one side of the game, but providing them a detailed description of the landing page NFT drops and tokens is another. Answering common questions related to NFTs, history, NFT rarity, starting price, and more boosts investors' confidence. Our team contains all the relevant information related to NFT in the description to ensure a clear idea to visitors about where they are putting their hard-earned money.
RisingMax Inc., a top-rated website development company, ensures that your landing page for NFT drops and tokens must have these features. Remember, that developing a landing page for NFT drops and tokens is an effective marketing strategy proven to give results. However, combining it with other marketing strategies such as social media, email marketing services lookinglion, paid campaigns, etc results in effectively targeting the audience and widening digital collection reach.
What's the Landing Page Development Cost For NFT Drops and Tokens?
Are you planning to build a landing page for your NFT drops and tokens and looking for an exact development cost? Then, this section is a must-read for you. Here we will discuss various cost-driving factors of landing pages for NFTs and average development cost.
While talking about the landing page development cost for NFT drops and tokens, don't confuse it with a website. Landing pages are created to serve a specific business purpose and thus require a lot more effort and money. The major factors that impact the landing page development cost for NFT drops and tokens include the following;
Through business analysis.
Content writing and mapping.
Landing page wireframe and prototype.
UI/UX design.
Adaptive landing page layout.
Landing page search engine optimization
In-built features and customized analytics tools.
Integrated APIs and other important tracking tools.
Based on the above factors, the cost of landing page development for NFT drops and tokens varies. Most software development companies in NYC, on average, charge $5,000 to $15,000 for landing page development for NFT drops and tokens.
Want an exact NFT landing page development cost? Then, connect with our experts at RisingMax Inc. and share your detailed NFT landing page requirement in depth. We will share a customized landing page development cost ASAP.

Why Choose RisingMax Inc. For NFT Drops and Tokens Landing Page Development?
RisingMax Inc. is a top-notch landing page development services provider in NYC, USA. Leveraging our development expertise and domain knowledge allows us to develop the industry's best business solutions. During the project development phase, our team keeps the client's needs and landing page requirements in mind to deliver solutions that match their expectations.
Here's why you hire us;
Unmatched domain expertise.
Affordable NFT development services.
Engaging and reliable landing pages.
Certified and experienced development team.
Transparent pricing policy.
24*7 customer support.
So, why wait?
Connect with our experts and discuss your NFT landing page development requirements today!!