How to Start a Delivery Business Like Doordash in 2024
Founded in 2013 by three college students at Stanford University, the DoorDash food delivery app became the most sought-after app in 2021. It earned over $1.24 billion in Q2 2021 from 20 million users.
Further highlighting its growing dominance, in 2021, DoorDash generated total revenues of 4.8 billion U.S. dollars. This figure nearly doubled the results of previous years, underlining the platform's rapid expansion.
In 2022, they did even better, with their earnings increasing to 6.6 billion U.S. dollars. DoorDash's unique model to deliver alcohol with regular food services makes it unique among competitors. 
Think. Launch. Grow.
RisingMax has FORMED A BODY of Business Advisors to support startups like you from beginning to success. Whether you're starting out, or scaling to meet demand, connect with the right people, products, and best practices to help your startup grow. Start a delivery business to take your platform to a global stage. Connect Us Now!
Probably you have been impressed by the unique model and growing numbers in terms of users and revenue. That's why you are reading this blog. 
Superb! 
We are here to help you from scratch on the way to building an app like DoorDash. 
After reading it, hoping, you will not hop anymore!! 
Importantly, We also have some exciting gifts for you. Do not miss them!!!
Let's begin…
Firstly, we have created a list of essential things required to build an app. Maybe you are already aware of it. Allow us to remind you. 
Things Required To Start a Doordash-Like Business 
Business license and a business plan
Certificate of Incorporation
Tax Identification Number (TIN)
Non-Disclosure Agreement (NDA)
Registration for Commercial Vehicle Operator
Food and Drink Handlers Certificate
Health Inspection Certificate
Proof of Ownership for Vehicle and Vehicle license
Commercial Driver's License
Operating Agreement for LLCs
Online Terms of Use
Online Privacy Policy Document
Insurance Policy
Hopefully, you have gone with these fundamentals. As you are aware that Doordash is an online food ordering and food delivery app in the United States. But before proceeding you need to consider the tax regulation in the United States, too.
Do you know which are the best and the worst states for the business tax? That's the question to deal with beforehand.
Paying taxes is an essential part of the existing business and taxation varies across the states. Evaluating which states have favorable tax conditions for your business is essential to avoid any tax-related complications down the line. Check the 2022 federal income tax brackets. Once you've determined which state is best for your business, you can focus on building an app similar to DoorDash.
So to embark on a business-like DoorDash, you also need an app similar to DoorDash. Let's deep dive and learn all about "how to build a food delivery app like Doordash." 
Wait! Wait! Wait!
You might have missed something in the hurry of building a food delivery app.
How To Start A Business Like Doordash
Let's see what the essential steps to start a delivery business similar to the DoorDash are: 
Deliver Fast Orders with scheduled Deliveries
No one wants to stay longer with carving. Therefore, people choose online ordering to get faster food delivery to the table, irrespective they are at the office or home. When you are on the way to commence a food delivery business like Doordash, plan for responsible delivery people, quick deliveries, sanitary restaurants, and restaurants with good reviews are a few essentials that drive your app forward. 
The best thing, planning in advance business promotion, can make your app the talk of the town. You can also add schedule delivery features that allow users to plan meals in advance, then go with a routine plan. 
Partnering with the best LLC service streamlines your business setup, freeing you to excel in fast deliveries and exceptional customer service. Plan ahead for effective promotion and incorporate scheduled meal deliveries for user convenience.

Set Framework For Fleet Management 
You cannot deny Humans are Inpatients! You can also cross-check this statement from your last order. After ordering, you might be excited to know the real-time delivery time and status. Till that time, you keep on checking real-time tracking details. So, do not forget to add this feature to your app. 
Provide real-time tracking details, such as - the order accepted by the restaurant, the driver waiting at the restaurant, food picked up, and on-the-way details of the driver. You can also provide liberty to customers to pick up their order before the scheduled time.
Online Payments with No Hassles
When on the board to build food delivery, you should not deny that modern people do not prefer to carry cash anymore. To lead the food industry, make sure you integrate third-party apps like PayPal, ApplePay, Amazon pay, or other most highly appreciated in your region. Be sure you have chosen the authentic platforms only. Otherwise, your business can be the reason for customer personal data stealing, which can harm your brand reputation. 
Accepting group orders
The in-app community feature to order food might look strange but really very interesting. It helps you to get organic orders and word-of-mouth publicity. You just need to integrate in-app order group functions in your chatbots.
From their users can form and join foodies communities. It helps them to find new dishes, restaurants, and more!! The advanced feature might make your app a one-stop destination where large communities gather and enjoy similar dishes.
Understand the Interesting Workflow Of Food Delivery Apps Like DoorDash
The on-demand food delivery application adopts a full cycle of delivery in three basic steps. - Ordering, Cooking, and Delivering! 
That's enough. Let's know these steps in detail for better understanding.
Ordering - Orders are customer requests to restaurant owners to prepare some food. The ordered food is listed among specific restaurants and prepared in their kitchen. Some of the food is also prepared by meal provider partners. Users order their favorite food from mobile or system via a food delivery mobile app, web app, or website.
Cooking - The meal could be pre-cooked or cooked after receiving orders. The delivery time is estimated based on cooking time. As for pre-cooked food, the estimated time will surely be shorter, whereas, in the case of customized food, the time will be longer. 
Delivering - The food ordering process ends with delivery. So, develop different food delivery models for successful delivery completion.
How To Generate Revenue From An App Like DoorDash 
It's crucial for budding entrepreneurs to understand the revenue model of food delivery businesses like DoorDash. The model let you decide your business strategy:
DoorDash delivers food from the restaurant to the customer's doorstep. From this, food businesses earn a big chunk of profits. DoorDash charges 15% (Basic), 25% (Plus), or 30% (Premier) commissions from the restaurant owners on every order. The basic plan charges higher delivery fees from customers and limits the serving area. The premium plan involves the least fee and guarantees 20 deliveries per month, otherwise, restaurants can claim for fee refund. 
Restaurant Advertising on DoorDash
Everyone wants to be on the home page. Therefore, Doordash takes advantage of the rat race of competition among other food vendors. The food delivery app charges for marketing and advertisement on its app. It helps the restaurants to be on top and with huge discounts. 
To ensure safe and on-time food delivery, doordash hires drivers, also called Dashers. Dashers charge delivery charges from customers based on distance. The average delivery charges vary between $5 to $8 per order.
Right Time to build an app.
4 Steps To Building Apps Like Doordash
When you are building a successful food ordering and delivery app, you might face some challenges. Here, thorough market research can help you to stand out from the crowd. Let's find some details:
Target Audience
You might be thinking, why would we ask you to choose a target audience when you know that you want an app like DoorDash? Keep in mind, you want an app like Doordash, not the same business or audience. If you aim to stand out of the crowd, you need to think something out of the box too. Now, find out who will be your target audience, your income, age, location, and other basic details. Like, Uber Eats is a perfect choice to order and deliver a wide variety of foods in the US. DoorDash chooses Alcohol delivery along with constant services. 
Now it's your turn… What are you bringing to the market??
Establish Partnerships
For food delivery businesses, it is essential to boost market reach and increase options for customers. Therefore, shake hands with popular grocery stores, restaurants, and food producers in your servicing area. Also, building partnerships with these also enhance your business visibility in the market which results in higher market share and ROI.Incorporating digital business cards can as well offer several benefits when it comes to building partnerships and expanding your market reach.
For instance, DoorDash charges commission on sales from restaurant owners and grocery delivery stores. Again, the approach boosts brand awareness and increases food orders and sales. 
Appoint Drivers For Delivery
Hiring a delivery executive is a crucial decision. Many businesses choose delivery persons on payroll, and others appreciate the contact method. While hiring delivery professionals, it's essential to look for executives with their own car, or bicycle to complete the delivery process. You can also look for freelancers on a contract basis, as these are cheaper options, especially for startups. 
Food Delivery App Development
Finding and choosing the best food delivery app development company is not an easy job. You need to access company experience, expert knowledge, projects delivered, technology knowledge, and more to get the desired outcome. Most importantly, the company should be able to deliver projects within your budget and within the stipulated time. 
You might be getting confused by so many details. Do not fret, we are here to help you with all the possibilities. Whether it's about your budget, tech slacks, or else, we have a solution for everything. 
Pick RisingMax Inc. To Develop Delivery Apps Like DoorDash 
One-shot payment: The model defines you just need to decide on the app, and its purpose and the rest responsibilities lie on us. We will deliver you a fully featured app for a one-shot payment. The app/website will be powered with all the security and industry norms, as discussed with you.
Hourly-renting model: Renting per hour will be a more suitable choice if you don't want to go with a one-shot payment. You can hire dedicated developers and teams on an hourly model as well. You will pay for the number of hours you choose to hire it. Startups choose this plan as it's a more affordable option and has less risk of business failure. 
SaaS-based model: Software as a Service is a monthly rental software model. You will pay a monthly payment and can access all the features of the app. Bug-free system and maintenance cost Companies like Facebook, Dropbox, WhatsApp, Uber, and Airbnb are also using the SaaS model. 
Hiring a developer: If you are not happy with either of the models, you can hire a developer too. The professional will work on your project from start to end. You just need to pay developer charges. 
Searching for your Gift???
DON'T MISS TO CHECK IT!!!
Get one extensive business plan template created by our industry experts.
Get up to 60% discount on Whitelabel Doordash Software
1 Year Free Support and Maintenance.
While discussing these plans, do not miss features that provide convenience, ease of navigation, and speed to the users of your app.
Must-Have Features To Start A Delivery Business
| | | | |
| --- | --- | --- | --- |
| Customer app | Restaurant app | Courrier app | Admin panel |
| Quick Registration and login detail | Speedy Registration and login | Registration and login | Admin login |
| Fastest Restaurant search | Menu management with changing meals | Navigation | Restaurant management (adding and deleting restaurants from search) |
| Easy Location and order tracking | Fast-track Order management (accepting orders/status changes) | ONE-STEP AWAY TO accept/declining orders | One-click Analytics Reports |
| Swift Order placement and payments System | Rating and reviews (replies to customers' comments) | Simple to track order history and calculate commissions | Fee Management |
| Push notifications | | | Discount and coupons manager |
| Ratings and reviews | | | |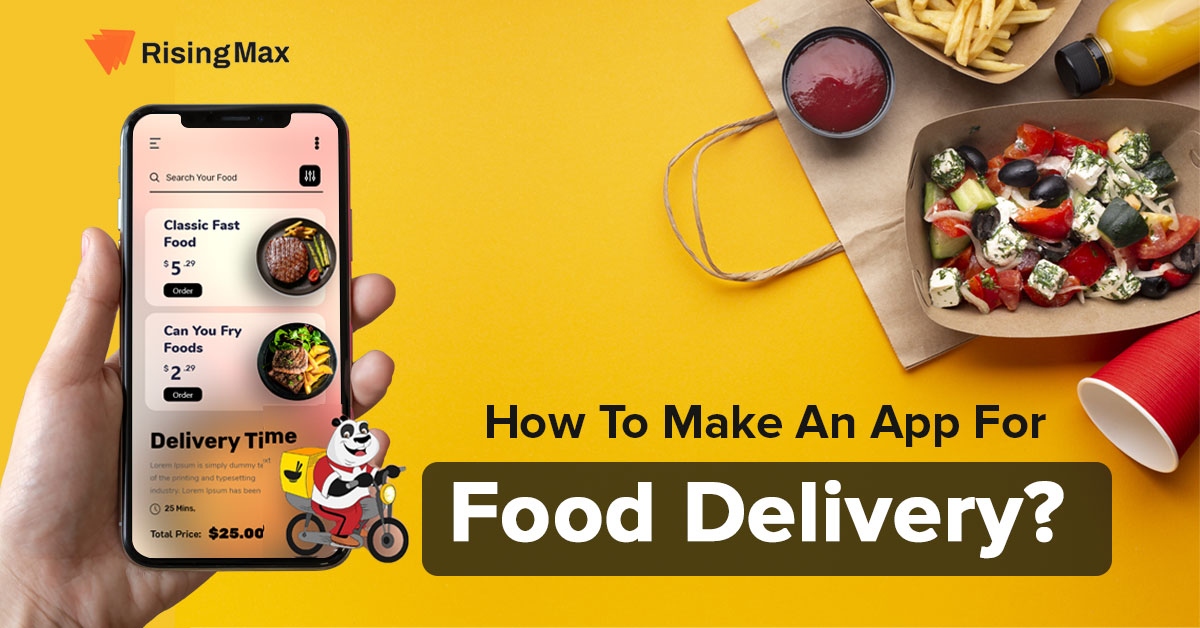 How To Make An App For Food Delivery App Like Doordash?
There are numerous factors that contribute in the form of cost while building apps like DoorDash. Here is a list of some. 
Your Project Complexity For mobile and web app
Cost of hiring a developer

Based on the skill level of the developer or designer
Front-end and back-end development project UI/UX
Hourly, part-time, or full-time work
Logistical information and location of the development team

App Development Cost Breakdown

Choose Your Mobile App Platform - iOS apps, Android apps, Web app, Hybrid app (Android + iOS)
Choose Your Mobile App Design - App Design Template, Custom App Design, Professional App Design

Choose The Security Level For Your Mobile App - Basic App Security Measures, Data Encryption, Advanced Security Protection
Choose Your Mobile App Database - Internal Database, Cloud database, 
Choose Your Mobile App Features - Login, Media, Utility, UX, General, Admin, Add-on Features
Conclusion
If you are planning to get into the market of food and liquor service with an app like DoorDash then Risingmax Inc. is the leading mobile app development company in the US and delivered more than 500 projects including iOS apps, android app development, cross-platform applications, etc. Get in touch with our experts to take free consultation to know how to start a DoorDash business cost-effectively and with advanced technologies.