Custom Accounting Software Development For Trucking Companies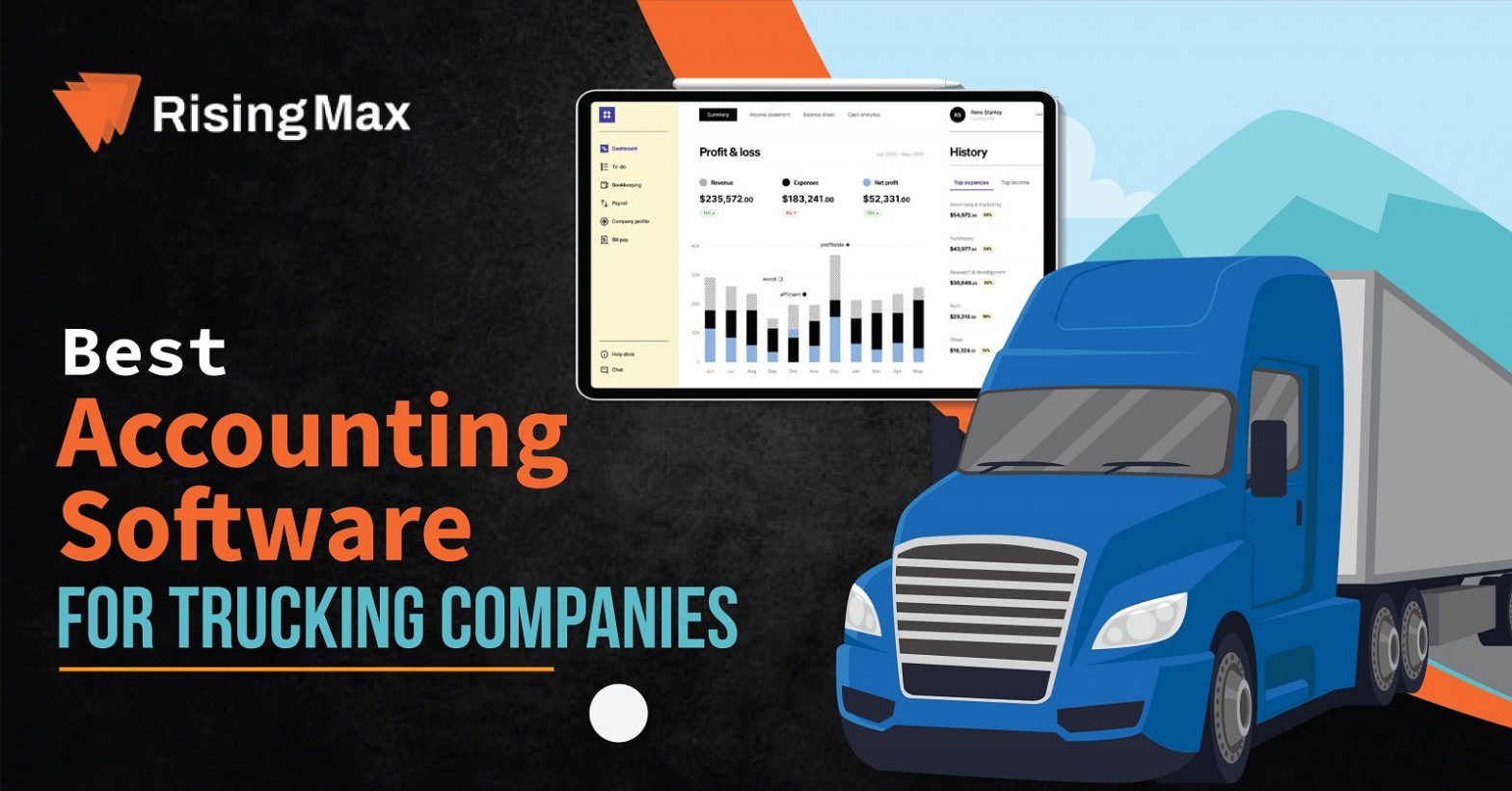 Starting a trucking business might be a good idea but is not an easy venture for all. Because with running a new business, several challenges arrive from the ground up. Among so many aspects that go into running a profitable trucking business, a key one is accounting. When one begins the journey as a truck owner-operator, it is hectic to manually manage loads, expenses, and receivables. That is where the best accounting software for trucking companies becomes the best solution allowing one to make strategic decisions for businesses. This post will give a complete understanding of the best accounting software for transport companies, its benefits, and how to build one.

If you run a trucking company, then you already know how accounting software gulps more than 10-15 percent of your monthly profits. That's why, it is recommended to build a custom accounting software for your trucking companies and startups. Why share your trucking business profits, when you can build your custom software as per your business needs?
What Is Trucking Accounting Software For Companies?
Accounting software for trucking companies can perform accounting tasks such as record maintenance, profit calculations, invoice & bill generation, deriving meaningful conclusions based on the accounting information, and other tasks within a fraction of a second with just a few clicks. The software is meant to automate accounting tasks and increase the overall efficiency and productivity of the trucking businesses. The software has transformed the way trucking companies used to perform earlier.

What A Powerful Accounting Software for Trucking Companies Can Do?
Business accounting encompasses a wide range of activities to keep up with a company's full financial status. It's a time-consuming and difficult task when done manually. The best accounting software for trucking companies, on the other hand, helps significantly in automating these processes, giving business owners more time to focus on the administration and implementation of their plans. 
Related Article: Automotive Inventory Management Software For Auto Dealers
Why Accounting Software Is Must For Transport Companies?
Be it an owner of a smaller trucking company or the larger one, accounting is one of those parts that bother truck owners the most. If you are a truck owner looking for a solution capable of tracking and monitoring all accounting, take the best accounting software handy. One software can do wonders from searching for new loads, paperwork filing, and fast invoice payment generation.
Managing Invoices in Clicks
The chances are higher of errors when entering freight invoice details manually. Accounting software's design can handle the trucking company invoices in the best possible manner. With the best trucking accounting software, you have to click on a button to check for order-related expenses without any errors. With this, it is clear that those businesses looking to stay competitive can implement accounting software for logistics companies.
Streamlining Accounting Tasks
When a trucking company has accounting software in place, it can simplify the accounting tasks. By handling all the accounting tasks automatically, they can reduce the piles of paperwork. Accounting software for trucking companies makes the whole accounting process much easier and faster, making the workforce more productive.
Allows You Keep Tab On Expenses
Accounting software for trucking companies meets all the trucking business aspects superbly. The software makes it easy and convenient for truck owners to keep proper track of daily profits. By controlling the profits of your business, you can better manage your customers.
Efficient Control of Fleet Management
Accounting software can perform more than one task. It also helps in managing trucking aspects such as fleet management. The software allows the logistics companies to go with the cost-effective delivery, warehouse storage process, and smooth running of other logistic operations.
List Of Best Accounting Software For Trucking Companies
All softwares mentioned below are in-built with technology that works great for trucking companies. Quickbooks and Xero are the most popular ones that rely on cloud-based solutions allowing businesses to access accounting data anytime-either right from a smartphone or laptop. Let's discuss them one by one:
Quickbooks For Trucking Company
A Quickbooks for trucking company can help you sync finances and account information across all devices with much ease and faster. Such a popular app provides users with real-time payables, receivables, and cash flow. It also helps prepare your data for taxes. Via the QuickBooks dashboard, it is easy to track open invoices, overdue bills, and overall cash balances. The app also allows you to personalize and send invoices right from anywhere and anytime. 
Xero For Trucking Company
Completely different from QuickBooks, an app like Xero is specially designed considering mobile devices in place. Such an application works great with devices like iPhones, iPad, and Android. This platform also offers tracking of accounting transactions and invoices in real time so customers can pay digitally. Another most popular software feature is reconciling, which is quite easy to use and allows you to perform time-consuming tasks in minutes. This application can integrate with third-party apps, and such flexibility lets you consolidate the company's accounting activities more efficiently. 
TruckBytes- Accounting Software For Trucking Companies
What makes TruckBytes app unique from competitors? It is a transport accounting software available for free download. Such an application allows truck owners or operators to perform accounting functions, manage customers and verify carrier settlements at zero expense. Such software can also be accessed from an online path via mobile devices. 
Essential Steps To Create Accounting Software For Trucking Business
Defining An Idea & Performing Market Research
So, do you have a great concept for accounting software for your trucking company? Your idea, however, will not be sufficient to kickstart the enterprise. In-depth planning is required for large corporation accounting software development. Then, you have to synthesize the concept and turn it into a workable approach. An experienced development team will take the concept, analyze it, and determine whether features are possible for the future system's extra functions. 
Design UX/UI of Your Software
When the project's assessment is completed, it's time to start working on prototypes and designs. Even by means, the cost of accounting software development tools is frequently determined by the number of features required by the customer. When generating initial software designs, it lets both you and the developer examine how the app will look. 
During this phase, you will provide feedback on the plan, determining what to include and how to remove items. Once the structure and future design of the software have been approved, you can move on to the most crucial aspect: determining the functionality of your best trucking accounting software.
Align the current state of IT with your business strategy by hiring the most trustworthy trucking accounting software development company
Choose Your Software's Features & Usefulness
Since accounting software has a lot of varieties, from simple, to medium, to complex, you should be careful while selecting features and functions. This will help you get the trucking accounting software feature-rich and fully integrated with the latest tools.
Every trucking accounting software for owner-operators should include a few features mentioned below:
Income, Expenses, and Reports: An accounting software for trucking company must manage the basic necessities of financial oversight, such as income, expenses, and reports. It should produce understandable reports with a variety of graphical representations.
Tax Calculations and Payments: As a company grows, quarterly tax payments get increasingly complicated. We can make it easier using accounting software.
Payroll: Your company may have a combination of full-time and hourly workers. The best trucking accounting software is capable of producing acceptable paychecks and calculating payroll with holdings is essential.
Invoices: Companies rely on timely payments. Software that creates bills fast supports this process.
Electronic Payments: Tracking electronic payments and receipts is straightforward when accounting software and bank accounts are linked.
Integration with other systems: An accounting system should be able to interface with the company's e-commerce, banking, and e-filing platforms. The financial process will be more efficient as a result of this link.
Document storage: The software is very effective in storing important accounting documents of the organization. The software can save all bills, accounting statements, invoices, and other documents. These documents are protected using advanced security features and can only be accessed by authorized users.
Driver Settlements: Accounting software can be very useful in settling payments given to the drivers involved in the business. The software records the distance the drivers cover and the number of days they work. Using this data, you can easily calculate the payment to be given to the drivers and check any pending balance left or not.
Financial Projections: The accounting software is very effective in making projections regarding the future financial position of the business. Using the software, you can get financial reports of the business and check whether the business is in sound financial health.
Develop the Software
Accounting software development is a difficult process that takes thousands of hours to complete. Using a questionnaire development approach, development teams begin creating accounting software and performance testing prior to real development. This helps to keep bugs at bay in the future. RisingMax's developers keep up with the latest developments on a regular basis. As a result, our professionals apply configuration management approaches to design apps, ensuring an appropriate software development methodology. However, all of the steps and advances must first be addressed. You must communicate your idea to us in as much detail as possible.
Release and Maintenance
The project is available for usage once the transportation accounting software development is completed. The application may require tracking and improvements in order to stay updated. This is why accounting software needs a support and maintenance crew. In the event of an issue or a random crash, the repair team should patch things up and deal with both deadly defects and random crashes.
Cost To Develop Custom Accounting Software for Trucking Companies
The overall cost of designing accounting software for the businesses involved in trucking ranges between $20,000 and $40,000. But this cost is not fixed. It keeps increasing or decreasing per the client's requirements and other important factors. Some factors that can have a direct impact on the accounting software development cost include:

You can also use Web App Cost Calculator to get an estimated cost.
Development Time
The cost of developing accounting software may vary as per the time taken for the app development. An app with a longer development time might cost more than one developed in less time.
Features Added
The features added to the accounting software will directly influence its development cost. A platform with more features will be costlier than basic accounting software with limited features. Therefore, you need to choose the features carefully per your budget and the requirements of your trucking business.
Experience Level Of The Development Company
The experience possessed by the development company from whom you wish to get the accounting software developed also impacts its development cost. A company with a higher experience level will ask for higher development charges than a less experienced development service provider.

Why Choose Us?
Are you searching for an experienced software development company with expertise in designing accounting software for trucking companies? You have reached the right place; RisingMax is an expert accounting software development service provider known for its feature-rich and innovative solutions. We have a team of passionate developers having extensive knowledge of software development. We offer 24/7 support to our clients. Our technical consultants will help in resolving all your queries. Contact our experts and discuss your business software requirements with us.
Conclusion
Having accounting software to run a trucking firm is a game-changer. A corporation with a large fleet of vehicles might benefit from high-level accounting software. Accounting tasks vary according to the type of firm. As a result, it's vital to choose the best accounting software for a transport company that efficiently handles all your needs. Accounting tasks are time-consuming and complicated. Having the best trucking accounting software can be a massive help to businesses. It not only streamlines the entire accounting procedure, but it also performs accurately.
If you've been considering developing accounting software to improve the efficiency of your business but aren't sure where to start, please don't hesitate to contact us. We will gladly guide you through all of the unique features of custom accounting software solutions, as well as their benefits and drawbacks.