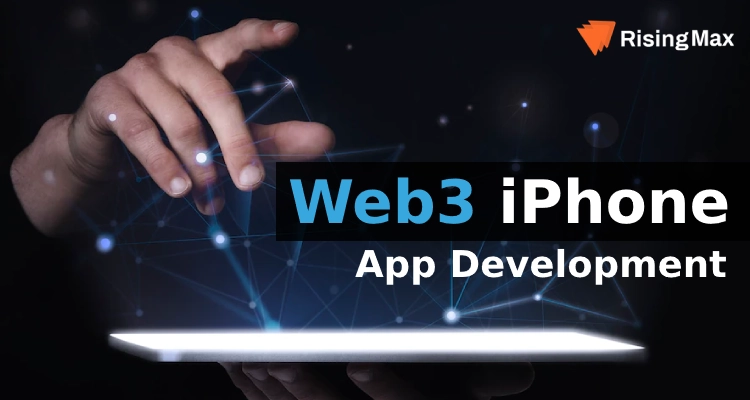 Web3 iPhone App Development: The Next Big Business Move
Web3 isn't just another tech trend but par for the course for businesses worldwide. Businesses are quick to adapt to this changing technological trend and invest in web3 software development to be future-ready. With over 2.2 million applications on the Apple store, web3 iPhone app development enables businesses to capture a vast loyal customer base.
Are you looking for a game-changing web3 iPhone app for your business? Then, contacting RisingMax Inc can be a good start. Our team has the privilege to work with clients in different verticals and develop business solutions for them. Leveraging our expertise, we can build a game-changer web3 iPhone app that protects sensitive business data, engages customers, and ensures business integrity.
What is Web3 iPhone App Development?
Web3 iOS App Development is a process for software developers to build iPhone, iPad, and MAC applications for the Apple ecosystem. Most web3 iPhone developers work on Swift or Objective-C softwares to build apps and distribute them via the Apple App Store for users.
Building a business application on the iOS platform allows businesses to market their app to over a million Apple users. Before delving deep into web3 iPhone app development, let's look at Apple's sales and figures.
Align the current state of IT with your business strategy by hiring the most trustworthy IT consulting company
Most Recent Apple Sales And Figures
There are roughly 1 billion iPhone users out of 2.6 billion smartphone users worldwide.
With over $263.4 billion US dollars, Apple is the most valuable brand in the world.
The Apple App Store was the second-largest app store, with roughly 2.2 million available apps for iOS.
In 2021, App Store generated $85.1 billion US dollars in revenues.
Web3 iPhone App Development Benefits For Business
User Interface

The iOS ecosystem is about building apps with simple and appealing user interfaces. A smoother app experience ensures a strong company-customer relationship and a loyal customer base.

Tech-Savvy Users

iPhones are the synonym for innovation and tech dominance. For this reason, the company has been successfully adding new users to its customer with their tech-savvy products. Apple users are more inclined to try out new tech products to make them an ideal audience for your web3 iPhone business application.

Worldwide Market Exposure

As you already know, there are 1 billion iPhone users worldwide. Investing in web3 iPhone app development enables worldwide market exposure, thus increasing the chances of the app's profitability.

Active and Rich Audience

The worldwide popularity of Apple iPhones and the iOS ecosystem makes it self-evident. Apple's loyal customer base attracts businesses worldwide to invest in web3 iPhone app development.

Higher ROI

For every business, it's all about getting better returns. The worldwide loyal customer base allows businesses to market their newly developed application to a wider audience and generate higher profits.
These benefits make businesses invest in web3 iPhone app development and have a competitive edge over others. Fill out the form below, and our development team will reach out ASAP.
Our Web3 iPhone App Development Services
RisingMax Inc as a leading web3 iOS app development service provider, assisting businesses worldwide to build responsive business applications. Our team leverages their expertise to build future-proof business software to ensure that our clients always stay ahead. With our affordable web3 iPhone app development services, we are transforming businesses worldwide and preparing them for the digital era through the power of iOS ecosystems. Our web3 iPhone app development services include;
Web3 Custom iPhone App

Hire our web3 software development team to build fully customized iPhone business applications. Customized applications based on your business needs allow you to monitor and manage major aspects of the business on your iPhone, iPad or Mac. Build business applications that help you streamline business processes and smoothen business cooperation.

Web3 iPad App Development

Build a business application that is compatible with the latest iPad version and other iOS devices. Engage with our web3 iOS development team to develop versatile business apps that streamline business processes, enhance user experience, and add value to your organization.

Web3 iOS App Consultation

Have a web3 iOS application idea in your mind for your business? Get in touch with our experts to discuss the feasibility of your web3 business application. Our iOS team will thoroughly analyze and validate your business idea. Connect now to claim your FREE web3 iOS app consultation.

Web3 iOS App Design

Hire our creative designers to build web3 iOS applications with engaging UI/UX design. With our iOS app designing services, our team builds applications that provide users with an immersive experience while following the iOS guidelines.

Web3 iOS App Testing Services

Our top priority is delivering error-free solutions and the highest standard for business applications. Our QA test, through rigorous testing methods, ensure that your web3 iOS business application passes every quality parameter and performs as intended. Choose us and choose quality business applications.

Web3 iOS App Security

Our team ensures that your web3 iOS app is highly secure and protects confidential business data. We integrate top-notch security features such as 2FA to minimize the possibility of an external cyberattack and limit users' access to sensitive business information.

Web3 iOS Source Code Audit

Work with our web3 iOS app developers for a source code audit of your business application. Our team will ensure there are no loopholes within your business application that attract cyber attacks and result in the compromise of valuable business data. We build software solutions that enhance user experience and deliver value to your business.

Web3 Support and Maintenance

With our affordable web3 support and maintenance services, our development team ensures the smooth running of your web2 iOS business app. We will monitor your app 24*7 for any minor bugs or software updates to prevent any unexpected crashes and provide a smooth app experience.

Web3 iOS App Migration and Upgradation

Hire our web3 software development team to build iOS business applications compatible with the latest iOS version and Apple devices. Our affordable app migration and upgrade services help you build compatible applications with the latest Apple ecosystem.

Web3 iOS App Porting

As the most experienced iOS app development company in the USA and India, we specialize in simplifying app porting tasks for your business. This allows you to deliver multi-faceted experiences on top Apple devices.
Web3 Custom iPhone Apps For Various Industries
Our web3 iPhone app development is not limited to a single business vertical. Our dedicated iPhone app developers enable businesses to leverage the apple ecosystem to build highly reliable and secure business applications. With our 360-degree web3 iPhone app development services, we empower businesses to scale up their profits and stay future ready.
Over the years, our web3 iPhone developer team has built and designed innovative apps for our clients in different business verticals. To assist our clients in disrupting their business niche with an outstanding web3 iPhone business app, we follow an agile development process to meet specific business needs. Our popular web3 iPhone app development for various industries;
Web3 iPhone Game Apps

RisingMax Inc, a leading web3 iPhone game app development company, build innovative and engaging game apps for the future. We assist game startups in leveraging new-age technologies such as blockchain, VR & AR to build iOS ecosystem games that perform exceptionally and deliver an unmatched experience to players.

Health & Fitness Web3 iPhone apps

Cater to the needs of iPhone health and fitness enthusiasts to grab one of the fastest growing markets. Keeping users' needs at the centre of our web3 iPhone app development process, our experts and web3 developers build actionable apps based to create a healthier and fit community.

On-demand Web3 iPhone Apps

With our expertise in web3 technologies and cutting-edge development tools, our team can easily solve complex development issues. This allows us to design and develop groundbreaking on-demand web3 iPhone apps that assist our clients in disrupting business niches.

Education Web3 iPhone Apps

Hire our web3 iPhone developers to harness the true potential of the web3 revolution and build education iPhone software for the future. Connect to discuss your web3 education iPhone app to dominate the competitive iPhone app market.

Web3 Travel iPhone Apps

Join hands to disrupt the travel industry with a web3 iPhone travel app to cater for the wanderlust needs of users worldwide. Design iPhone-compatible apps that provide seamless navigation and travel experience with the security of blockchain technology.

Web3 Social Media iPhone Apps

Planning to disrupt the web3 social media market with an innovative, unique, and engaging application? Then, hire our web3 social media developers. Our team has extensively studied and analyzed popular social media apps such as WhatsApp, Facebook, Instagram and knows what works and what does not. Leverage our in-depth knowledge to launch web3 social media apps with the potential to cross the billion-user mark.
Need assistance with your web3 iPhone applications? Shoot an email or ring us up for a FREE project consultation.
Web3 iPhone App Development Process We Follow
Project Consultation

Our team connects with the client to understand their web3 iPhone app development needs and business requirements. During this development phase, we will suggest to our client the right tech stack and any add-on features that enhance the project's utility. Our main goal during the initial conversation is to gather as much information about the project to smoothen further app development stages.

Project Analysis

In this next web3 iPhone app development phase, our team carefully analyzes the client's project requirements. Based on the project analysis, our team will share the project road map, integrated features, development time and overall cost estimations.

Project Prototyping

During this web3 iPhone app development phase, our team creates a project prototype with basic features as per the client's business requirements. Our team ensures that the prototype of the iPhone application will be as similar as it can be to give a clear idea to the client about the end product. After getting the client's final approval, our team moves forward to the next iPhone app development phase.

Project Development

Based on the inputs during the above phase and project prototype, our team will move forward to turning the app idea into reality. Keeping your customers' needs at the centre of our development process, we create business solutions that help you dominate the competitive iPhone market. We integrate security features to ensure 100 percent protection of users' information.

Project Testing

Our QA team at RisingMax Inc follow rigorous testing methodologies and performs automation testing to ensure no bugs and a smooth app experience. The main goal during this process is to ensure that all web3 iPhone app features and functionalities work as intended. After passing all the testing parameters, we move to the next development phase, i.e. Project Deployment.

Project Deployment

This is the last web3 iPhone app development phase, where our team deploy the app on various platforms to ensure maximum exposure. Deployment of your project is based on your business goal and target audience so that you don't miss out on any business opportunity. We even provide One Month of FREE Marketing Services for your project if needed.
Our Web3 iOS App Development Engagement Models For Your Business Success
Our highly experienced iOS developer team empowers businesses worldwide to tap into the competitive iOS market with the right tech stack and development tools. We, as a leading web iOS app development company, offer three different engagement models to meet client needs. It doesn't matter how complex your web3 iOS app development needs; our experienced developers have covered you. Our iOS app development engagement models;
Hire Dedicated Team

In this engagement model, you can hire our dedicated web3 team of developers with hands-on experience in web iOS app development. Our web3 iOS team will work dedicatedly on your project from development to deployment.

Team Extension Model

With our team extension model, our experienced web3 iOS developers will provide the necessary assistance and development to ensure timely project completion.

Project-based Hiring

Hire our experienced web3 iOS app developer team on a project basis to add the right tech expertise needed to complete the project on time and build reliable business applications.
How Much Does Web3 iPhone App Development Cost?
The web3 iPhone app development cost depends upon various factors that we have discussed further in this section. All these factors directly impact the development cost of your web3 iPhone application. As an entrepreneur, you can carefully analyze all these factors to determine how much your new business venture will cost. However, evaluation of all the below-mentioned factors can be an arduous task, and thus we recommend connecting with an expert web3 software development company.
Factors on Which Web3 iPhone App Development Cost Depends;
Web3 iPhone application type.
Integrated app features.
Web3 iOS app complexity.
App security layers.
Tech stack required.
Location of web3 iPhone app development company.
The expertise of the development company.
Web3 iPhone development team size.
Time needed to complete the project.
Any add-on services.
You need to evaluate all these factors on your own to determine the approximate cost of your new business project. Most web3 iPhone app development companies in the USA will on average, $40k to $50k for a basic web3 application. The development cost might increase depending on any specific app features, complexity and other factors mentioned above.
Why Choose RisingMax Inc. as Web3 iPhone App Development Partner?
RisingMax Inc, a trusted web3 iPhone app development company, assists businesses worldwide to be future-ready. Over the years, we have mastered the art of iPhone app development to build affordable business solutions for our customers. Here's what you get when you choose your app development partner;
Unmatched web3 iPhone app development and consultation services.
Affordable web3 iPhone app business solutions.
Tech Prowess.
Well-qualified and experienced web3 iPhone app developers.
Highly reliable, bug-free and scalable business solutions.
Transparent pricing.
Flexible hiring models.
24/7 Customer support.
Free project consultation call.
So, why wait?
Connect with us over a FREE consultation call and discuss your web3 iPhone app idea with our experts Today!!