Cryptocurrency Exchange Development Software Cost In 2024
To save you from the hassle of reading the entire article to know the crypto exchange software development cost, let us explain the conclusion at the top. Crypto exchange software or trading app development costs nearly $30,000 to $1,50,000. On the other hand, the Whitelabel of the popular crypto app costs nearly $25,000. 
Wondering how? Well, the cost depends on many factors, like the app's complexity, the number of app features, the location of the development company, and more. 
Want to know all factors in detail? Read on the blog.

Cryptocurrency is winning the attention of millions of users across the globe. Usage of this digitally-powered currency is at its peak. Substantially, crypto assets are created via blockchain technology that works wholly on decentralization. Therefore, users performing crypto exchange are rising day by day. Several booming entrepreneurs and undertaking businesses can leverage it with the cryptocurrency exchange business. Before diving into the article to know crypto exchange development cost, let us know some important factors.
Build Your Own Bitcoin Exchange Website
Cryptocurrency Exchange Market Overview
The Cryptocurrencies market is on track to hit an estimated US$37.87bn in revenue by 2023.
An annual growth rate of 14.40% (CAGR 2023-2027) is anticipated, likely resulting in a total market value of around US$64.87bn by 2027.
The average per-user revenue in this market is predicted to be US$56.19 in 2023.
In a global comparison, the United States leads in revenue generation, with an expected income of US$17,960.00m in 2023.
The Cryptocurrencies market is forecasted to rise in the number of users, expected to reach nearly 994.30m by 2027.
User penetration in this market is predicted to be 8.8% in 2023, with a growth projection of up to 12.5% by 2027.
All these facts are from Statista.
What Are Cryptocurrency Exchanges?
Cryptocurrency exchange platforms works with the exchanging of cryptographic forms of money for different resources, including advanced and government-issued types of money. In actuality, digital currency exchange goes about as a mediator between a purchaser and a merchant and brings in cash through commissions and exchange charges.
To get the crypto exchange into play, cryptocurrency exchange platforms are leading the market. Furthermore, assisting users in trading and exchanging crypto instantly. 

We help you create NFT marketplace with modern technology to improve the collection ability of the participants seeking digital assets.
How Crypto Exchanges Make Money?
When a user buys or sells cryptocurrency, the cryptocurrency exchange takes a small transaction cut.
When you move cryptocurrency from one exchange to another, the receiving exchange may request a deposit fee.
You can make profits by staking on the exchange. Keeping their cryptocurrency on deposit for a fixed period allows the user to earn interest.
Many investors can stake cryptocurrency or smart contracts to pool their resources and generate revenue for the exchange.
Types of Cryptocurrency Exchange Platforms
1. Centralized Cryptocurrency Exchange
A centralized cryptocurrency exchange platform is a digital platform allowing users to buy and trade cryptocurrencies online. It is one of the basic and most preferred platforms for investors, businesses, and others, to trade crypto resources worldwide. However, the trading fee is quite high, but features feature innovative functionality making trading hassle-free. 
2. Decentralized Cryptocurrency Exchange
This other cryptocurrency exchange platform is not decentralized, which means that trading done within it is not safe and secure. The risk of hacking and data breaching is high on these platforms. Users directly buy and sell the crypto. There is no third-party involvement making it independent to hold customer funds conveniently.  
Gear Up The Revenue Generation With Decentraland Clone Like App Development
Delighted Features of Cryptocurrency Exchange Software You Can't-Miss
Cryptocurrency exchange applications allow users to carry out the cryptocurrency exchange like a pro. A closer look at the exciting features of the platforms that make exchange swift and effective within the cryptocurrency exchange platforms. 
Trading Engine
The trading engine is starting feature of any exchange platform. It plays an important role in handling numerous functionality right from executing transactions, balancing calculations, making calls access order books, brings buying and selling transactions together for exchange. 
Join us today to transform your digital-aged platform into a futuristic ecommerce NFT marketplace. You will experience how fashion shapes business, culture, identity with AR, VR, 3D view, and Blockchain Technology.
User Interface
The UI and UX design of the crypto exchange website/app is designed to attract users and offer a smooth experience. Be it front or backend, the functionalities are challenging at times, but the right cryptocurrency exchange development company does it effectively. Here is what all you get:
Creation of orders
Viewing transaction history 
Smart filter options
Access to indicators and graphics
The choice to explore dashboard activity
Impeccable fund withdrawal and deposit
Cryptocurrency Exchange Software: User Management
The next cryptocurrency exchange platform has several users using it on a daily basis. To avoid any breaches, an effective user management system is there. Below is what all it includes:
Signing up and in
The exchange platform asks users to sign up with the basic information before getting started. The signing-in option must register on the platform, making it secure. Also, a hassle-free signing makes it promising and convenient for the users. 
User Creation
Cryptocurrency exchange platforms let users create their own accounts and start trading using the same. There are also platforms where the admin plays the account creation role.  
User's Verification 
Verification on the user's end is a must within the exchange platform. Since users play a major role within the platform, the verification of contact numbers, personal information, ID is a must. The platform makes sure whether the user registering is reliable or not. 
Cryptocurrency Exchange Software: Admin Panel
Admins are the ones that manage the platform, users, and trading. Right from tracking and viewing the user trading, the admin does everything to keep things secure. The admin right from tracking the user IDs, name, email, transaction ID, stamp, description, the amount does everything to keep the system in the loop. Know what the admin can manage:
Setting trading fees
Managing cryptocurrency listings
Adding new cryptocurrencies
Managing support issues
Wallets
A crypto wallet within the cryptocurrency exchange is another feature that lets users send and receive digital currencies. A few of the best features integrated within the wallets are as follows:
System and User Wallet
The first thing within the wallet is its ability to store the user's money in the system. Moreover, the system wallet is easy to use on desktop and mobile, multiple currency wallets, and a lot more.
Withdrawal and Deposits
The user can withdraw and deposit the crypto amounts within the platform via will be provided with email, QR code, ATM, transfer, and much more. Remember, the trading and depositing within the wallet is done only after the complete verification.
Transaction to Peak
The next feature within the platform is the ability of the users to buy and sell cryptocurrency without much hassle. Every transaction done within the platform is in real time. The application has high preciseness and transaction speed within the wallet.
API
API of the cryptocurrency exchange platform is at its best. API allows the cryptocurrency exchange platform to link with other external applications to access its data and features. The data from the platform is transmitted to other applications making it an essential part of the platform. Be it WebSockets, private and public API, or fixed protocol, the API of the platform got to cover everything.
Analytics
Analytics is another thing that you find within the platform. Users get valuable insight into every newest thing, log, or chart. The users can have a direct overview of the current market and what's new within the cryptocurrency exchange program. This makes the platform more effective and brings out the best possibilities within cryptocurrency trade.
Databases
The cryptocurrency exchange platform has different sorts of databases like REDIS and SQL. Among the, one, REDIS offers operative storage and is fast to use, and the other is SQL is persistent and reliable, but comparatively slow.
How Blockchain Technology and Its Application is Changing the Automotive Industry?
Benefits of Cryptocurrency Exchange Development
Robust Security: You can remove any payment processing dependencies from your business by creating your cryptocurrency exchange. Customers, partners, business associates, suppliers, and dealers can complete transactions quickly and easily without incurring high transaction fees. Businesses can quickly gain customers' trust and expand their operations due to the open nature of the payment system.
Stay Anonymous: The DEX preserves anonymity since it does not require KYC information.
Improved Financial Efficiency: Cryptocurrency exchanges help businesses become more financially efficient by eliminating unnecessary steps and lowering costs associated with traditional banking transactions.
Cost-Effectiveness: Crypto exchanges have a much faster overall transaction speed, eliminating any potential delay in the transaction and adding to the cost-effectiveness of using crypto. The decentralized nature of the peer-to-peer network reduces the likelihood of a failed transaction compared to more traditional methods.
We Have Already Developed The Clone Of The Below Apps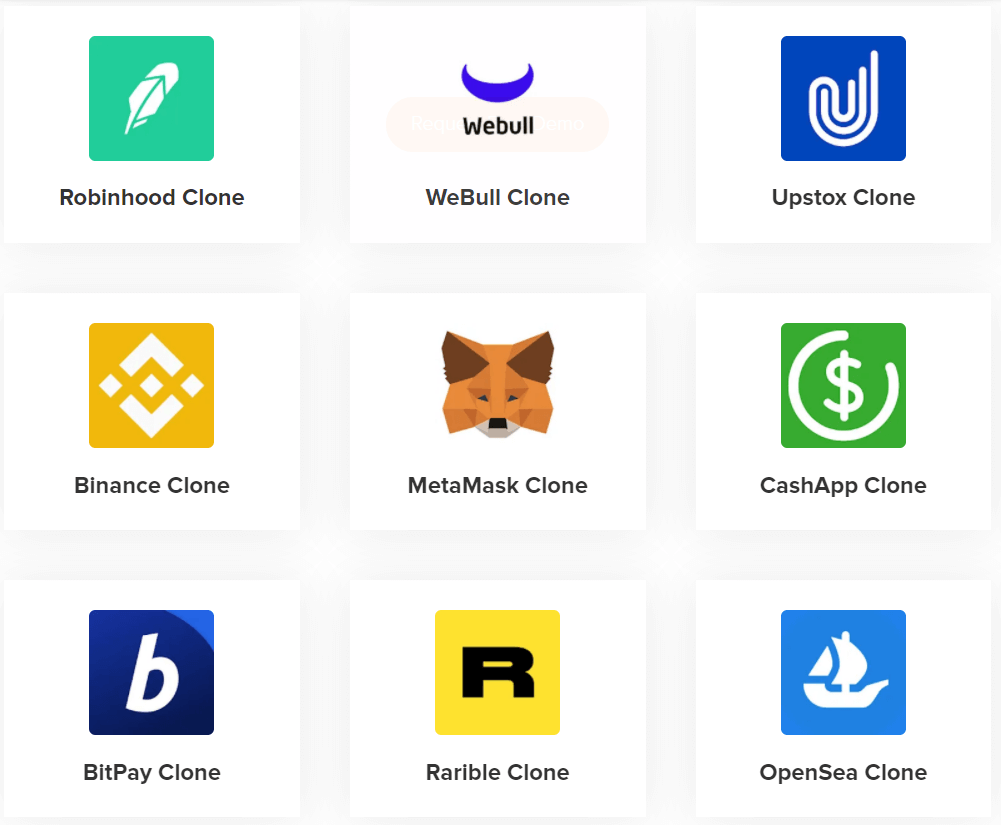 Factors That Affect The Cost To Build Crypto Exchange Platform
Several factors together decide the crypto exchange development cost. The addition or deletion of this feature is what varies the development costs. Given below are some of the factors that affect the costs directly.
KYC Integration
Approve the legitimacy of the thief; the users end with their registration of the ID cards. Hence, this component is delineated with the crypto exchange platform to verify the client's originality. Integration of this feature needs additional costs for development.
Anti-Money Laundering Integration
It helps you avoid tax evasion and forestall the progression of unlawful cash into your exchange platform. It is an effortless way for forgoing all the illicit activities in the digital currency exchange platform.
Payment Integration
Cryptocurrency exchange development platform also holds a payment gateway integration to help users fetch payments or make payments to others. Integration of this feature smoothens the transaction between the sellers and buyers within the platform.
Cross-Platform Capability
We foster a digital money exchange development that upholds the crypto-exchanging portable application that can work both on Android and iOS gadgets. Accordingly, your client can exchange with significant stages like Android and iOS gadgets in a split second.
Limitless Cash Exchange Pair
The cryptocurrency exchange platform must possess an unlimited money exchange platform. These inbuilt features make things more seamless and effective for the users.
Market Making
In the event that, assuming there is no liquidity available. Then, at that point, our Market Making element will fill in as a counterparty to put in a request between the purchaser and vendor. Consequently, your clients will encounter a consistent and ideal digital money exchange experience.
Crypto Wallet Integration
Crypto wallets assume a fundamental part of the exchange development. It assists your clients with putting away, getting, and moving cryptos and other advanced resources safely. We execute top-of-the-line security highlights to create a protected crypto wallet. Like two-factor validation and multi-signature vaults, and the sky is the limit from there.
IEO Integrated Module
At the start exchange offer is the moving crowdfunding model in the crypto business. It is the token sales platform, where every one of the recently delivered tokens will be offered to raise the assets. In the event that you are a trade proprietor, you can choose the IEO tasks to be recorded on your trade stage. Incorporation of this feature requires additional costs to some extent.
White Labeling Services
White label crypto exchange platform is the complete cryptographic currency exchange business bundle. Here you can give one more name to the genuine business item name, i.e. (REBRAND). This assistance assists you with changing your logo, language, cash, and subject style for your crypto trade stage. Additionally, by utilizing this white naming assistance, you can launch a customized platform as per your needs.
Leading Market Players in Cryptocurrency Exchange Development Platform
Ready To Be On The List Of Major Players? If Yes, Don't Wait, Connect with Our Experts!
How to Calculate Cryptocurrency Exchange Software Price?
Before sharing an exact cryptocurrency exchange software price, we need to understand and analyze the entire project requirements and development needs. Given below are all processes, technology stacks, and segments involved in the development of the cryptocurrency exchange development platforms.
Budget and Time constraints
Type of Crypto Exchange to Choose
License for Running a Crypto Exchange
Payment Processing
Networking with other Exchanges to Improve Liquidity
Implementing a High-Security Mechanism 
HTTP authentication
Biometric authentication
Jail login
Data encryption
Two-factor authentication
SQL injection prevention
Anti Denial of Service(DoS)
Cross-Site Request Forgery(CSRF) protection
Server-Side Request Forgery(SSRF) protection
Escrow services
Anti Distributed Denial of Service
Align the current state of IT with your business strategy by hiring the most trustworthy cryptocurrency exchange development cost
Cryptocurrency Exchange Software Price: A Complete Overview
| | |
| --- | --- |
| Cryptocurrency Exchange Software | Development Cost (Estimated) |
| Exchange Software like Coinbase | Start from $40,000 |
| Exchange Software like Metamask | Start from $35,000 |
| Exchange Software like Robinhood | Starts from $30,000 |
| Exchange Software like WeBull | Starts from $35,000 |
| Exchange Software like OpenSea | Starts from $30,000 |
Analyzing the cryptocurrency exchange software price is not easy without understanding the project's development needs and requirements. Since the crypto exchange development cost varies due to many factors, but to give you rough estimate about the development cost, it could cost around $30,000 to $1,50,000 depending upon many factors.
Also, the cost to build crypto exchange varies with different countries and their service providers. It is you who need to analyze every aspect and get to the right cost that lies in your budget. As blockchain development partners, we bring you closer to the cost idea involved in the development.