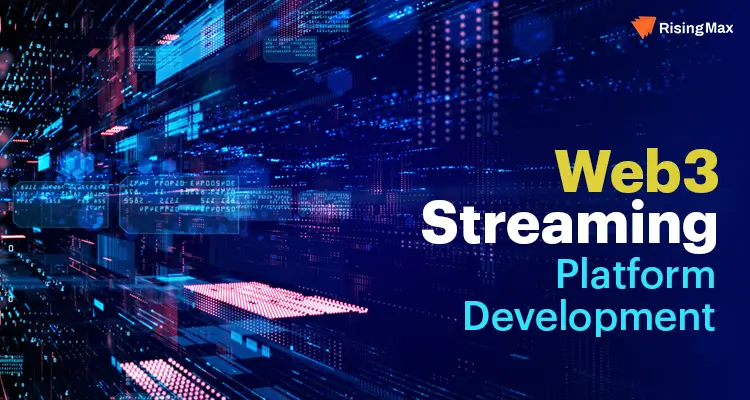 Web3 Streaming Platform Development Like Youtube & Netflix
Web3 streaming platforms assist content creators in reaching their target audience and showcasing their content. Hire our experienced web3 developers to launch a web3 streaming platform that creates a level playing ground for content creators worldwide.
Web3 Streaming Applications: Empowering The Content Creators Worldwide
Streaming platforms are becoming widely popular among new and established creators to cater their content to a wider audience. The popularity of streaming services like Spotify and Apple Music is well-known. However, there's no denying that unless you have millions of audiences like Taylor Swift and Ed Sheeran, earning a living is hard to crack. For this reason, content creators are moving towards web3 streaming applications. Web3 streaming platform charges a minimum commission from the content creators, empowering them to earn a living. Undoubtedly, web3 streaming apps will play a major role in revolutionizing the future entertainment industry.
If you plan to launch your own streaming platform, then now is the right time. Web3 and its related technologies are transforming businesses worldwide; the same goes for streaming platforms. Our web3 developers leverage their expertise to build web3 streaming platforms for the future. Get in touch to discuss your web3 streaming app.
Align the current state of IT with your business strategy by hiring the most trustworthy IT consulting company
Stats & Facts That Advocate Web3 Streaming Platform Development
According to Statista,
The Video Streaming (SVoD) market is predicted to generate approximately US$95.35 billion in revenue by 2023.
It is expected to grow at an annual rate of 9.48% from 2023 to 2027, resulting in a market size of about US$137.00 billion by 2027.
The United States is projected to generate the highest revenue in the global comparison, reaching US$39,250.00 million in 2023.
The average revenue per user (ARPU) in the Video Streaming (SVoD) market is estimated to be around US$73.55 in 2023.
By 2027, the number of users in the Video Streaming (SVoD) market is anticipated to reach 1.64 billion.
User penetration is expected to be 16.9% in 2023 and is projected to increase to 20.6% by 2027.
A quick glance at the above facts paints a clear picture of why investing in web3 streaming platform development is a futuristic business idea. Grab this highly profitable opportunity with our experts at RisingMax Inc.
Before jumping to the web3 streaming platform development, go through this post to have more clarity about the topic. With this new information related to the web3 streaming platforms, you can make a well-informed decision about whether to move on with development or not.
What Are Web3 Streaming Platforms?
Web3 streaming platforms are futuristic platforms that offer users a secure environment and empower content creators worldwide. Users can leverage these platforms to view live concerts, watch virtual 3D content, listen to music, etc with the security of blockchain technology. Integrating NFTs and blockchain technology in web3 streaming platforms allows them to offer an unparalleled experience to users.
Open up new business opportunities with our Web3 Streaming Platform Development Company.
Get Started
Monetization Methods For Web3 Streaming Platforms
The integration of web3 technologies has opened new methods of profit generation for streaming applications. Depending upon which platform best suits your business needs, you can generate revenue for the Web3 Streaming platforms. Have a look at some of the most popular monetization methods for your web3 streaming apps;
Streaming Fee

Unlike traditional streaming apps, web3 streaming platforms won't charge any fees from the creators. Web3 streaming platform charges a streaming fee from the creators to stream their content online. This way, the web3 streaming platform will generate revenue without depending upon advertisements or brand collaborations.

Ticketing

Web3 streaming apps are great for hosting virtual music concerts, comedy shows, trade shows, etc. Users must pay a ticketing fee to watch these live events on the web3 streaming platform and create an immersive environment with integrated AR/VR tools. In this way, you can generate revenue from web3 streaming apps.

Premium Subscription

Web3 streaming apps can charge a premium subscription fee from their users to view exclusive and premium content from their favorite creators. This premium subscription fee can be monthly, quarterly, or yearly.

Video on demand

On web3 streaming, content creators can sell or rent videos with the security of blockchain technologies. The platform will earn huge revenue from trending videos or content with this method.

Pay per view

This revenue generation model is somewhat similar to traditional streaming platforms. As the name indicates, the web3 streaming platform can charge a viewing fee from users. This is a handy feature where users will be charged only for what they are viewing and pay only a small portion.

Content Promotions

The content creators on the web3 streaming platform can leverage content promotion features to reach a wide audience base. Creators can promote their content by paying a fixed promotion fee to the platform, and in return, their content will be shown to large viewership.
Futuristic Technologies That Empower Our Web3 Streaming Platform
Blockchain Technology

Blockchain technology is the main driving force that empowers web3 streaming platforms to create a safe and secure environment for users and content creators. Creators can prove their ownership rights, and web3 streaming platforms ensure no duplicate content on the platform.

AR/VR Technologies

Integration of AR/VR technologies empowers creators to host virtual concerts and music shows on web3 streaming platforms. Leveraging these technologies, the web3 streaming platform can take interaction with users to a whole new level.

Non-Fungible Tokens (NFTs)

Content creators can convert their digital assets to non-fungible tokens or NFTs. With this, they ensure ownership rights and sell or trade content without any hassle. NFT buyers and investors are also sure that they are buying a unique and rare art piece.

Smart Contracts

These are computer-coded agreements with all the predefined terms and conditions. Smart contracts are effective tools for content creators to earn royalties whenever their NFTs are solved repeatedly.
Key Benefits of Web3 Streaming Software
Original Content

Web3 streaming platform only showcases content to video or music uploaded by original content creators. The advanced algorithm of our web3 streaming platform removes any duplicate content and presents original content to users.

Higher Engagement

Originality and exclusive content on web3 streaming platforms attract a wider audience fan base to these platforms. Thus becoming an effective medium for celebs and content creators to connect with their fans while earning huge profits.

Content Promotions

Celebrities or content creators can leverage the promotional feature on the web3 streaming platform to show their exclusive content to fans or target audiences. Content promotion is an effective tool for increasing content visibility and reaching a new target audience base.

Enhanced Market Visibility

Web3 streaming apps provide a platform for new and established content creators to share their minted music and video with fans. The increasing popularity of NFT and cryptocurrency will further attract NFT investors and celebrity fans looking to purchase exclusive authentic content.

No Single Point Failure

Traditional video streaming platforms depend on a single server for streaming content and thus making them vulnerable to a single-point failure. However, the peer-to-peer network in the web3 streaming platform ensures no single-point failure.

Opportunity For Creators

Talent exists in every corner of our world, and web3 streaming apps present fair opportunities for creators to showcase their talent. With zero to minimal fees, these platforms allow creators to show their talent to the world and earn maximum profits.

Transparency

Integrated blockchain technology with web3 streaming platforms enhances the transparency of the platform. Creators will be rewarded their fair share of profits for their exclusive content as digital tokens or NFTs. These digital tokens or NFTs can be traded on a secondary NFT marketplace to earn real-world currencies.

Content Ownership

Celebs and content creators can convert their digital content files to non-fungible tokens, giving them complete control over content ownership. Web3 streaming platform allows users to enjoy content based on their interests without restrictions.

Better Streaming

Web3 streaming platforms offer better streaming quality than centralized streaming platforms. This is due to the fact that they work on a peer-to-peer (P2P) network to stream videos or music to users. P2P networks can maintain a higher speed due to multiple dedicated servers working on a single task.
Popular Web3 Streaming Platform Development Options
The ongoing evolution of the world wide web has opened new unexplored possibilities in the streaming market. Entrepreneurs worldwide partner with web3 development companies to launch their web3-based streaming platforms. If you are planning to grab the growing web3 streaming market, we have some popular options.
Web3 Video Streaming Platform

Replicate the success of video streaming platforms like YouTube, Vimeo, and Twitch by hiring our web3 developers. With web3 video streaming platform development enhances users' viewing experience and offers better earning opportunities to content creators worldwide.

Web3 Music Streaming Platform

Provide a platform for artists and musicians where they can showcase their content to listeners worldwide. Web3 music streaming platform allows music creators to market their music to a wide audience and earn a decent profit.

Web3 Live Streaming Platform

Hire our web3 developers to launch a web3 live streaming platform where users can view live sports matches, news, videos, and music. These platforms operate on peer-to-peer networks that provide better streaming quality than traditional live-streaming platforms.

Web3 OTT Streaming Platform

Launch web3 based OTT streaming platform where viewers can enjoy their favorite sitcom, TV, and movie content. Integration of blockchain technology empowers creators to earn more profits, enjoy ownership rights, and showcase authentic content per user's requirement.
Have a unique web3 streaming platform idea in mind? Fret not; our experts at RisingMax Inc will do the job for you. Connect over a FREE consultation call and discuss your unique web3 streaming platform idea with our experts TODAY!!
Web3 Streaming Platform Development Process We Follow
Interested in how our web3 development team at RisingMax Inc turns your web3 streaming platform idea into reality? Well, the answer lies in the tailored development process our team follows. Our web3 experts and developers created this six-step app development process that assists us in handling any complex development issues with ease.
Here's how our six-step web3 streaming platform development process looks like;
Project Consultation

Based on the client's specific requirements, our subject matter experts connect to discuss the project requirement in detail with NDA. The main goal during this phase is to understand the client's idea and project requirements in detail. Based on the input from the client, we will share inputs, add-on features, tech stack, and other details related to the project.

Project Analysis

Our web3 experts and developers gather to analyze client projects' requirements and feasibility. If needed, our team will connect with the client for clarification and share our valuable analysis with the client. After getting the approval from the client, our team will move forward to the project planning phase.

Project Planning

Next, our team moves forward to the project planning phase, where our main goal is to create a project roadmap for our development team. We divide the entire project into smaller milestones that enable the client and us to monitor the project's development. During this stage, we share the project timeline, exact cost estimation, tech stack, and project roadmap.

Project Development

Based on the project planning in the earlier stage, our team will move forward to the development phase and turn your idea into reality. Keeping client needs at the center of our project development process, our team builds best-in-class business solutions for our clients. We deploy the latest development tools and methodologies to build solutions that meet and exceed clients' expectations.

Project Testing

The QA team deploys rigorous testing methodologies during this web3 streaming platform development process to find technical issues or bugs. Any issues with the platform will be forwarded to the development team for resolution. Our QA testers follow this same process until the final software has zero errors and performs as intended.

Post-Deployment

Our relationship with our customers won't end after the delivery of the platform, but it starts there. We offer affordable post-deployment services to our clients and ensure timely updates or resolution of technical issues. Our team will monitor your web3 streaming platform 24*7 to ensure smooth running and unmatched user experience.
How Much Does Web3 Streaming Platform Development Cost?
Similar to any software development, there are multiple factors that directly impact the web3 streaming app development cost. Thus, sharing an exact web3 streaming platform development cost is hard without understanding the project details and requirements. If you are interested to know how much web3 streaming app development costs, then reach out to experts at RisingMax Inc. We will share the exact development of your new web3 project after having a clear idea about the project needs and requirements.
Factors that determine the web3 streaming platform development cost;
Type of web3 streaming application.
Add-on features such as VR & AR.
Web3 project's complexity.
Integrated security features.
Web3 development tech stack.
Location and expertise of web3 development company.
Project development team strength.
Project timeline.
These are some of the major factors that directly impact the overall cost of your web3 streaming platform. Web3 development companies will evaluate the overall development cost of your project based on the factors mentioned above. Most web3 development companies will charge you $70k - $80k for web3 streaming platform development.
Why Choose RisingMax Inc, For Web3 Streaming Platform Development?
RisingMax Inc. is a renowned web3 development company assisting enterprises and funded startups to build next-gen business solutions. Our experienced and certified web3 developers leverage their expertise in building future-proof and secure web3 streaming apps that are users friendly. We understand the complexities related to web3 technologies and development tools. Our team creates a customized development process to handle complexities easily and build affordable solutions for our clients.
Here's what you get with RisingMax Inc;
Unmatched web3 development expertise.
Affordable web3 services.
Tech prowess.
Reliable and secure web3 business solutions.
Certified and well-experienced web3 developers.
Transparent pricing policy.
24*7 customer support
Web3 is still in its nascent stages and thus offers a wide variety of new business opportunities. These new opportunities won't stay forever. Therefore, you need to act smart and make a move while others are still in planning.
"Take your first step in the metaverse with our RisingMax Inc. team."
Have a unique web3 streaming app idea? Reach out to RisingMax Inc experts and discuss your business idea under a non-disclosure agreement TODAY.