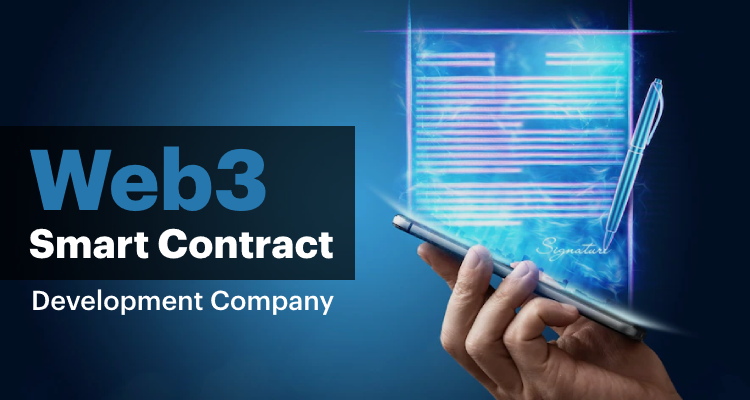 Web3 Smart Contract Development Company
Hire our dedicated web3 smart contract developers in the USA and revolutionize your business. With our expertise in private, public, and hybrid blockchain, we build smart contracts that are error-free and highly secure to automate business processes and streamline workflow.
Web3 Smart Contract Development: Reimagining the Future of Business Deals
The ongoing digital advancements in web3 are revolutionizing how businesses used to operate traditionally. Web3 smart contract is becoming another FinTech advancement that empowers businesses to reimagine the future of business contracts/deals. Transparency, security, decentralization, and other myriads of benefits of web3 smart contracts make it inevitable for a business to move away from them.
Lack of transparency and third-party intermediaries has been a pain for businesses for ages. With the integration of web3 smart contracts, businesses can eliminate third-party intermediaries and enhance transparency within business deals & processes. Leveraging these FinTech tools, businesses can make the entire process more transparent, efficient, and faster.
Are you planning to build a web3 smart contract for your business? Then, shaking hands with RisingMax Inc., a leading web3 smart contract development company in the USA, might be a good idea. Our team leverages its expertise to build business-oriented smart contracts and is bound to deliver quality products. Irrespective of the size of the business, we have the ability and expertise to meet our client's expectations and business requirements. Schedule your FREE consultation call with our web3 smart contact experts TODAY.
Align the current state of IT with your business strategy by hiring the most trustworthy IT consulting company
What is a Web3 Smart Contract?
Web3 smart contracts are similar to real-world business agreements and contracts. The terms and conditions in smart contacts are computer coded, thus making the entire transaction more transparent, fast, and reliable. Integration of blockchain technology makes them more highly secure than traditional business agreements or contracts.
Web3 smart contacts are self-executed and self-verifying; no third party is required to execute transactions. The transaction between two parties occurs when all the pre-written terms and conditions are met & verified. Giving assurance to both parties involved. Hire our web3 smart contract developers to build smart contracts that allow you to automate critical business deals, enhancing transparency and eliminating any chance of business fraud.
Integrating blockchain-based web3 smart contracts within business processes enhances security, anonymity, and transparency. Businesses can leverage these platforms toward the digital revolution and transform themselves. For this reason, businesses from different verticals are partnering with web3 software development companies to capitalize on the true potential of smart contracts.
Benefits of Web3 Smart Contract Development
Looking at the benefits of web3 smart contracts, businesses worldwide are searching for ways to integrate them within business processes. If you plan to leverage these smart contracts for your business, here are some major benefits you need to know.
Automated

Integrating web3 smart contracts paves the way for businesses to move towards automation. These contracts are computer generated automatically and get triggered when all the pre-defined terms and conditions are met. Automating the entire process enables businesses to eliminate confusing paperwork, human error, and mistrust between two parties. Even while dealing with a new business firm, web3 smart contract becomes an effective tool to eliminate the possibility of fraud and mistrust.

Cost Effective

The self-execution and self-verification ability of web3 smart contract eliminate the need for any intermediary to carry out the transaction. There is no need to hire an additional workforce to monitor the entire process, and no third-party involvement makes them highly effective. These smart contracts can be used multiple times, thus making them a valuable investment for the business.

Trust and Transparency

Web3 smart contracts are an effective tool when it comes to promoting trust and transparency in any business contract or deal. These can be easily executed without the involvement of any third party. Building on blockchain makes it impossible to alter or change the agreement terms that both parties agreed to earlier.

Security

The integration of blockchain technology within web3 smart contracts makes them highly secure and transparent. Only the parties involved have permission to access the smart contract's pre-written and agreed-on terms & conditions of the smart contract. Every block connected to the other makes the entire process encrypted and makes it impossible for hackers to access or alter the contract terms.

High Speed

Web3 smart contacts have pre-defined terms & conditions written as software code. Smart contracts' self-verifying and execution nature enable them to execute on their own when all the agreement terms and conditions are met.

Digital Backup

Since web3 smart contracts are computer coded, it makes it easy for businesses to take backups and store them. Taking digital backup lets, you track previous business partnerships and deals.

Higher Accuracy

Our web3 smart contacts are computer generated and go through multiple testing processes. Computer-generated contracts make them less prone to errors and ensure a higher level of accuracy than traditional contracts.
Hiring our web3 smart contract development experts will allow your business to enjoy all these benefits and move toward modernization. Understanding your business requirements, our development team will design a web3 smart contract that boosts business efficiency and enhances transparency.
Our Web3 Smart Contract Development Services
At RisingMax Inc, we offer full-fledged web3 smart contract development services to meet our client's needs. We leverage our web3 smart contract development expertise to build error-proof, secure, and highly reliable business solutions for our clients. No matter how complex your smart contract terms and conditions are, our team will find code the same for you without any hassle.
The web3 smart contract development services we offer;
Web3 Smart Contract Development

We have a pool of web3 experts with hands-on experience in a wide range of public, private, and hybrid blockchains. Our upper hand in leading blockchain technology enables us to build self-verifying and executing customized smart contracts based on your unique business requirements.

Web3 Smart Contract Audit

To ensure there are no loopholes in the web3 smart contract, our team will thoroughly audit your smart contract. We deploy rigorous testing methodologies to remove bugs and security vulnerabilities from the web3 smart contract. With web3 smart contract audit, we ensure that the agreed terms and conditions align with the requirements of diverse industries.

Web3 Smart Contracts Optimization

Hire our web3 experts to build smart contracts specific to your business requirements. We first create a prototype for a smart contract optimization approach to reduce the average gas cost and computation process.

Web3 Smart Contract Architecture

Leverage our web3 smart contract developer expertise to build self-executing and verifying smart contracts. We follow the industry's best smart contract architecture to ensure smooth development and error-free smart contract implementation to get the expected results.

Web3 Smart Contract for dApp

Integrate your decentralized business application with blockchain-based smart contracts. The self-execution and verifying nature of smart contacts allow you to streamline app processes and work more efficiently.

Web3 Smart Contract for DEX

We build decentralized exchanges driven by smart contracts using Ethereum, EOS, and other technologies. To protect end-user privacy, private keys, and digital assets.

Web3 Smart Contract for Crypto Wallet

Hire our developers to build web3 smart contracts specifically for blockchain-based crypto wallets. Integrating smart contracts allows users to send and receive digital assets directly to their crypto wallet with self-executing and verifying smart contracts.

Web3 Smart Contract for DAO

Integration of smart contracts in decentralized autonomous organizations enhances the security, transparency, and efficiency of the platform. Hire our web3 developers to build web3 smart contracts for DAO.

Web3 Smart Contract for NFT Marketplace

Leverage the true potential of web3 smart contract to offer an unmatched experience to NFT marketplace users. Our team built a web3 smart contract for your NFT marketplace.
Web3 Smart Contract Development: Our Engagement Model
We at RisingMax Inc, understand that no two business requirements and project needs are the same. That's why we believe in offering customized web3 smart contract development services to our clients rather than one-size-fits-all solutions. We offer three engagement models to ensure that we meet every client's development needs.
Dedicated Web3 Team

Hire our web3 smart contract developer with hands-on experience delivering the highest quality solutions for your project. The Web3 team will dedicate work on your project from development to deployment of smart contracts.

Team Extension Model

Leverage our web3 expertise to add the right skill required for project development. Our web3 smart contract development team will work remotely on your project and provide the required project-related support & assistance.

Project-based Model

Our client can hire the web3 development team for their specific project during this engagement model. Our team will manage the entire project from development to successful deployment of web3 smart contact.
Web3 Smart Contract Development Process We Follow
Our experts at RisingMax Inc have mastered the art of web3 smart contract development. We have created a six-step web3 smart contract development process to meet our client's business-specific requirements without hassle. This is a tried and tested development workflow that, over the years, assisted us in delivering unmatched software products to our clients.
Let's have a look at how we transform your business-specific web3 smart contract development idea into reality;
Requirement

Our team connects with the client to discuss the project idea and business requirements. We try to grab as much information about the project and related terms & conditions of the web3 smart contract.

Analysis

Based on the above discussion, we will analyze the client's business requirements and discuss how we will deliver the same to our clients. After discussing the idea's feasibility and final client approval, our team moves forward to the project planning stages.

Planning

After getting the final approval, the team sits down to create a complete web3 smart contract development roadmap. We build client-business-centric solutions by keeping the project requirements at the center of our app development process. During this phase, we divide the project into smaller development milestones for easy tracking of the project's progress.

Development

We assign a project coordinator to keep you updated on the project development. Based on the development roadmap, our web3 team will proceed with the project development. Deploying industry-best development methodologies and tools, we offer best-in-class web3 smart contract development specific to clients' needs.

Testing

The testing phase runs parallel to the web3 smart contract development phase. The main goal during this phase is to ensure that the smart contracts are bug-free with no security vulnerabilities. The QA team repeats the entire process until there's no issue with the product.

Post-Deployment

To ensure the smooth running of web3 smart contracts, we provide competitively priced smart contract development and maintenance services. Our expert team will timely monitor your web3 smart contract for updates and security loopholes.
Hire our web3 developers at RisingMax Inc. for your web3 smart contract development. Our team leverages their development expertise to create a highly secure and reliable web3 smart contract as per your business requirements.
How Much Does Web3 Smart Contract Development Cost?
Ready to move forward with the web3 smart contract development? Wait!! Before moving further, have a look at how much this new business endeavor will cost you. The cost of your web3 smart contract is directly impacted by a number of factors that we discussed further in the post. Based on these factors, the overall development cost of your project might vary.
Web3 smart contract development cost depends upon various factors such as;
Web3 smart contract type.
Integrated features.
Smart contract complexity.
Location of the web3 development company.
Developer team size.
Expertise of web3 development company.
Completion time.
Add-on features.
Post-deployment services.
Depending on the above factors, the overall development cost of your project might increase. Reputed web3 development companies in the USA will charge $15k-$20k for basic web3 smart contract development. The overall contract might increase depending on the above factors.
Want an exact development quote for your web3 smart contract? Get in touch with our experts, and share your business requirements and other project-related details over a FREE consultation call. Based on your project requirements, our team will share an exact project development cost asap.
Why Choose RisingMax Inc. for Web3 Smart Contract Development?
Since its inception RisingMax Inc. has had the privilege of working with clients in different business verticals. Over the years, we have leveraged our development expertise to build next-gen and affordable business solutions for our customers. Irrespective of how complex, big or small your business requirements are, our web3 experts are always ready to assist you.
Here's why you hire us;
Unmatched web3 expertise.
Affordable web3 business solutions.
Tech prowess.
Reliable and secure smart contract solutions.
Certified web3 developers team.
Transparent pricing policy.
24*7 customer support.
Integration of the latest technology within business processes empowers enterprises to streamline business processes and work with higher efficiency. The self-execution and verification nature of Web3 smart contracts empower businesses to be competitive and future-ready.
"Take your first step toward modernization with RisingMax Inc, your trusted web3 software development company."
Reach our experts and discuss your web3 smart contract development TODAY.