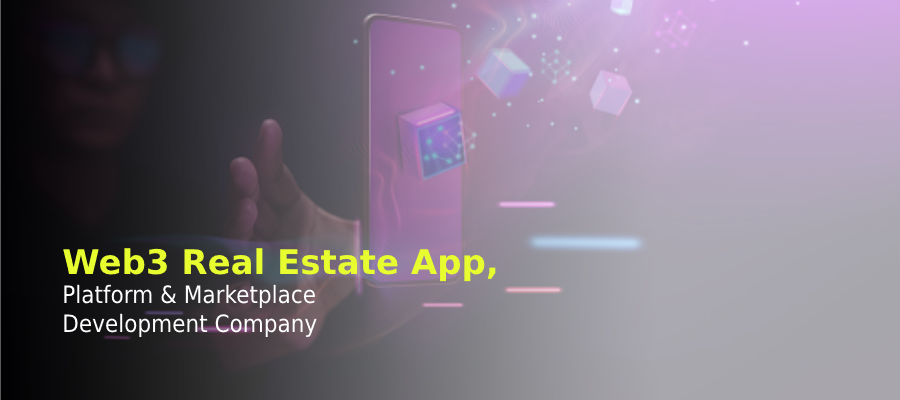 Web3 Real Estate App, Platform & Marketplace Development Company
The ongoing digital revolution in the world wide web has opened new opportunities in the real estate sector. Budding entrepreneurs are investing in web3 real estate apps to explore and grab new opportunities with the help of these futuristic applications.
Web3 Real Estate App Development: A Billion Dollar Future Market
The rising popularity of non-fungible tokens has made web3 real estate a lucrative sector and a billion-dollar future industry. Thousands of real estate investors and NFT lovers visit these futuristic platforms to buy, sell, trade or rent virtual real estate.
Align the current state of IT with your business strategy by hiring the most trustworthy IT consulting company
If you are planning to enter web3 real estate space, then contacting our web3 developers and experts at RisingMax Inc can be a good place to start. Our team leverages their expertise in web3 technologies to build outstanding business solutions for you. Set your first foot in the virtual world right and grab new opportunities with web3 real estate app development. Get in touch TODAY!
Let's start from the basics..
What Are Web3 Real Estate Apps?
Web3 real estate apps are platforms where users can buy, sell, trade, or rent virtual properties with the security of blockchain technology. Virtual properties on web3 real estate apps are exact replicas of the real world mapped to the real world address. In addition to trading real estate as NFTs, these platforms allow users to build homes, set up offices, play games, earn rewards, and socialize.
Do you know?
According to Globenewswire, by 2029 the revenue generation from the metaverse market will grow at a CAGR of 47.6 percent and generate $1,527.55 billion US dollars.
Intriguing Features Of Our Web3 Real Estate Software
Easy Registration

Our web3 real estate app has integrated easy registration options such as email and social media to smoothen the entire process.

Manage Account

Users can leverage this feature to update or remove information shared with the real estate application.

2F-Authentication

To ensure maximum security of user's information and digital assets, our web3 real estate app comes with 2FA feature.

Transactions History

With this feature, users can view their entire transaction history and keep track of sale and purchase of real estate property.

Manage Real Estate

This feature of our web3 real estate app allows users to trade real estate securely.

Minting

With this feature of our web3 real estate platform, users can convert their real estate to non-fungible tokens to buy or sell with just a few clicks.

Advanced Search Filters

Users can take advantage of this feature to find real estate properties as per their budget, location, type, etc.

Bidding

This feature of our web3 real estate app allows users to bid on real estate they are interested in based on their interest and location.

Upfront Store

With this feature, users can list and view the properties listed on the store. Upfront real estate stores have information related to properties such as price, ownership history, property type, etc.

Rewards

This feature of our web3 real estate app allows users to earn rewards based on their purchase record and level.

Staking

With this feature of our web3 real estate software users can stake their digital assets and earn a fixed revenue percentage

Visiting Fees

Users on web3 real estate app can charge a visiting fee whenever someone visits their platform.

Support Team

Users can connect with the support team whenever they face an issue with the web3 real estate application.
Open up new business opportunities with our Web3 Ecommerce Platform Development.
Get Started
Avant-Grade Features To Add in Web3 Real Estate Apps
Real Estate Minting

This feature on our web3 real estate app allows users to convert their virtual real estate into NFTs. Converting real estate to NFTs ensures ownership rights and easy transfer of real estate from one person to another without any paperwork.

Web3 Fantasy Football App

Leverage the global popularity of football and build a web3 fantasy football app where users can test their game knowledge and skills to earn real money rewards.

Blockchain Wallet

Integrating blockchain wallet with your web3 real estate platform allows users to securely store multiple real estate properties securely. Selling, renting, buying and trading real estate in the virtual world will become easy with crypto wallet.

Smart contracts

The self execution and verification feature of smart contracts ensure security and transparency to your web3 real estate software. All the pre-defined agreement terms and conditions are written in smart contracts making them an effective tool for trading real estate virtually.

Digital Token

Create your own digital token based on leading blockchain such as Ethereum, Polygon, Avalanche. Digital token for your web3 real estate platform makes it easy for users to buy, sell, and trade real estate instantly.

Virtual Visit

Next-gen technologies such as 3D modeling, AR & VR empowers the web3 real estate software. Investors can visit the real estate in the virtual space before actually putting their hard earned money. This feature will come handy in converting potential real estate buyers.

Advertising

In addition to buying, selling or renting virtual properties, Web3 real estate apps can be used for advertising as well. Brands and businesses can advertise their products and services on these futuristic web3 platforms.
How Are Web3 Real Estate Apps Revolutionizing Real Estate Sector
The real estate sector has failed to adapt with the changing technology trends which is why it fails to grow leaps and bounds. Integration of web3 technologies paves way for real estate to address some of the major issues and take a leap in the digital world. As a leading web3 development company in New York, USA, RisingMax Inc we are building and integrating web3 solutions to help businesses grow.
Let's have a look how web3 real estate apps at how blockchain technology is revolutionizing the real estate sector:
More Transparency

Money laundering and fraud cases are common in the real estate sectors due to loopholes and lack of transparency in the real estate sector. Integration of web3 and blockchain paves the way for the real estate sector to bring more transparency it needed to address the challenges. The decentralized nature of web3 and its related technologies makes information accessible for everyone and view every transaction on the network.

Data Management

One of the major challenges for real estate safe and secure data management. Hefty paperwork involved in buying and selling real estate virtual can be easily addressed with web3 and blockchain technologies. The information is stored on a decentralized network that is easily accessible to anyone and no one can manipulate the information stored within the system.

Fast and Secure Transactions

When it comes to real estate, transactions usually contain some conditional clauses. Blockchain based smart contracts make it relatively easy to manage these conditional clauses and provide secure payments. The self-verifying and executing nature of smart contracts ensure that there is no fraud while ensuring fast & secure transactions. Realtors and buyers use these blockchain based smart contracts for all pre-agreed conditions of sale and purchase and transactions will execute automatically.

Real Estate Laws

Real estate laws are complex and often keep on changing from time to time. Integrating web3 technologies in real estate ensures that you don't have to worry about these changing complex real estate laws. These technologies will keep them updated with changing real estate laws and ensure relevance over time. Deploying these web3 real estate apps ensures compliance with real estate laws and transparency the real estate sector needs.
Web3 Real Estate Application Development Alternatives
We as a trustworthy web3 development company offer diverse web3 real estate app development options to meet our client needs. Irrespective of what kind of web3 real estate app you are looking for, our web3 experts can make it happen for you. Here are some popular web3 real estate app types and ideas.
Web3 Realtor Application

Hire our web3 development team to build a web3 realtor application with all the features that streamline the entire process and establish secure communication with clients. Realtors can leverage these next-gen apps to store documents securely and reduce paperwork.

Web3 Property Management Apps

Our web3 property management apps are a huge relief for management firms that are looking to handle worldwide real estate clients. Tracking current state of houses, property selling price, available house and office rental space become an easy task.

Web3 Property Listing Apps

Buying and selling properties on web3 platforms will be an easier task than ever before. With web3 property listing apps, you can provide users a platform where they can list properties for rent or selling and connect with potential buyers or investors virtually.

Web3 Smart Home Apps

Increasing popularity of smart homes among Genz and millennials has resulted in high demand for web3 smart home apps. Build apps where users can easily find apartments and rental spaces with smart home features.

Web3 Household Management Apps

With web3 household management apps tracking the current state of houses and apartments will become easy. From tracking maintenance requests to available rental properties, property managers can view everything on a centralized platform.
Have a unique web3 real estate app idea? Connect with our team over a FREE consultation call and turn your idea into reality.
Technologies That Empower Web3 Real Estate App Development
New age technologies such as blockchain, AI, AR & VR are transforming the real estate sector and paving the way for digital evolutions. Integration of these technologies empower next-gen web3 real estate apps to create an immersive environment and offer an unmatched experience to users.
Important Web3 Real Estate Application Tech-Stack;
Blockchain Technology

Integration of blockchain technology with web3 real estate apps assist in creating a secure and decentralized ecosystem for users. Real estate can enjoy a variety of blockchain benefits such as digital verification, end-to-end encryption, transparency, and others. Blockchain-based web3 real estate app development paves way for the real estate sector to move towards a secure virtual ecosystem.

Virtual & Augmented Reality

Real estate sector can leverage AR and VR technologies to offer an unparalleled virtual world experience. Investing in web3 real estate apps development allows users to experience real estate properties similar to the real world. AR & VR technologies will take the interactions between real estate buyers and sellers to a whole new level

3D Technology

3D modeling technology enables web3 real estate apps to offer real-world like experience to app users. Web3 real estate app with 3D modeling technology, enables users to enjoy a realistic virtual world experience. Real estate buyers, sellers, and investors can visit the real estate properties in the metaverse.

Non-Fungible Tokens

Non-fungible tokens or NFTs are becoming a major component of the metaverse. These tokens make it easy for investors to prove the ownership rights of digital assets. Users' can mint their digital avatars, skins, real estate, photos or anything unique, and ownership can be sold to anyone within virtual space.
Our Web3 Real Estate Development Services
Metaverse/Blockchain Real Estate Solutions

Hire our blockchain/metaverse experts to build custom real estate software solutions with smart algorithms, advanced marketing tools, notifications via email/sms, etc. Leverage new-age technologies to differentiate from the competition and build solutions that are future ready.

Property Management Solutions

We adhere to industry best development practices to build property management software solutions for your business. With an advanced admin dashboard, we ensure efficient management of the entire real estate business for property management firms.

Auction/Reverse Auction Solutions

Launch cloud-based auction/reverse auction software where potential property buyers can participate in offline & online property auctions. Connect with our experts to discuss your customized auction software needs.

AR/VR Real Estate Software

Our expertise in AR & VR technologies empowers real estate businesses to offer virtual property tours and deliver unique experiences to potential real estate buyers with top-notch AR/VR real estate softwares.

Real Estate Valuation Engine

We help real estate businesses to build software solutions that deploy advanced valuation engines to evaluate a large number of properties. Our high-end valuation solutions assist in overcoming challenges in the real estate sector.

Real Estate CRM & ERP Software Solutions

We develop custom CRM and ERP management solutions to streamline business processes in real estate for enhanced profitability. Our software solutions make it easier for the admin to monitor different real estate projects simultaneously.
Our Web3 Real Estate Application Development Process
Over the years we have mastered the art of web3 app development and designed a development workflow. We have divided our web3 real estate application development process into six simple steps mentioned below.
Requirement

Analysis

Planning

Development

Testing

Post-Deployment
No matter how different your web3 project requirements are, our development team will find a way to deliver what you are looking for. We have been following this same agile development process and delivering exceptional web3 business apps to our customers.
Why Choose RisingMax as a Web3 Real Estate App Development Partner?
RisingMax Inc is a trustworthy web3 development company and we are leveraging our development expertise to make your business future ready. Integrated new-age technologies to streamline your business process and stay ahead of the competition. Businesses worldwide reach us out to grow their presence in the virtual world or build web3 apps with million dollar revenue generation potential.
Here's why you should choose us;
Tech Expertise

Our web3 developer team is well versed in leading technologies with hand-on development experience on web3 projects. We leverage our tech prowess to build innovative web3 solutions specific for your business.

Agile Development

RisingMax's development team follows an agile development process that we have discussed in details above. This carefully created app development process allows us to deliver expectations to our customers and meet their expectations.

Transparent Pricing

We understand that no two business requirements are the same and that's why we follow a transparent pricing based on your web3 project. Our team shares the exact development budget with the client and delivers the best business product possible.

Secure Business Solution

Creating safe and secure business solutions is the top priority of our development team. That's why we follow rigorous testing methodologies to ensure highly secure business solutions for our customers.

And the list goes on.

Don't let your web3 app idea wait. Talk to our web3 experts and start discussing your web3 real estate app development requirement TODAY!
Unmatched web3 development and consultation services.

Affordable web3 business solutions.

Highly-qualified and experienced team.

Scalable and secure web3 business solutions.

Transparent pricing.

Flexible hiring models.

24/7 Customer support.
Jump the web3 fantasy sports app development bandwagon and build app solutions worth millions.