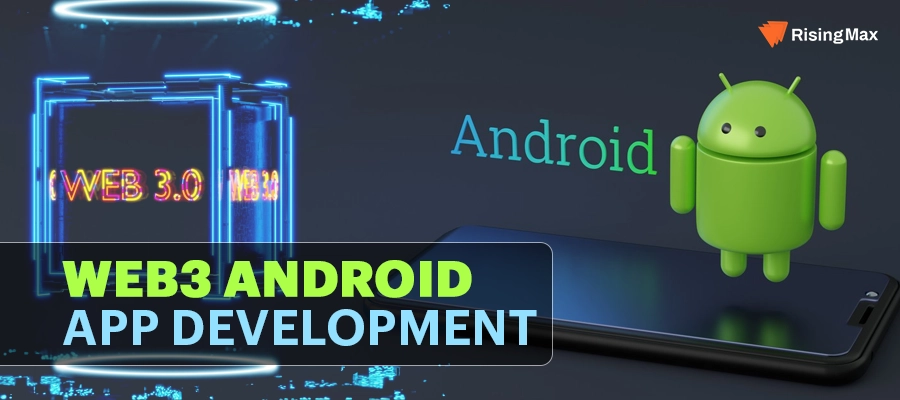 Web3 Android App Development
The digital revolution world wide web has been transforming our lives like never before. From virtual offices in the metaverse to playing games and social media in the metaverse, web 3.0 evolution marks a new era for mankind. The paradigm shift in web3 has opened new business opportunities that earlier wouldn't exist.
Web3 Android App Development: Potential Money Spinner For Future Businesses
Android holds a major stake in the mobile phone market and has become a tempting option for businesses and startups to enter the web3 space. As a leading web3 development company, we empower businesses to leverage web3 true potential and build web3 android apps. Our web3 android app development team guarantees scalability with expertise in everything related to what is android app development.
Why Go For Web3 Android App Development?
Market Share

With more than 80 percent share in the global application market, ignoring the android platform won't be a good idea. Investing in web3 android app development allows businesses to enhance their business reach and increase profit margins.

Better Opportunities

Investing in web3 android apps allows businesses to leverage the huge customer base of android smartphone users and explore new growth opportunities. Integration of new-age technologies such as blockchain, AR, VR, and AI empowers businesses to offer unmatched app experiences to their users.

Easy Customization

When choosing between the iOS and Android platforms, the easy customization, developer-friendly, better backend, and front-end support give android an edge. Android platform offers more customization options to developers, making them an ideal choice for your web3 business application.

Less Time Needed

Regarding the web3 Android app process, our team has automated more than 80 percent of the process, and the remaining needs to be tailored as per the client's requirements. This enables web3 developers to create a web3 application in less than 8-10 weeks and swiftly launch the application in the market.
Align the current state of IT with your business strategy by hiring the most trustworthy IT consulting company
Most Recent Android Platform Statistics & Figures
Android is the most popular operating system in the world and holds 80 percent of the market share.
There are over 2.5 billion active Android OS users spanning over 190 countries.
Google Play Store has over 2.6 million apps for download as of June 2022.
In 2021, the Google Play store generated gross revenues of approximately 48 billion U.S. dollars.
Custom Web3 Android App Development Services
RisingMax Inc. is a trusted web3 android app development company that empowers startups and businesses to harness android's true potential. Our team has hands-on experience developing custom web3 android apps that boost business growth.
Have a look at our web3 android app development services;
Custom Web3 Android App

Hire our web3 android developers to build business applications that meet clients' needs. Our web3 developer team design and develop android based business applications that makes it easy to manage business processes.

Web3 Android UI/UX Designing

Looking for an experienced web3 designing team to implement a unique and user-friendly interface to your android app? Then, our team is happy to assist you. Our web3 android UI/UX designing team leverages their expertise to deliver engaging and interactive web3 android applications.

Web3 Android Web Apps

Our web3 developers are well versed in building web-based applications as per your business needs. Android-based web application makes it easy for admins to monitor day-to-day business operations and make well-informed decisions based on specific data.

Web3 App Porting

Our web3 software engineers can assist you in turning iOS or web-based business applications into Android apps. Leverage our web3 app porting services to convert your business application from any format to Android.

Hire Web3 Android Developers

RisingMax Inc. is home to highly experienced and skilled professionals that can transform your web3 android app ideas into reality. Hire our dedicated web3 Android developers that will assist you from idea validation to deployment of your business project.

Web3 Android App Consultation

Before jumping on to web3 android app development, get in touch with our web3 experts over a FREE consultation call. Our team will share the best tech stack and possible solutions as per your project requirement.

Web3 Android Game Development

Launch web3 android games that are engaging and deliver unique experiences to players on mobile and android platforms. RisingMax Inc. team effortlessly creates user-focused web3 android gaming apps per your game idea.

Web3 Support & Maintenance

We provide web3 support and maintenance services for your Android-based application after deployment. Our team will continuously monitor your android application to enhance user experience and ensure the smooth running of applications.

Web3 Android Software Testing

Our web3 QA team ensures that your android application has zero bugs and is glitch-free. We follow rigid testing methodologies to deliver highly efficient and secure business solutions to our customers.
Our Varied Web3 Android App Development Expertise
Join hands with industry web3 android app development experts to build android-based solutions that help you climb atop the Google Play Store. Over the years, our web3 experts have built innovative business applications that have impacted the target market and generated high revenues. Leverage our expertise to build varied web3 android apps as per your specific business requirements;
Web3 Android Smartphone

Hire our web3 development team to build innovative, user-friendly, and feature-rich android smartphone apps for your business. We design and develop the best web3 application keeping the needs of your target audience in mind.

Web3 Android TV

Leverage our web3 development expertise to build web3 Android TV apps that are highly engaging and deliver value to the users. We create web3 Android TV apps that enable you to capture the growing entertainment sector and provide users with more control and accessibility.

Web3 Android Wearable App

We build web3 android wearable applications that allow users to monitor their daily activities, health status, and much more. Building web3 android wearable apps will allow you to diversify your app portfolio and generate high revenue.

Web3 Android Tablet Apps

RisingMax Inc. has a pool of web3 experts well versed in web3 technologies such as blockchain, AI, AR, and VR. Leveraging our expertise, we build solutions compatible with android tablets and other devices.
Our Industry-Specific Web3 Android Apps Development Expertise
RisingMax Inc. is a trusted web3 android app development company that offers full-fledged industry-specific web3 android app development services. The unidirectional development skill of our web3 android developers allows us to build highly reliable and scalable business solutions. We leverage our web3 development expertise to build industry-specific business solutions for our customers.
Hire our web3 developers to scale up your profits and be future-ready.
Game Apps

Our customers trust us to build innovative and engaging android-based game apps for the future. We leverage our development expertise and in-depth knowledge of technologies such as blockchain, web3, AI, and AR/VR to build unmatched gaming apps. Hire our web3 game developers to build game apps that are futuristic and perform exceptionally to enhance the user's gaming experience.

Health & Fitness Apps

Join hands to capture the growing health & fitness market with the web3 android application. Cater to the user's needs and build actionable web3 android apps that encourage users to opt for a healthy way of life. Get in touch with the industry's web3 app development experts to build future-proof apps that cater to the user's needs.

On-demand Apps

Our web3 development team leverages their expertise in leading web3 technologies such as blockchain, AR, VR, and AI to build groundbreaking android apps. With our in-depth subject matter knowledge, we are empowering startups and enterprises to transform their app idea into reality. Contact us to build next-gen web3 android on-demand applications.

Education Apps

Worldwide EdTech startups are reaching out to us to build android-based web3 education apps for the future. Align your education business with success and launch your web3 android education application to lead in the competitive android app marketplace

Travel Apps

Leverage the popularity of the android platform to cater to the wanderlust needs of users worldwide. Join hands with web3 development experts to build seamless android apps that deliver unmatched travel experiences to travel communities worldwide. Reach out to our experts at RisingMax to build web3-based android travel applications with the security of blockchain technology.

Social Media Apps

Web3 and its related technologies have the potential to create a paradigm shift in how users interact on social media platforms. Hire our web3 developers to build web3 android social media apps that will empower the interaction between users over the internet. Connect with our experts at RisingMax Inc. to turn your social media app idea into reality.
Have a unique web3 android app development idea? Then, reach out to our experts at RisingMax Inc to turn your futurist business app idea into reality.
Our Web3 Android App Development Process
Do you want to know how we easily meet our customer's business requirements and expectations? Well, the answer lies in our web3 android app development process we follow. For your understanding, we have divided our web3 android software development process into six steps that we follow.
Requirement

Our development team connects with the client for initial project discussion and gathering project requirements. Our team will address all the development or project-related queries during this stage before moving to the next stage.

Analysis

Our development team will analyze the client's business requirements based on the initial discussion during this phase. After careful analysis, we move forward to the analysis phase.

Planning

Next, our team will plan and gather resources depending on the project requirements. We will prepare a project development based on the project analysis; share the development cost and time needed for project development.

Development

The team moves forward to the development phase with a clear idea of client requirements and the development tech stack. The entire project is divided into different milestones to track project developments easily.

Testing

The testing phase works parallel with the development phase to ensure no issue with the final product. Any issue found during the testing phase will be forwarded to the development team for resolution. This process keeps on going until the final product is error-free.

Post-Deployment

We provide post-deployment maintenance and support services to ensure the smooth running of the web3 android application. Our support team will monitor your project 24*7 to address any technical issues with the platform and perform timely updates for smooth running.
Our Web3 Android App Development Engagement Models
RisingMax Inc. web3 development team leverages its expertise in web3 technologies to build competitive android-based business applications. Leverage our affordable web3 android app development services to build next-gen business apps with the right tools and tech stack. Our distinct web3 Android app development engagement models;
Dedicated Team

Hire our web3 android developers who will work on your android-based business application from development to deployment. No matter how complex your business idea is, our dedicated web3 team will deliver the expected results within time.

Team Extension

Get the right web3 expertise and talent to turn your web3 android business idea into reality. Our web3 experts will assist your in-house development team remotely to ensure timely project completion.

Project-Based

Need assistance with your web3 android app project? Hire our web3 android app development team on a project basis to build highly secure, reliable, and scalable business applications.
Connect with our web3 android development experts and discuss your business application idea. Based on your app idea, our experts will suggest you the best web3 android app development engagement model to smoothen the entire process.
How Much Does Web3 Android App Development Cost?
Before moving on to a new business venture, any entrepreneur evaluates the overall project cost and expected revenue it can generate. However, regarding web3 android app development, no two business requirements are the same. Thus, sharing an exact development cost without understanding the business app's needs is impossible.
To ease your business app development struggle, we have listed some major factors that directly impact the development cost. Careful evaluation of all these factors will assist you in finding the overall cost of your new business venture.
Factors on which Web3 Android App Development Cost Depends;
Type of web3 android application.
High-tech app features.
Integrated security features.
The complexity of web3 application.
Tech stack required.
Location of web3 development company.
Development company's expertise.
Team size.
The time needed for project completion.
Any add-on services.
Keeping these factors in mind, you can easily evaluate the overall development cost of your web3 android applications. Most web3 android app development companies in NYC, USA, will charge $35k to $40k for basic web3 android apps. However, the development cost will go up depending on the factors we have mentioned above.
Perks of Working With Our Web3 Android App Development Team
No project is too small or too big for our web3 developers. We at RisingMax Inc. try to serve our clients with full transparency and with the same level of dedication. Perks of working with our web3 app development team;
Post-Delivery Services

At RisingMax Inc., we believe in building long-term relationships with our customers, even post-deployment. We offer first-month FREE post-delivery maintenance and support services to our customers.

Transparent Development

Before the development process, our web3 experts divide the project into smaller milestones. This allows us and clients to monitor the entire project and keep track of the web3 project developments.

Free Consultation

We at RisingMax Inc. believe every business idea is worth hearing. For this, we provide a FREE consultation to our clients, where they can connect with our web3 experts to discuss your unique web3 android app idea.

Custom Pricing

No two business requirements are the same. That's why our web3 experts share custom pricing quotes based on your project requirement and tech needs.
Don't let your unique web3 android app idea wait!!
Connect with our web3 experts and discuss your web3 android app idea TODAY!