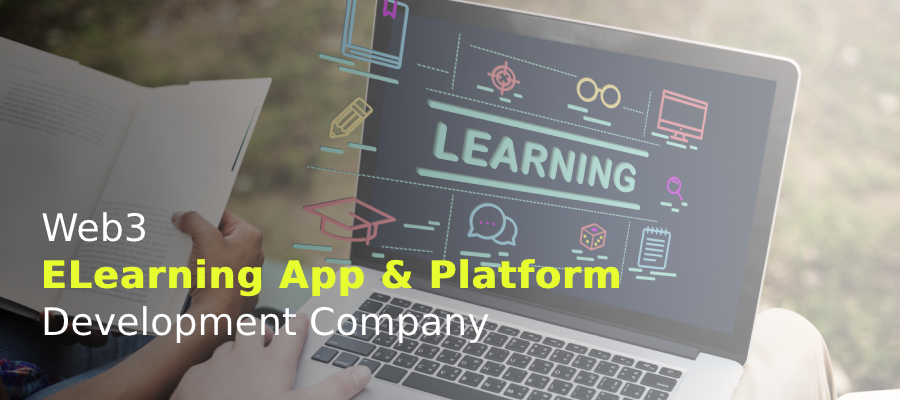 Provide Emmersive Experience with Web3 Virtual Learning Platform
eLearning shares information with millions of students around the world in a convenient manner. Through international cooperation with partners from all around the world, it provides worldwide opportunities.
The traditional educational system is more costly, time-consuming, and results-dependent than online learning. On the other hand, e-learning is a quick-moving sector that gives students a range of possibilities, such as a contemporary, innovative method of instruction and consistently updated course material. Keeping feet into the future technology and starting Web3 eLearning app development can make you a billionaire at the earliest and your eLearning platform a unicorn.
Save your time by reading the complete blog. Click on the box to fill out the form and get in touch with our executive to get complete knowledge about eLearning app development and how you can get into the business with the kick start.
Align the current state of IT with your business strategy by hiring the most trustworthy IT consulting company
What Is Web3 E-Learning Platform
Web3 Elearning platforms, known as Learning Management Systems (LMS), are online learning environments designed to support remote learning for businesses and educational institutions. These platforms enable the creation of "virtual classrooms" where professors and students may communicate. The same is true for assessments, file sharing, participation in forums and chat rooms, as well as a host of other tools.
Why Choose Web 3 For eLearning App Developement Possession
The end users will regain complete ownership and control of their information and enjoy encrypted security. Data sharing appears to be based on need, consent, or on a case-by-case basis.
No MiddleMan

Blockchains like Ethereum provide a reliable platform where the rules are unbreakable, and the data is totally encrypted. As a result, the condition kills the middleman. The complete freedom of the platform helps the business to grow within its full range and without interruption.

Permissionless

Anyone may create a blockchain address and join the system. It is impossible to overstate the specialist to obtain permissionless blockchains. The clients' salary, geology, introduction, sexual orientation, or any other combination of demographic and societal factors will not be a restriction.

Undisputed Service

Significantly fewer accounts are suspended, and delivered administrations are rejected. No one source of dissatisfaction exists; thus, the benefit disturbance will be revealed in the smallest amount. Numerous backups will prevent seizure or server failure, and the information will be stored on the distributed hubs to ensure recurrence.
Open up new business opportunities with our Web3 Ecommerce Platform Development.
Get Started
Features Of Web3.0
The transition from Web 2.0 to 3.0 happens gradually and without the general public noticing. Web 3.0 apps look and feel the same as Web 2.0 applications, but the back-end is far more varied.
Future Web 3.0 will bring about all-encompassing apps that can be accessed and used by a variety of devices and software, improving the convenience of our leisure and business activities. The emergence of innovations like communicated records and blockchain capacity will enable data decentralization and the establishment of a simple and safe environment, which can combat Web 2.0's centralization, monitoring, and predatory advertising.
Ubiquity

Being everywhere or having the ability to be everywhere is what is meant by ubiquitous. In other terms, widespread. In that regard, Web 2.0 is already ubiquitous since, on occasion, a Facebook user may take a picture and publish it right away. At that moment, Web 2.0 becomes ubiquitous because it is available to anybody, wherever they are, as long as they have access to the social media platform. Web 3.0 advances this by making the Web accessible to everyone, everywhere, and even in the sector of eLearning as well.

AI

Websites will be able to direct and provide the most up-to-date information to customers, thanks in large part to manufactured insights. In the era of Web 2.0, businesses have begun to better solicit customer feedback to determine an item's or resource's quality. Peer surveys are one of Web 2.0's most notable commitments, as we've just said. Human proposals, however, are not honorable, as we all know. A large group of people could work together to give a movie unjustifiably favorable reviews in order to boost their ratings. False insights can separate good information from bad information and provide us with trustworthy knowledge.

Building Network

One of the main goals of a few of the crypto-organized organizations was to design their systems to be more effective and lucrative. The commerce demonstration may be summed up as "build the biological system; grow their local resource treasury." As one of the largest Bitcoin Center maintainers, Blockstream relies on its BTC balance sheet to generate value.

Payment Tokens

With the popularity of token deals, a new generation of blockchain projects has sprung up that commonly create two-sided markets and mandate the usage of a local token for all payments, and have based their business models around installment tokens inside of networks. According to the predictions, as the network's economy grows, there will be a surge in demand for the restricted local installment token, which will increase the token's value.

Taxation

Another period of trade models, which included traders, overseers, and subordinate suppliers, focused on establishing the financial underpinning for these local resources. They were all created with the same mentality: to offer services to clients that needed to speculate on these risky resources. Because the underlying infrastructure is free and open, businesses like Coinbase are unable to seize control of the market by granting "select access." However, such firms' brands and liquidity over time provide flawless conduits.
Features RisingMax Inc. Offers With Web3 Elearning Application
Features are the backbone of any of the applications, without which we cannot imagine the success of the application. Here are some of the features we are delivering with the Web3 Elearning app development, which will be necessary for the application and will form a better platform for the learners as well as for the tutors.
ECommerce integration on Web3 is one of the LMS features eLearning firms should look for to advertise their eLearning courses. This can be done through payment gateways, online baskets, or item URLs. eCommerce LMS measurements are a further important consideration. These reports allow you to monitor changes, traverse rates, and analyze transaction data to enhance your eLearning promotion process.

Students must have access to online courses at all times and locations. Therefore, you require a learning management system from the Web3 industry that can deliver portable appealing content right now. Additionally, one provides identical survey participation and benefits to everyone. Therefore, responsive structure highlights are required for your LMS.

Online course listings need to be supported by your Web3 Elearning platform. Ideally, there would be an implied shopping cart option, allowing online students to quickly purchase the item or choose an eLearning course with the click of a button. This should also be entirely customizable. For instance, you may transfer your own text style, fonts, catch styles, and design elements.

Utilizing mixed learning tools enables you to cater to various adjusting requirements and preferences. You may provide online students with individualized coaching in addition to online instruction, putting resources together to increase the benefits. To provide self-guided, web-based preparation methods for people who prefer not to conduct concurrent internet research. An LMS may occasionally have video conferencing equipment. This enables you to provide the finest service possible from anywhere in the world.
Hire a reputable Web3 E Learning app development business to acquire the platform's most cutting-edge feature and ongoing application enhancement and feature upgrades. We have been creating applications for over 13 years. For a user-friendly application with superior security, try us
Benefits Of Web3 Elearning App Developement For Business
Cost Effective

The affordability of e-learning is one of its main advantages. The price decrease is the consequence of significant financial savings made by educational institutions on student and instructor travel and lodging.

There aren't any expensive textbooks that plunge students farther into debt. Additionally, the process is environmentally benign because ordinary text material printing is unnecessary.

Remote Approach

Not so long ago, the only way to pursue a career in academia was to enroll in college. The traditional four-year institutions of the past have given way to entirely online campuses that give students alternatives they have never had before. Instead of the pupil needing to follow a set of rules, the knowledge is presented to them, with no campuses and no set timetable. They can locate the courses or programs they need online regardless of their area of interest.

Anywhere Access Power

You may effectively study for your examinations with the help of online courses without having to make any hasty trips to campus. You are the master of the material you are learning, just as you are the master of your time. Online courses provide several benefits, including a wide range of subjects that are relevant to your interests and knowledge you otherwise couldn't pursue due to the demands of your program's curriculum.

Career Advancement for Students

One major advantage of online education is that it keeps you up to date with material produced by aspiring professors throughout the world. E-learning is self-paced and hence perfect for those who have to go to work, are remaining at home to raise a family, or for any other reason. This further supports the view that online courses are the best option for anyone who wants to pick up where they left off in their academic career or who never had the opportunity to pursue higher education but now is the opportune moment. Studying online significantly boosts your chances of further advancing in your current job or getting a new, better one.

Enhancement Of Students = Enhancement of Business

When the students get the ability to enhance their education from anywhere and according to their schedule, this will make the business grow more. The eLearning platform on Web2.0 is already a perfect set of business. Be an early bird, get onto the Web3.0 platform, and build the Web3 eLearning app.
Hire RisingMax Inc. for the Web3 eLearning app development. We are with a more than 150+ core team of web3 and blockchain developers who have been serving in the industry for more than half a decade and delivered valuable web3 applications on a global stage.
End Of Scarcity For Students

In a typical classroom context, lecturers continue to use their ineffective teaching strategies. Through eLearning, these problems are resolved by offering uniform and reliable training. With the help of online learning, teachers may deliver their lectures more thoroughly and regularly, guaranteeing that every student learns the same amount of information. There is a dearth of qualified educators at many institutions across the world. With e-learning, this problem is readily managed because a small number of very skilled and experienced professors may instruct hundreds or even millions of students.

Customization

Since everyone has diverse preferences, there can never be a single solution that will satisfy them all. Since there are many different learning methods available online, students may more easily adjust to the classes they want to take. Students are inspired to pursue their higher education when they are not under pressure to complete all of the required but unwelcome courses. It is feasible to accommodate the specific interests and objectives of each learner when learning online. It enables them to move at their own speed and pick their own course.
Whom To Hire For Web3 E-Learning App Development
There are multiple sources by which one can build a Web3 -based application for business. Each type of resource has its perks.
One can build a Web3-based platform by
Inhouse team

Freelancer

Web3 App development company
In-house Team

Maintaining a team of internal web3 designers first seemed difficult, as did budgetary concerns. But if you give your thoughts more thought, you'll learn about a lot of things. Despite the fact that you could have a loyal following, you might initially be needed in the event of a few catastrophes. There is no doubt that you will have complete control over the development of Web3 apps. You will also need to keep an eye on the team's expenses, including their travel expenses, motivational tools, workspace, and more. There is a lack of skilled blockchain designers because the technology is still in its infancy.

Freelancer

The alternative option is that you may employ a freelancer to create your application. You could pay a little less than you would for a competent Web3 eLearning app creation business. However, you'll always be questioned regarding the advancement of the game stage. Overall, outsourcing, to whatever degree, increases the level of responsibility.

Since the profiles do not show previous projects or tasks, determining the dependability of the freelancers is difficult. The framework will take longer to create the smaller the team; one is investing a significant sum and has to finish it as quickly as feasible. The debut of the application on the blockchain marketplace may thereafter be delayed if freelancers are hired.

Hire Web3 e-Learning App Developement Company

When it comes to application development, this may be your greatest option. There is a sizable team of seasoned professionals working on application development. Hire Web3 e-Learning App Developement Company to obtain dependable personnel and swift delivery of the project. These businesses provide project managers, a group of designers, and developers with years of expertise in creating web 3 apps. The benefits of working with a seasoned Web3 e-Learning App development business to create the application include dependability, expertise, a team of developers, and the assurance of a high-quality product.
Conclusion
We are among the leading companies providing Web 3.0 development services. RisingMax is advancing future technologies by providing a variety of services to the global market. If you want to have a significant impact on the market, hire us for Web3.0. Employing us to upgrade your service from Web 2.0 to 3.0 will provide the most accurate, error-free work possible. We've made a long-term commitment to provide our customers with top-notch services. Clicking a button to get in touch with us is simple. Reach out to us right now.
Need Help With
Development