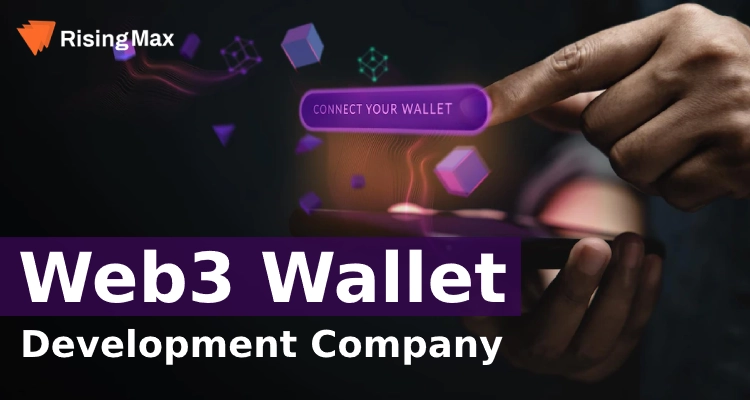 Web3 Wallet Development Company
The popularity of cryptocurrencies, game tokens, and NFTs is growing insane. The growing demand for digital assets in the web3 space results in an upsurge in demand for web3 wallet softwares and applications.
Web3 Wallet Development: Rule The Future Crypto Landscape
For this reason, budding entrepreneurs are partnering with a web3 wallet development company to cater to the growing demand in the web3 space. Web3 wallet creation paves the way for users to securely enter the web3 space and buy, sell or trade digital assets.
Are you planning to create a web3 wallet? Then, RisingMax Inc can be a good match for your web3 wallet creation. Leveraging our web3 expertise, we can create a web3 wallet that is easy to use and highly secure for trading or storing valuable digital assets. Let's connect over a FREE consultation call and discuss your web3 wallet development needs with our experts TODAY.
Let us begin with the basics.
Align the current state of IT with your business strategy by hiring the most trustworthy IT consulting company
What Are Web3 Wallets?
Web3 blockchain wallets are the extension of blockchain wallets that will allow users to buy, sell, store, or trade digital assets like cryptocurrencies, NFTs, game tokens, etc. Web3 wallets come with integrated security, multi-currency support, and allow users to convert cryptos into local currency.
Web3 Wallet Creation: Revenue Generation Models
Before hiring a web3 wallet development company like RisingMax Inc, you need to have a revenue generation model for your web3 wallet. Here are some of the most popular ways your web3 wallet can generate revenue. Depending on your business needs, determine which one suits your business goals and proceed further. You can even opt out of a combination of the below-mentioned web3 wallet revenue generation methods to have multiple revenue generation sources for web3 wallet.
Transaction Fees

This web3 blockchain wallet revenue model is the bread and butter for most crypto wallets. As the name suggests, you will be charged a fixed or varying fee based on the transaction value. The revenue generation is directly proportional to the number of transactions on the web3 wallet.

Swapping Fees

Swapping fees is another popular revenue generation method for your web3 crypto wallet. Popular blockchain wallets, like Trust Wallet, operate on this revenue generation model. In this revenue generation model, the admin will charge a swapping fee on the transactions over the platform.

DeFi Integration

You can integrate your web3 wallet with multiple decentralized finance software in this revenue generation model. You will earn a fixed revenue when a user uses your web3 wallet for transactions on these DeFi platforms. Use this revenue generation model in combination with the other two to diversify your revenue generation.

Trading fees

Currently, blockchain wallets are used for trading cryptocurrencies, NFTs, and other digital assets. Our web3 wallets provide multi-cryptocurrency support allowing them to buy, sell or trade digital assets. Integrating your web3 wallet with multiple NFT marketplaces and cryptocurrency exchanges allows you to generate revenue by charging a fixed fee on every transaction.
Still, have queries about how you can generate revenue from your web3 wallet? Connect with our subject matter experts over a FREE consultation call and find answers to all your queries.
Our Web3 Crypto Wallet Development Services
RisingMax Inc a leading web3 wallet development company offers a wide variety of blockchain wallets to serve its clientele's needs. We create web3 wallets that are highly customizable, secure, and allow storage & transfer of crypto assets. We provide 360 web3 crypto wallet creation services;
Multi-Currency Web3 Wallet

These cryptocurrency web wallets allow users from any part of the world to store and trade digital assets via the internet. With multi-cryptocurrency wallet; trading NFTs, cryptos, game tokens, and assets will become easy even for novice crypto enthusiasts.

Web3 Mobile Wallet Development

There are roughly 5.4 billion mobile phone users worldwide. Web3 mobile wallet development allows you to cater to the needs of this wide audience base with integrated high-tech security features. Mobile web3 wallets are ideal for remote digital payments and transactions.

Web3 Wallet Development

Hire our web3 developers to create web3 wallets that allow users to store, send, and trade different digital assets securely over the internet. Our web3 experts can assist you in launching single and multi-currency web3 wallets per your business requirement.

White Label Web3 Wallet

Swiftly enter the web3 sphere with our white-label web3 crypto wallet solutions. RisingMax Inc as a trusted web3 wallet development company, we build scalable and highly secured web3 wallet solutions.

Centralized Web3 Wallet

Leverage our expertise in web3 technologies to build centralized web3 wallets with private keys and other top-notch features. Create web3 wallets for your business to store sensitive information and limit users' access with integrated security features.

Web3 Tron Wallet

Leverage the true potential of Tron blockchain and build a web3 Tron wallet for your new startup or well-established enterprises. With web3 wallet creation on Tron, trading and managing TRX, TRON, and other cryptocurrencies will become easy for the users.
Open up new business opportunities with our Web3 Wallet Development Company.
Get Started
Web3 Wallet Creation Process We Follow
Requirement Gathering

During this web3 wallet creation phase, we connect with our clients to discuss web3 crypto wallet project requirements. The main goal during this development phase is to gather the client's requirements and business needs to deliver the best possible solutions.

Project Blueprint

After gathering all the web3 wallet-related requirements from the clients, our web3 wallet team brainstorms with designers, developers, and strategists. During this phase, our main goal is to design a web3 wallet development process keeping the client's project requirements in mind.

Designing and Development

During this phase, our team moves forward to the design and development phase of your web3 wallet. The development and designing team follows the same project blueprint above to ensure that the final project meets the client's expectations and business needs.

Testing

To ensure that we deliver the best web3 wallet software solution to our clients, our QA team follows rigorous testing methodologies. Our QA team ensures that all the wallet features and functionality performs as intended. Issues during this phase will be forwarded to the development team for resolution. Only after passing all the testing parameters, our team moves forward to the next stage.

Deployment

After assuring that all the web3 wallet features work fine, the QA team passes the project for final client approval. After getting approval from the client, we deploy the web3 wallet on various platforms to ensure maximum exposure. If needed we can also provide a product demo to the employees.

Post-Deployment Testing

Our relationship with the client doesn't end with the we3 wallet deployment, but it starts here. With our post-deployment web3 wallet testing, we perform client-side testing to fix issues or bugs and ensure smooth running of the web3 wallet for a long time without much overhead.

Post Delivery Support

Does your web3 blockchain wallet need an urgent update? Reach out to our experts at RisingMax Inc and we will take care of the rest. We are available 24*7 and just a call away to assist you.
How Much Does Web3 Wallet Creation Cost?
When it comes to web3 wallet creation, most web3 wallet development companies in the USA charge $45k to $50k for basic applications. The development cost of your web3 wallet can move upto $100k based on the factors mentioned below.
Factors on which web3 wallet creation cost depends;
Type of web3 wallet
Integrated security features of web3 wallet.
Complexity of web3 wallet application.
Web3 wallet app features
Web3 tech stack needed.
Location of web3 wallet development company.
Company's or developer's web3 development expertise.
Developer team size.
Project completion time.
Post-deployment services.
Before moving further with your web3 wallet development, a careful analysis of all these factors is a must to have an idea about the estimated development budget. You can reach out to experts anytime if you need assistance with your web3 wallet project.
Why Choose RisingMax.Inc. For Web3 Crypto Wallet Development?
RisingMax Inc has the privilege of working with clients worldwide and building futuristic business solutions for them. With over a decade of working in leading technologies such as blockchain, AI, web3, we have mastered the art of web3 wallet development. Our team leverages their in-depth knowledge and development expertise to build affordable web3 wallets for our costumes.
Here's what you get when you choose us;
Unmatched web3 development and consultation services.
Affordable web3 wallet creation.
Tech Prowess.
Well-qualified and experienced web3 developers.
Secure, error-free, and scalable IT solutions.
Transparent pricing.
Flexible hiring models.
24/7 Customer support.
So, why wait?
Reach out to our experts at RisingMax Inc and discuss your web3 wallet development needs with our experts Today!!