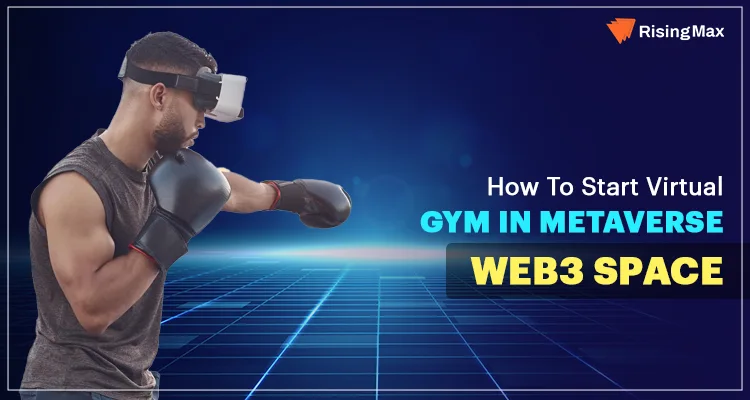 How To Start Virtual Gym in Metaverse Web3 Space
The ongoing revolution in the world wide web, i.e., Web3, has opened new growth opportunities for the fitness industry. RisingMax Inc., a top web3 development services provider, assists fitness businesses worldwide to set up a virtual gym in the metaverse and extend their digital footprint.
Understanding The Scope of Virtual Gym in Metaverse
While experts in the fitness industry are debating about how web3 in the fitness industry is just an unrealistic fad. Animoca Brands launched OliveX, a mobile game based on the move-to-earn concept to gamify the fitness industry. Gamification of the fitness industry gave rise to a new discussion about the scope of virtual gyms or web3 gyms in the metaverse.
Without a doubt, the integration of web3 technologies such as AR, VR, blockchain, and AI broadens the scope of the health and fitness sector. Setting up a virtual gym in the metaverse based on a move-to-earn model will engage more users and widen its reach. The global healthcare market size was valued at 336 billion US dollars in 2021 and is expected to grow at a CAGR of 7.93% (2022-2030).
If you are an ambitious entrepreneur who is all psyched about the integration of web3 into the fitness industry, then, reach out to our experts at RisingMax Inc. Our team can launch a web3 fitness app, gamify fitness experience or set up a virtual gym. Connect with our experts and discuss your fitness-related business idea over a FREE consultation call Today!
What is the Metaverse?
Metaverse is a virtual space that is open to all. This virtual space exists to eliminate physical barriers and provide users with an enhanced immersive experience. For easy understanding, you can imagine the metaverse as a 3D layer of the internet where users can enjoy an unmatched internet experience.
Creating a decentralized internet is the main idea behind the metaverse. In the metaverse, no company will own the user data and the internet. The healthcare industry is one of them.
Align the current state of IT with your business strategy by hiring the most trustworthy IT consulting company
What is Virtual Gym in Metaverse?
Virtual gyms in the metaverse are a digital twin or replica of real-world fitness. The idea behind setting up a virtual gym in the metaverse is simple: to utilize digital space for offering enhanced services to users and reward users based on their physical activities, thus encouraging them to stay healthy.
For simple understanding, virtual gyms are an extension of current fitness web2 mobile and web applications. Although users can't use these applications to lift weights, these fitnesses offer a variety of other benefits and services that benefits users. With web3 gyms, the fitness industry can widen its digital presence, enhance audience reach, and explore new opportunities.
Statistics That Endorse Setting up of Web3 Gym in Metaverse
According to Statista:
The Digital Fitness sector in 2022 is expected to generate a revenue of $17.71 billion US dollars.
The projected market share of the Digital Fitness sector is expected to reach $24.79 Billion US dollars at CAGR 6.69% (2022-27).
User penetration will grow from 45.44% to 54.69% between 2022 to 2027.
Sixteen percent of adults in the US had taken to using more online exercise videos during the coronavirus pandemic. (Statista)
The above statistics indicate the growing trend in the fitness industry. Launching your own web3 gym in the metaverse will allow you to take an edge over others and be future-ready. Align your fitness business with the changing technology trend and offer an unmatched experience to your customers.
Reach out to our experts at RisingMax Inc. to convert your traditional fitness web2 apps to web3. Schedule a free consultation call to know more.
Intriguing Features That We Can Offer To Your Virtual Gym Users in Metaverse
Setting up your virtual gym will assist you in expanding the digital footprint of your fitness business. With this, you can engage and serve the needs of a wide base of fitness enthusiasts. Here are some intriguing features you can offer your virtual gym users in the metaverse.
Engaging Dashboard

With an engaging dashboard, users can keep track of daily fitness activities, total earnings, completed goals, fitness challenges, and others.

Set Fitness Goals

This feature allows users to set customized fitness goals per their needs and enhance daily activities.

Meet Trainers Virtually

With integrated web3 technologies, users can engage with gym trainers to discuss their health goals, diet plans, and exercise schedule.

Earn Tokens

Users of your web3 gym platform can earn tokens based on their completed fitness tasks, fitness challenges, and one-on-one challenges.

Spatial Voice

This feature allows users to interact with others and have real communication. The spatial voice feature works, considering the user's location, changing sound, and distance. The communication sound increases when they are closer and decreases when they move away.

Fitness Trackers

Integrated fitness trackers make it easy for users to track their performance and earn rewards or challenges based on their fitness activities.

Participate in Challenges

With this feature, users of your virtual gym can participate in different fitness challenges and compete with others in a one-on-one fitness challenge.

Smart Tokens

Smart Token's features will become a handy tool in monetizing virtual gyms and provide equal opportunities for trainers & health enthusiasts. Users will be rewarded smart tokens based on the daily fitness activities and challenges they win within the virtual gym metaverse.

Integrated Social Media Platform

Allow users of your web3 gym to share their fitness results directly on different social media platforms such as Instagram, Facebook, Twitter, and Snapchat.

Gamifying Gym

Virtual gyms in the metaverse will focus on making workout activities more interactive and fun. Users of virtual gyms can use VR technology to enjoy a gaming workout experience.

NFT Marketplace

The integrated NFT marketplace allows users to buy, sell or trade digital tokens or assets on the platform.

Translation/Multi-Language Support

Web3 gyms can offer translation or multi-language support features to establish better communication in the metaverse. Different language speakers can leverage these virtual platforms to interact effectively and break the language barrier.

Digital Avatar

This feature allows users of your virtual gym to create customized digital avatars, change outfits, and attributes in the metaverse.

Training Programs

Users of your virtual gym platform can engage in different training programs such as strength training, low-intensity cardio, yoga, pilates, and others.
Technology That Will Play Major Role In Virtual Gym in Metaverse
AR/VR Technology

AR/VR technology will play a major role in creating an immersive environment in virtual gyms in the metaverse. Whether at home or a calming beach, in web3 gyms, you can enjoy the same workout experience.

Fitness Tracking Device

Similar to the real world, fitness tracking devices will allow users to track their daily fitness activities and overall health in virtual gyms. Based on their daily activities and goal completion web3 gym platform can reward digital assets or declare content winners in the metaverse.

Blockchain Technology

Without a doubt, blockchain technology will be the major driving force for creating a secure, safe, and reliable environment in the metaverse. Virtual gym users can use blockchain technology to prove ownership rights of tokens, NFTs, or other digital assets. Blockchain technology allows secure buying, selling, and trading NFT of digital assets.

Non-Fungible Tokens (NFTs)

Integration of non-fungible tokens technology will empower virtual gyms in the metaverse to offer an unmatched experience to its users. NFTs will create an engaging and competitive environment in the metaverse. Users can participate in public competitions to earn NFTs or stake their NFTs in one-on-one challenges.

3D Technology

Web3 gyms will mainly focus on creating an immersive environment for health enthusiasts. Gym owners can create a digital twin or virtual replica of their gym in the metaverse to offer the same level of comfort and interactive environment. 3D technology will play a pioneering role in diminishing the barrier between the virtual and real world.
How Will Move-To-Earn Revolutionize The Fitness Industry?
The fitness industry has been deploying new technologies to enhance its services and serve customers better. Virtual gyms built on a move-to-earn concept can revolutionize the fitness industry. Health enthusiasts pay money to stay fit with no opportunity to earn.
How about winning cryptocurrencies or digital tokens for losing five kg of weight?
Imagine the impact of this lucrative earning opportunity, and it will surely attract more users to stay fit and engage in fitness activities. These digital assets, such as tokens, gift cards, and NFTs, can be traded or sold to earn real-world currencies.
In this way, the virtual move-to-earn gyms in the metaverse will revolutionize the fitness industry, where health enthusiasts will be rewarded for staying healthy.
Now is the right time to leverage web3 technologies and launch your virtual gym in the metaverse. Get in touch with our experts and discuss how you can benefit from this upcoming business opportunity in the metaverse. Schedule an appointment with our experts today.
How to Start Virtual Gym in the Metaverse?
All set to launch your web3 gym in the metaverse and wonder how our experts at RisingMax Inc. will do that for you, then read out this section. Setting up a virtual gym in the metaverse is a complicated process that might be hard for a normal reader to understand.
However, we have created a simplified workflow that our web3 development team follows to set up your virtual gym in the metaverse. Following this carefully crafted workflow enables our team to deliver exceptional software products to our customers.
Look at our web3 gym setup process that we follow to start your virtual gym in the metaverse;
Requirement

During this stage, our experts at RisingMax Inc. will connect over a free consultation call to understand the client's project requirements and the scope of our services. After a thorough project discussion, we move forward to the project analysis.

Project Analysis

Based on the above-provided inputs related to the project, our web3 experts will analyze the project. Only after analyzing the project's requirements and feasibility will our team move forward with a clear vision for the planning phase.

Project Planning

During this web3 gym setup phase, our team will plan a project development strategy and create a project roadmap from development to deployment. Our team will move forward to the development phase with a clear project development strategy.

Project Development

Keeping in mind the customer project requirement and roadmap empowers our team to offer our customers a smooth virtual gym setup experience. Setting up smaller project development milestones assists in smooth project development and deployment.

Project Testing

Our QA team will thoroughly analyze your web3 gym platform for any technical issues or bugs. Our team moved forward to the project deployment phase after passing all the QA testing standards.

Project Deployment

Based on the client's project needs and the web3 gym target audience, our team will deploy projects on various platforms to ensure maximum audience reach.
Why Choose RisingMax Inc. for Setting up your Virtual Gym in the Metaverse?
RisingMax Inc. is a trusted web3 development service provider assisting clients in different business verticals to align their current business state with changing technology trends. Our team leverages their expertise in leading technologies such as web3, blockchain, AI, AR & VR to develop bespoke business solutions for our customers.
Here's why you should choose us;
Unmatched tech expertise.
Affordable web3 services.
Tech prowess.
Reliable and secure business solutions.
Experienced and certified web3 team.
Transparent pricing policy.
24*7 customer support.
Join hands with RisingMax Inc. to start your fitness business transformation journey and explore new growth opportunities in the metaverse. Fill out this form, and our subject matter experts will connect to discuss your web3 gym project requirements in detail.